This post contains affiliate links. As an Amazon Associate I earn from qualifying purchases. View our Privacy Policy.
Christmas Booty Dip is a no bake dessert dip that is so creamy and delicious. This Christmas marshmallow fluff dip takes just minutes to make.
Booty dip became popular as a Tik Tok recipe and has gone viral. This is my holiday version of the viral recipe.
This post contains affiliate links.
Christmas Booty Dip Ingredients
To make this Christmas dip recipe, you will need the following ingredients (see the recipe card below for exact amounts):
Mini marshmallows: the small ones are better for faster melting.
Cream cheese: You can use regular or fat free.
Cool Whip: You can use regular or sugar free. You can also make your own whipped topping.
How to Make Christmas Booty Dip
Melt the marshmallows. Place the mini marshmallows in a microwave-safe bowl and microwave for 30 seconds or until melted.
Stir together. Stir the marshmallows and then whisk in the softened cream cheese. Fold in the whipped topping and chill until ready to serve.
Add sprinkles. Before serving, stir in 3 Tablespoons of the sprinkles. Spoon into a bowl and top with remaining sprinkles.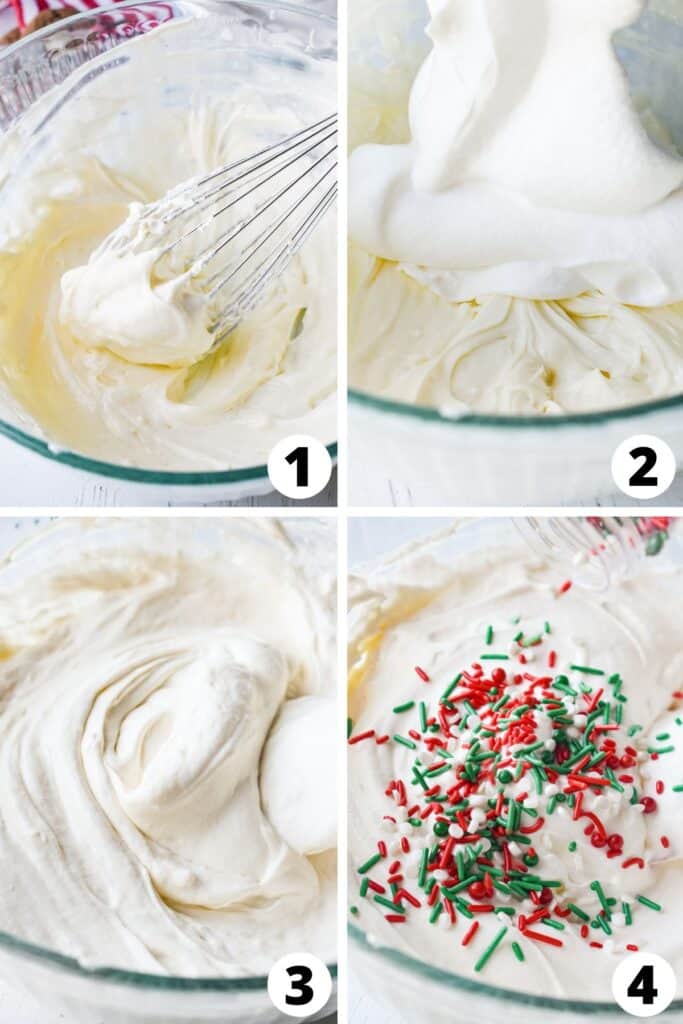 Why You'll Love this Recipe
It's versatile! Dip your favorite cookies or crackers, or make this as part of a Christmas dessert board. You could even use this as filling for Christmas cupcakes.
It's easy to make! This super simple, no bake recipe requires only 3 ingredients (plus sprinkles, of course).
You can make it ahead of time! I'd rather enjoy my time with guests than spend it in the kitchen, so make ahead recipes are best.
What to Serve with Christmas Dessert Dip
Serve with crackers or cookies such as Graham Crackers, Gingersnap Cookies, Vanilla Wafers, or other dippers. You can even dip these Hot Chocolate Cookies.
Recipe Tips for Christmas Marshmallow Fluff Dip
Make this a "lightened" dip with light cream cheese, light whipped topping and by serving with apple or banana slices.
Use different colored sprinkles for different holidays (multi-colored sprinkles for a year-round dip).
For some more texture, add mini chocolate chips in the mixture.
You can use marshmallow fluff instead of melted marshmallows for an even easier recipe!
Storage Instructions
Store up to 2 days in the refrigerator in an air tight container. Do not freeze – the consistency will be off when it thaws.
More Christmas Dips