Instant Pot BBQ Chicken is a tasty chicken dish that can be served so many ways. It is great for summer barbecues, family gatherings, or meal prepping.
Chicken breast or thighs (you choose!) are flavored with BBQ sauce, Worcestershire sauce, brown sugar (yum), onions and garlic powder. This classic recipe is a crowd pleaser for sure! If you love this recipe, try my teriyaki chicken for another yummy flavor.
This BBQ Chicken recipe can be served on a sandwich with your favorite side dish or just on its own. It's that good!
This post contains affiliate links.
Instant Pot BBQ Chicken Ingredients
To make this freezer chicken recipe, you will need the following ingredients (scroll down to the recipe card below for exact amounts and directions):
chicken breast or thighs (about 2-3 pieces)
BBQ sauce
onion
Worcestershire sauce
brown sugar
garlic powder
You will also need an Instant Pot for this recipe, as well as gallon freezer bags.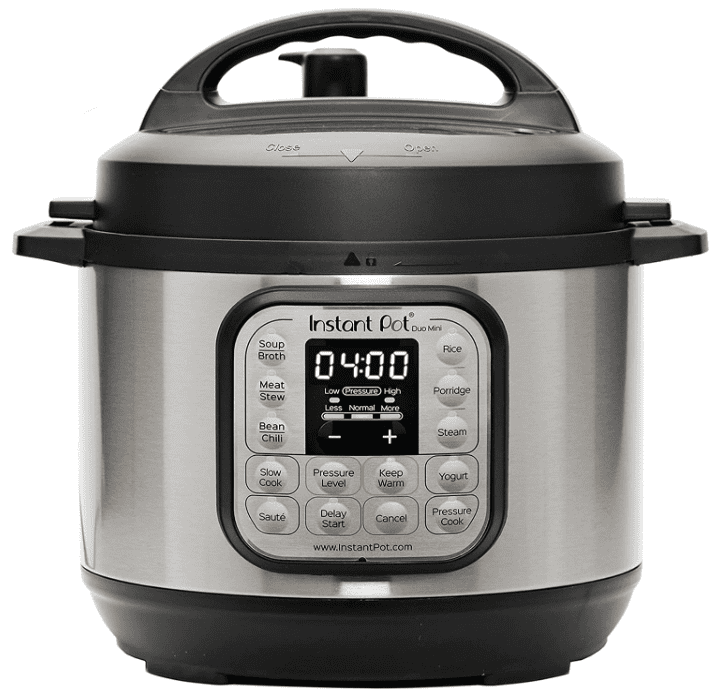 The Instant Pot Duo is simple and easy to use. This 7-in-1 appliance can pressure cook, slow cooker, steam, sauté & more.
How to Make BBQ Chicken in an Instant Pot
Add all the ingredients to freezer bag. Shake the bag until the chicken is coated.
Place contents in an instant pot and cook for 9 minutes at high pressure then allow 10 minutes for natural release.
Shred chicken using either a set of handheld beaters or with two forks.
How to Cook BBQ Chicken in a Slow Cooker
If you do not have an Instant Pot, you can still enjoy this recipe. There are two ways to cook BBQ Chicken in a slow cooker or crock pot:
Cooking frozen: Cover chicken and cook on high for 4-5 hours or on low for 7-8 hours or until chicken has reached a minimum internal temperature of 165 degrees.
Cooking fresh: Cover chicken and cook on high for 3-4 hours or on low for 6-7 hours or until chicken has reached a minimum internal temperature of 165 degrees.
What Do You Eat With BBQ Chicken?
Pulled BBQ Chicken can be eaten as is or on top of other dishes. My favorite way to eat shredded bbq chicken is on a hamburger bun and topped with homemade coleslaw, paired with a corn side dish.
You can also eat it over rice, in a wrap or burrito, in a taco, or on a salad. Instead of shredding the chicken, you can choose to leave the chicken whole and serve that way.
How Long Can I Store BBQ Chicken For?
You can store chicken in the refrigerator for up to 3-4 days in an airtight container.
Can I Freeze BBQ Chicken?
BBQ chicken makes a great freezer meal. Meal prepping and making food ahead will save you time during the week. You can freeze BBQ before or after cooking.
You can freeze cooked BBQ chicken for up to 3 months.
If you want to freeze it before cooking, first write the name, date, and instructions below on a resealable freezer safe plastic bag. After the first step above, let out the air and seal bag. Place in freezer until needed or for up to 3 months.
How to Cook Frozen Chicken
To cook frozen chicken, just follow these simple instructions:
Add frozen contents to Instant Pot. Add in ¼ cup water. You need some type of liquid to begin with in order for the Instant pot to work correctly. Cook for 12 minutes on Pressure cook and then allow 10 extra minutes for natural release.
You can also sauté the frozen ingredients in a pan for five minutes or until about ¼ of the liquid is released.