Cucumber Melon Mint Fizz Cocktail is a fruity and refreshing vodka cocktail. Simple syrup and vodka are topped with seltzer water to complete this fizzy drink.
This melon cocktail is perfect to enjoy on a warm summer day by the pool, or a cocktail party with all your friends.
The garnish in this drink is edible, so feel free to drop it down in the drink to soak up some of the cocktail. Or, use it to stir your drink and add some more fruit flavor to the already fruity cocktail.
This post contains affiliate links.
Cucumber Melon Mint Fizz Ingredients
To make this vodka cocktail recipe, you will need the following ingredients (scroll down to the recipe card below for exact amounts and directions):
Cantaloupe: make sure the cantaloupe is ripe.
Mint leaves
Cucumber
Water
Sugar
Vodka
Ice
Seltzer water: plain is fine, but bonus points if you can find cucumber melon flavored seltzer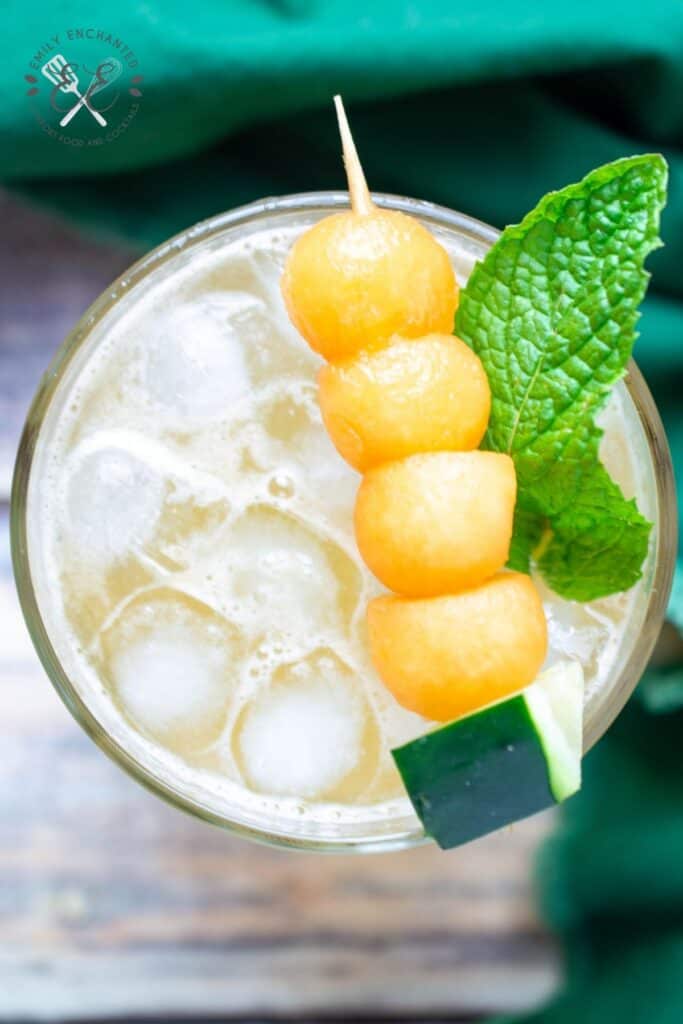 Kitchen Items You Need
To make this cocktail, you will need these specific bar items:
How to Make Simple Syrup
Simple syrup recipes are pretty much all the same and they are so easy to make. You just boil sugar and water, and then add whatever flavors you want the syrup to be.
First, you are going to make the simple syrup. This recipe makes more than what you need for just one drink.
Boil water and sugar. In a small pot, combine water and sugar over medium heat. Once it begins to boil, reduce heat to low and cook for 10 minutes.
Add flavors. Add cantaloupe, mint, and cucumber and stir. Let them steep in the syrup until cool.
Strain. Pour mixture over a fine-mesh sieve, over a cup or bowl. Use a spoon to press against cantaloupe, cucumber and mint against the side, to get that flavor out! Discard anything that doesn't go through the sieve.
You only need 1/3 cup of simple syrup per drink, so pour the rest in a mason jar and store in the fridge.
How to Make a Cucumber Melon Mint Fizz Cocktail
To make this fruity cocktail, just shake, strain and add the bubbly!
Add ice to a cocktail shaker.
Add about ⅓ cup simple syrup and 1 ½ oz vodka and shake.
Strain over an ice filled glass.
Top with seltzer.
Garnish with cantaloupe balls, cucumber slices and a mint leaf.
Other Fruity Cocktail Recipes