Instant Pot Chicken Tortilla Soup is so tasty and easy to make. It is full of warm broth, chicken, and vegetables.
It does not matter if it is a cold day or a hot day, I will eat soup any day! Soup is comforting and makes me feel so good. One of my favorites is chicken tortilla soup, so I wanted to share this Instant Pot tortilla soup recipe with you.
I love cooking this way because I can get other chores done during the cooking time so I have more free time for friends and family!
This soup takes about an hour to prepare and makes 6 servings. Or less than that if you can't stop at one bowl like me. If you're craving more meat, try this Instant Pot Pot Roast recipe.
This post contains affiliate links.
Instant Pot Tortilla Soup Ingredients
To make this Instant Pot tortilla soup recipe, you will need the following ingredients (scroll down to the recipe below for precise amounts):
How to Make Chicken Tortilla Soup in an Instant Pot
Place the chicken breasts in the bottom of Instant Pot and add seasonings and broth. Cook on high for 35 minutes using the manual setting. Bring pressure down quickly by releasing the pressure.
Remove chicken from pot and shred, reserving the liquid.
Once you remove the chicken from the pot, drizzle olive oil on the bottom and turn the Instant Pot to saute for 30 minutes.
Add diced onion and saute for 2-3 minutes until they start to become translucent. Add diced tomatoes and seasoning and stir.
Add the chicken, beans, corn and rest of broth. Bring to a boil (while still on the saute setting). Let simmer for 4-5 minutes and turn off the Instant Pot and allow the soup to stop boiling before serving.
Crumble tortilla chips onto each serving of soup and top with fresh lime, sour cream, cotija cheese and cilantro.
FAQs
Which Instant Pot is best?
Instant Pot is a combined pressure cooker and slow cooker designed to make your dinner routine easier. Available in 3, 6, and 8 quart, this model is Amazon's #1 best seller with over 40,000 reviews and 4.7 out of 5 stars!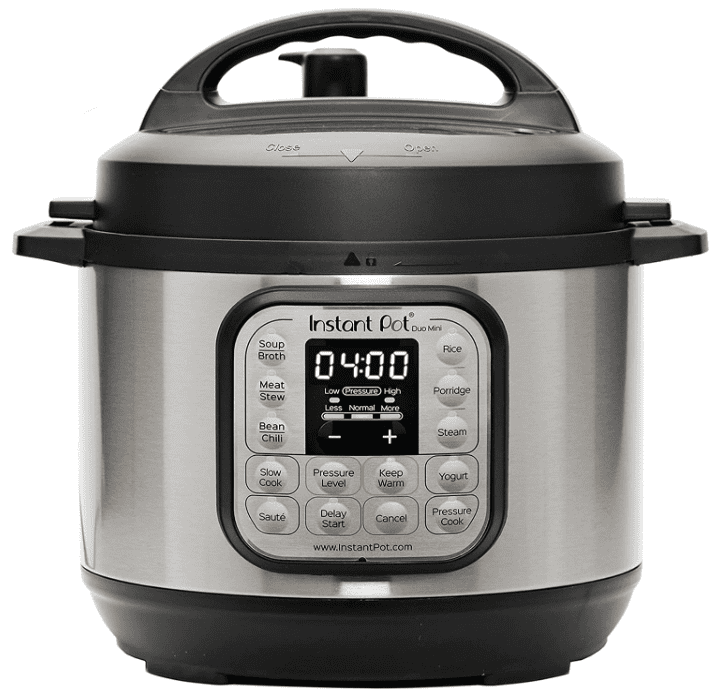 The Instant Pot Duo is simple and easy to use. This 7-in-1 appliance can pressure cook, slow cooker, steam, sauté & more.
More Chicken Recipes
If you love chicken, you must try this Chicken Stuffed Poblano Peppers recipe.