Breakfast Butternut Squash is a savory breakfast recipe. Mushrooms and onions are stuffed in a squash and baked with cheese and eggs.
This breakfast recipe can serve 2 or 4, depending on how much you want to eat. I love this recipe so much, I could eat the whole thing!
If you are looking for a delicious and filling breakfast dish, you are in the right place. You can't go wrong with veggies and eggs.
And if you only want to make one serving, use the other half of the squash in this Slow Cooker Turkey Chili with Butternut Squash.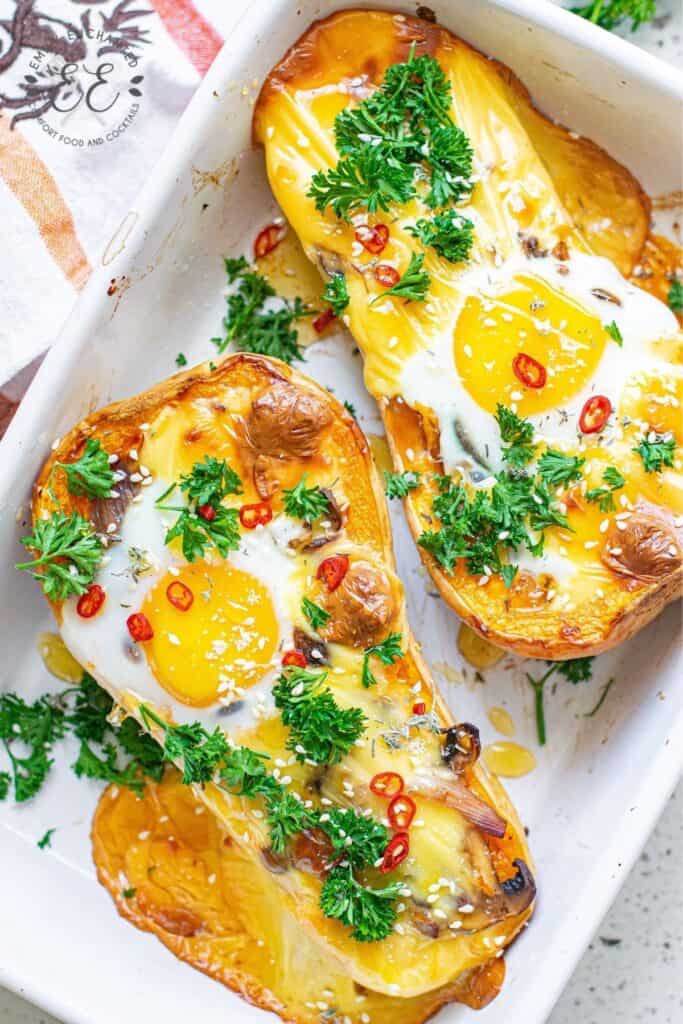 Breakfast Butternut Squash Ingredients
To make this butternut squash breakfast recipe, you will need the following ingredients (see the recipe card below for exact amounts):
Butternut squash
Olive oil
Sea salt
Garlic cloves
Onion: You can use red onion, yellow onion or sweet onion
Mushrooms
Black pepper
Cheddar cheese: I used block, but you can use shredded
Eggs
Garnishes: chopped red chili, fresh cilantro, sesame seeds, thyme, salt, black pepper
How to Make Stuffed Butternut Squash Breakfast
In this recipe, the squash gets twice baked. First, it gets baked to soften the flesh so you can scrape it out. Then it gets baked again with the stuffing to melt the cheese and bake the egg on top.
Preheat oven to 395 F.
Bake the squash. Cut the squash in half lengthwise, scoop out the seeds and place in a baking dish or a baking sheet with parchment paper. Rub with oil and salt. Place in the oven and let bake until half tender, about 30 minutes.
Prepare the stuffing. While the squash is cooking, heat a small non-stick skillet with ½ tablespoon oil. Cook garlic, onion and mushrooms. Adjust taste with salt and pepper.
Add stuffing to squash and bake. Remove squash from the oven (don't turn off the oven). Scrape with a fork. Divide mushrooms and add on each butternut squash. Divide cheddar cheese and top butternut squash. Crack eggs and place one on each half of butternut squash. Place back in the oven and bake for between 5 to 15 minutes, depending on your preference for the eggs.
Add garnishes and serve. Remove from the oven and serve warm with red chili, cilantro, sesame, thyme, salt and pepper.
Recipe Tips
If you find the hollow in a butternut isn't large enough, scoop a bit of the cooked flesh out before adding the egg.
Since squash has a thick shell, it can be difficult to cut it lengthwise. You must use a very sharp knife. If you still have difficulty, pop the squash into the microwave for 3-4 minutes to soften the shell slightly.
Don't overcook the squash.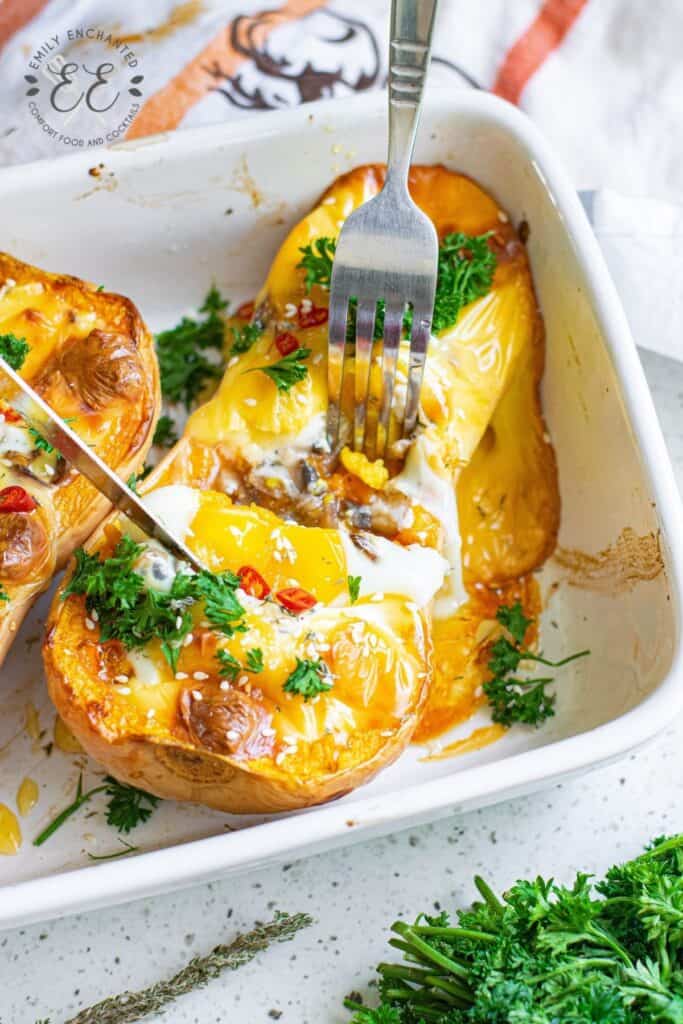 FAQs
What is a Butternut Squash?
Butternut Squash is a winter squash with a hard outer skin. It is full of vitamins and is so tasty! It is great for roasting, ravioli filling, soup, and more.
Can This Recipe Be Made Ahead of Time?
Yes, you can already bake the squash then just add the other ingredients when you are ready to prepare for breakfast or lunch.
Can I Heat Leftovers?
Yes. Feel free to reheat your butternut squash breakfast in the microwave.
Variations
If you prefer fried eggs, you can bake the squash without the egg in it and add the fried eggs on top when it is done baking.
You could also make a similar recipe with a sweet potato instead of squash.
Cheddar cheese can be replaced by mozzarella cheese.
Storage Instructions
Squash contains a lot of water. I suggest removing the flesh from the skin before storing in the refrigerator. You can still store the shell separately if you wish to use it again as a serving bowl. Store up to 3 days in refrigerator.
More Incredible Breakfast Recipes