This post contains affiliate links. As an Amazon Associate I earn from qualifying purchases. View our Privacy Policy.
Caramel Apple Pie is a delicious fall pie recipe that adds caramel and pecan flavors to your favorite apple pie recipe.
If you love caramel apple dessert recipes, try my Caramel Apple Dip, Caramel Apple Snickers Salad, or Caramel Apple Galette.
Caramel Apple Pie Ingredients
To make this caramel apple pie recipe, you will need the following (go to the recipe below for exact amounts and instructions):
Premade pie crust, uncooked
Granny smith apples
Caramel sauce: Make sure to use caramel topping, which is a thicker version of a caramel sauce. Caramel syrup is thinner, and doesn't pack as much punch as the caramel topping.
Butter: I used salted butter, but feel free to use unsalted butter.
Pecans: you can substitute the pecans with walnuts or omit them completely.
Cornstarch
Cinnamon
Salt
How to Make Caramel Apple Pie
Prep the oven, pie crust and apples. Preheat the oven to 425 degrees F. Line pie tin with 1 pie crust and set aside. Put prepared apples in a bowl. Set aside.
Make the apple pie filling. Pour caramel sauce into a bowl along with butter. Microwave, stirring every 30 seconds until the butter is completely melted. Stir butter and caramel topping so that the sauce is shiny and pourable. Pour caramel sauce over apples. Stir in pecans, cornstarch, cinnamon, lemon juice, and salt and mix until combined.
Fill the pie. Place apples into pie tin and make a lattice pattern (optional) with remaining pie crust.
Bake the apple pie. Place pie in the oven for 15 minutes before turning heat down to 350 degrees F. Bake in the oven for an additional 40-50 minutes or until the apples are bubbly. Cover the edges of the crust with foil if they are browning too quickly.
Let cool and serve. Cool pie completely before slicing. Drizzle with additional caramel topping once cooled, optional.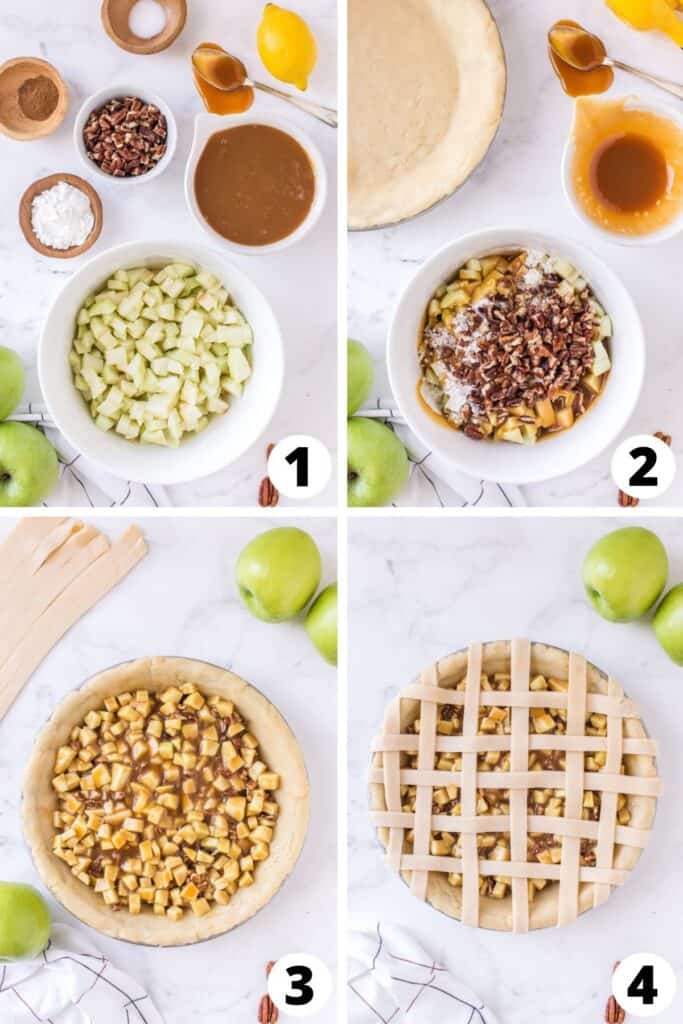 How Do I Make a Pie Lattice?
In order to make a lattice apple pie, take your second pie crust dough, and roll it out onto the counter. With a knife, make long, inch-wide strips of the dough. The length of these should be greater than the diameter of the pie tin.
Take 6-8 strips and attach them to one side of the pie tin, on top of the crust that has been folded over. Each strip should be about 1 inch away from the next. (You can widen or thin the strips based on preference.) Place these 6-8 strips parallel to each other and leave the ends hanging off the bottom part of the tin.
Once you have the tin covered with one half of the strips, fold every other strip back so that you can place the next strip perpendicular to the first strips. Place one new strip across and on top of the rest of the strips, then fold the first half of the strips back down so that they lay on top of the perpendicular strip.
Then, fold the other half of the strips up. Lay your next strip parallel to the new strip, so that it goes over and under the opposing strips as before. Repeat this process until your whole tin is covered.
You will have an excess crust that you can cut off with a knife. Press the edges down with a fork. Enjoy your lattice!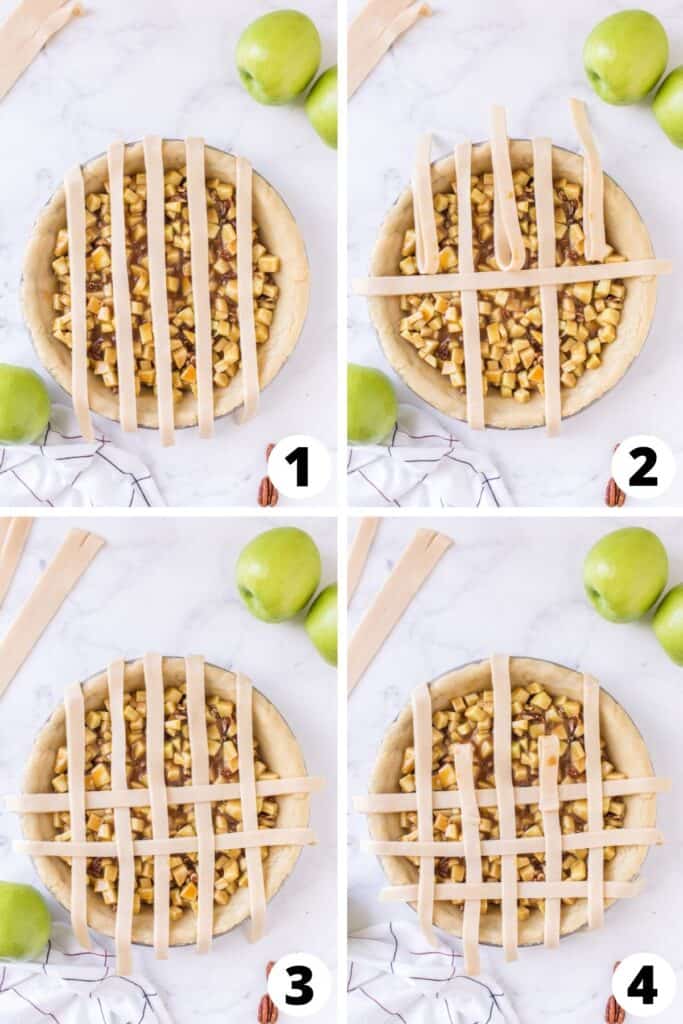 How Long Should I Let an Apple Pie Cool?
Apple pies should be cooled for at least 30 minutes at room temperature. You can then put the pie in the refrigerator to finish cooling. This is done to make sure pies are safe to eat after baking.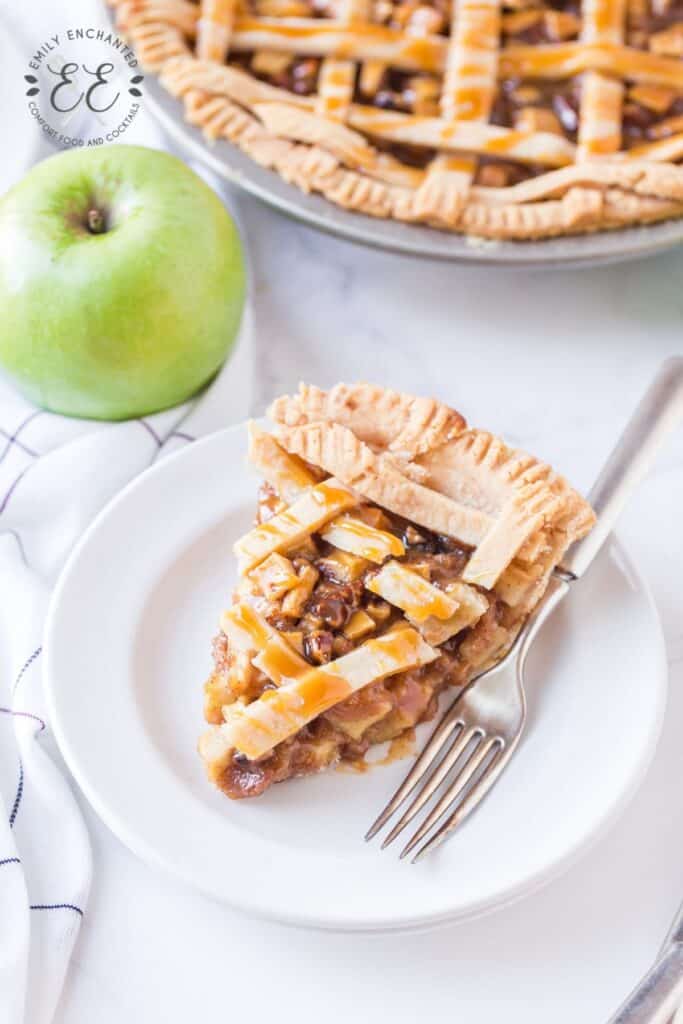 Storage Instructions
Cover this pie tightly and store in the refrigerator for up to 3 days.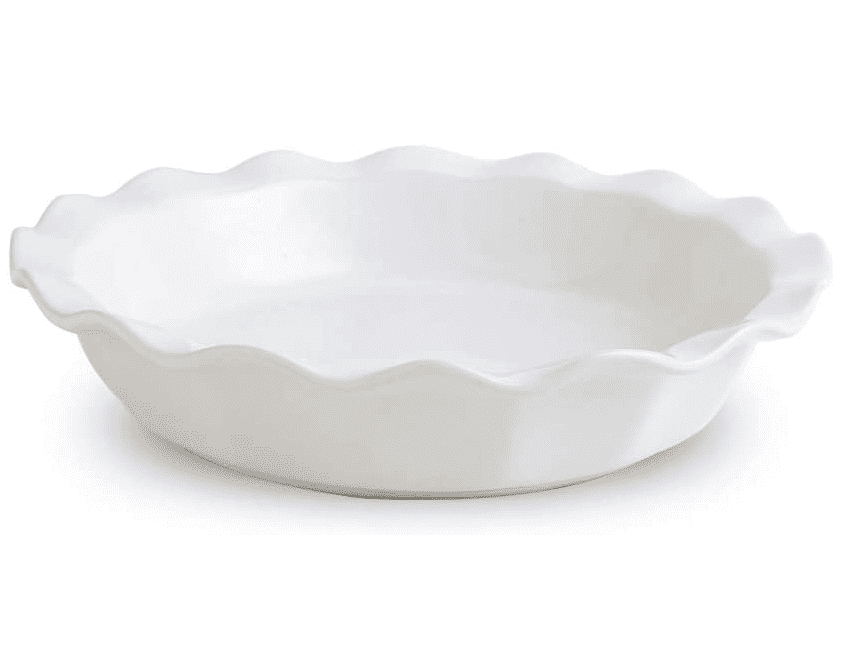 A ceramic pie plate is a beautiful way to serve dessert.