Apple Cinnamon Monkey Bread is made with refrigerated cinnamon rolls, fresh apples, and topped with a cream cheese icing. Monkey bread has never been easier!
This pull-apart bread is perfect for breakfast or dessert. It is simple to make, and because you don't need to let it rise it can be ready in less than an hour.
Apple Cinnamon Monkey Bread Ingredients
To make the best pull apart bread recipe, you will need the following (go to the recipe below for quantities and directions):
Pillsbury Cinnamon Rolls with Icing (8-count, 12.4 oz tubes)
Apples: I used Granny Smith apples for this recipe, but any apple will work.
Salted butter
Dark brown sugar
Ground cinnamon
Cream cheese
Powdered sugar
Cream or milk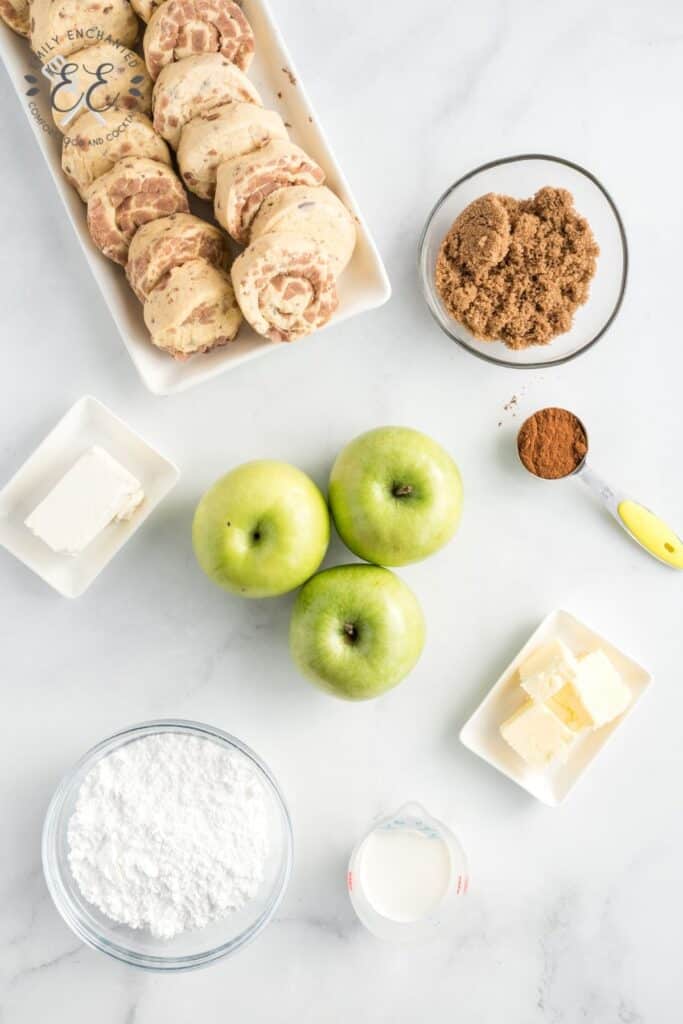 How to Make Apple Monkey Bread
Prep the oven and apples. Preheat oven to 350 degrees. Peel and core the apples and dice into approximately ½ inch cubes.
Cook the apples. Melt the butter in a large skillet over medium heat, then add the apples, brown sugar and cinnamon. Cook over medium heat, stirring occasionally, until apples have started to soften, about 10 minutes. Remove from heat. While the apples are cooking, cut each cinnamon roll in half and form each half into a small ball.
Add apples and cinnamon rolls to bundt pan. Spray a 10-inch bundt pan with non-stick spray, add half of the dough balls to the bottom, then top with half of the apple mixture. Repeat with the remaining dough balls and apple mixture being sure to pour all the brown sugar liquid on top.
Cook the monkey bread. Place the bundt pan on the center rack of the oven and bake for 30 minutes until top is golden brown.
Cool, add icing, and serve. Once it is done baking, remove from oven and place on a cooling rack, allowing the bread to cool in the pan for about 20 minutes. Once you can handle the pan with your hands and the bread is only slightly warm, turn out the bread onto a platter or plate. Drizzle the apple monkey bread with icing as desired and serve. Serve with additional icing on the side if desired.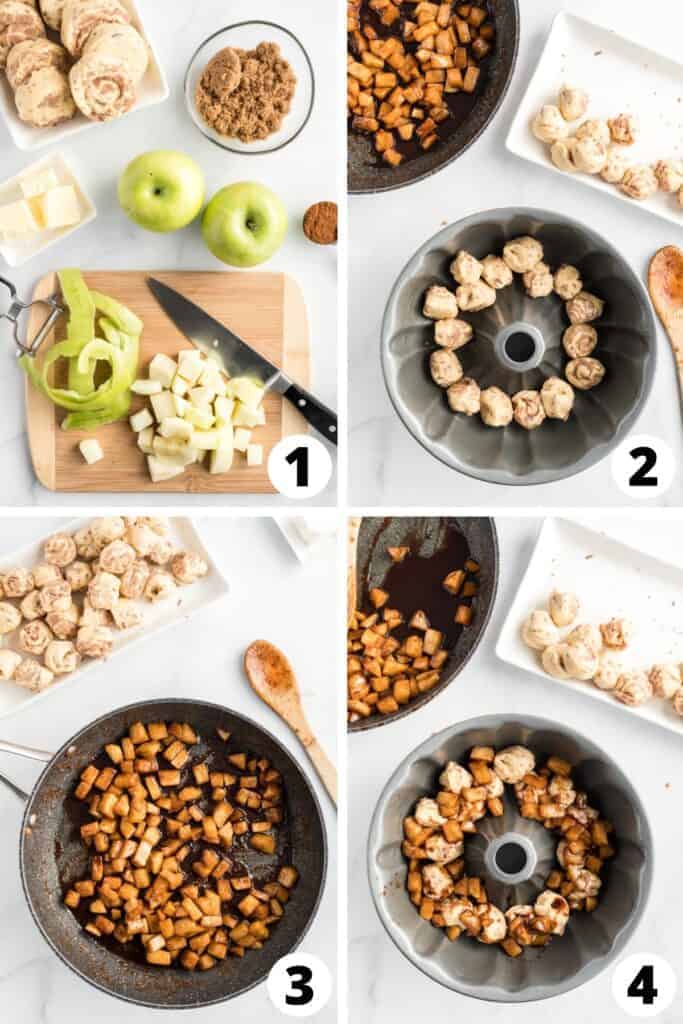 How to Make Cream Cheese Icing
In a large bowl, beat cream cheese and butter until fluffy. Add the powdered sugar a half cup at a time until well mixed. With the mixer on low, slowly add the cream until the icing has thinned out and you can drizzle it. It should be about the consistency of liquid honey. If you prefer, you can add more cream to make it more of a glaze or add less so that it is spreadable.
Recipe Tips
It is important to peel the apples or the skin will separate from the apples when cooking and they can be tough to chew.
This is best served the same day it's baked, but will keep for up to two days if in a sealed container or wrapped with plastic wrap.
The cream cheese icing will make more than needed for this recipe (unless you like a lot of icing), but leftovers can be frozen. You could also make half the amount.
Make these individual monkey breads by baking in a muffin tin! Spray a muffin tin with non-stick spray, add 3 dough balls to each tin and top with apples. It will make 12. Reduce bake time to 20 minutes, then check for doneness.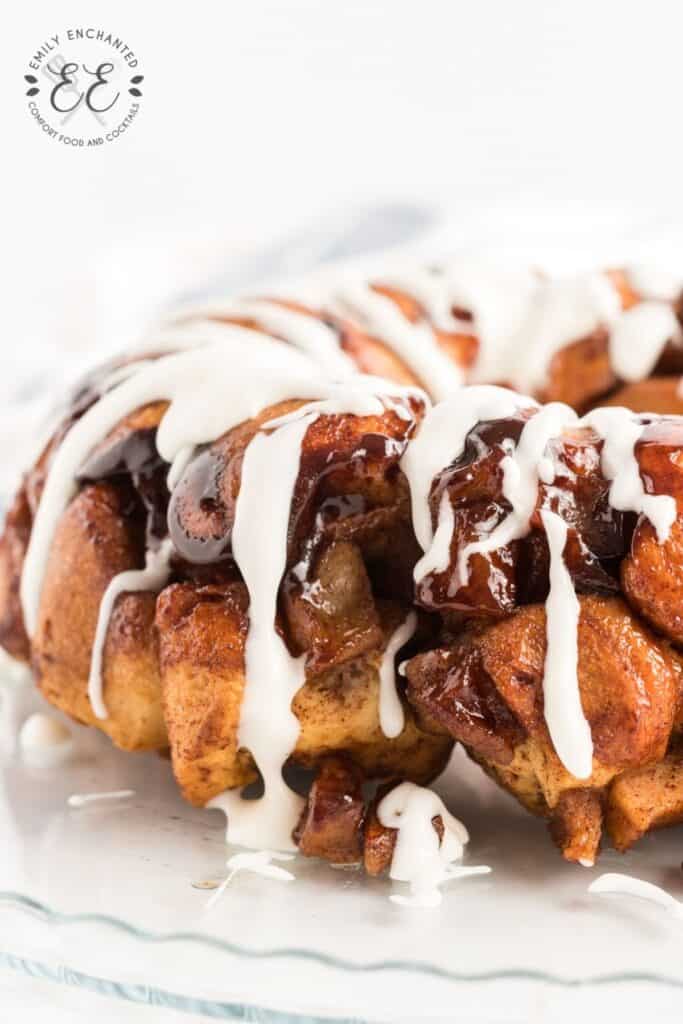 Substitutions & Optional Add-Ins
Apple pie spice instead of cinnamon.
Top with a caramel drizzle instead of cream cheese.
Refrigerated biscuits instead of cinnamon rolls.
Add some chopped pecans along with the apple mixture.
FAQs
Can I Make Monkey Bread if I Don't Have a Bundt Pan?
Yes, this recipe could be baked in a 9×13 pan instead of a bundt pan.
Can I Freeze Cream Cheese Icing?
Yes, you can. Simply store the leftover icing in an airtight container in the freezer. When ready to use, remove from the freezer and allow to thaw in the fridge or room temperature. It may thicken up after freezing, but can be thinned out with a bit of additional cream or milk if you want to drizzle it.
Can I Reheat Monkey Bread?
You can warm it up in the microwave or place it on a baking sheet and cover in foil and reheat it in the oven at 350 degrees for about 10 minutes.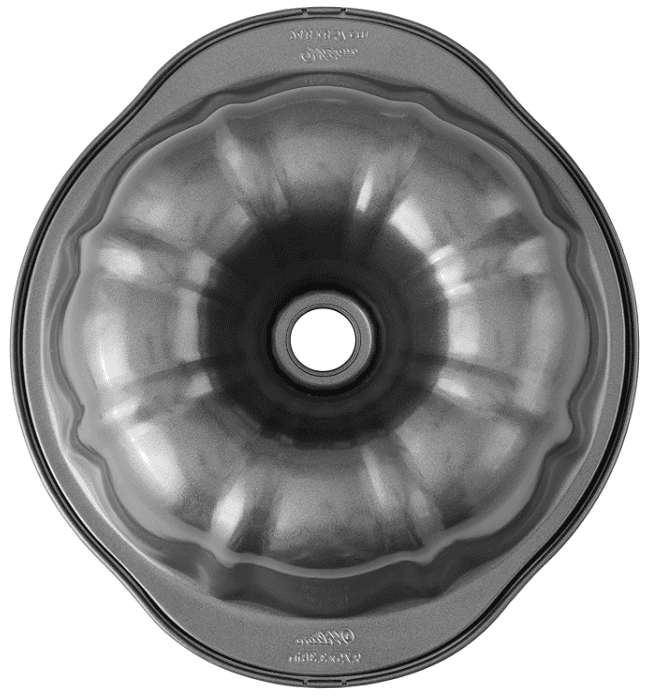 This Wilton Bundt Pan is affordable and has handles for easy use.
Storage Instructions
If you have leftovers you can wrap it in plastic wrap, or move it to an airtight container and store it in the refrigerator. It will last about 2 days.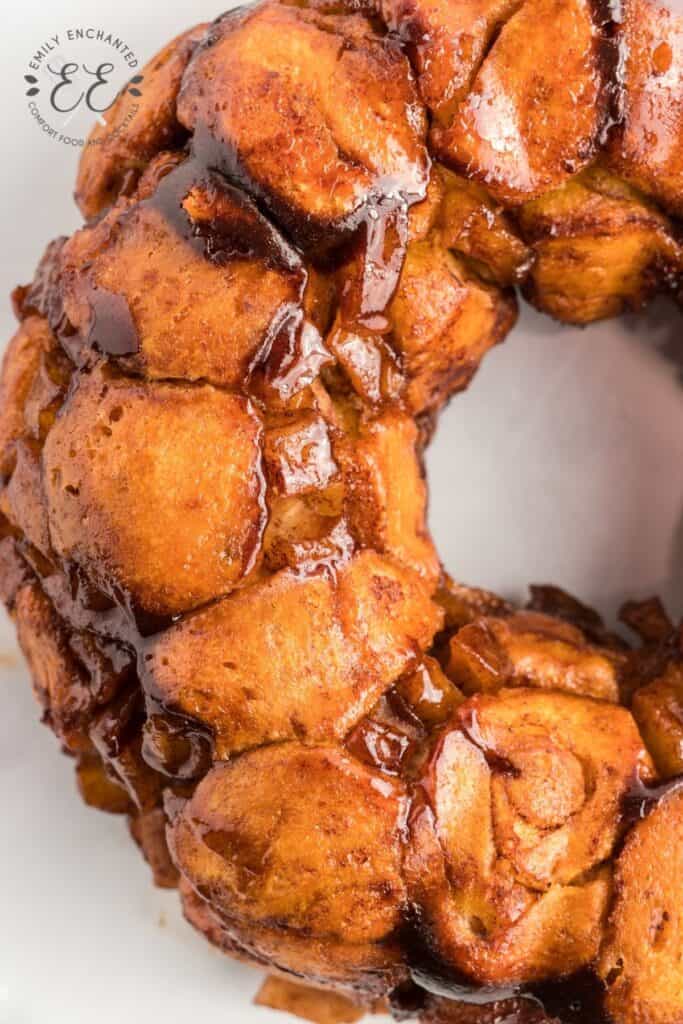 More Delicious Apple Cinnamon Recipes