This post contains affiliate links. As an Amazon Associate I earn from qualifying purchases. View our Privacy Policy.
Chicken Stroganoff is a savory and creamy pasta dish. Chicken breast and onion are mixed with a thick mushroom sauce loaded with flavor.
If you are looking for an easy chicken dinner, you have to try this recipe. Serve it with bread rolls to soak up the sauce and a side salad.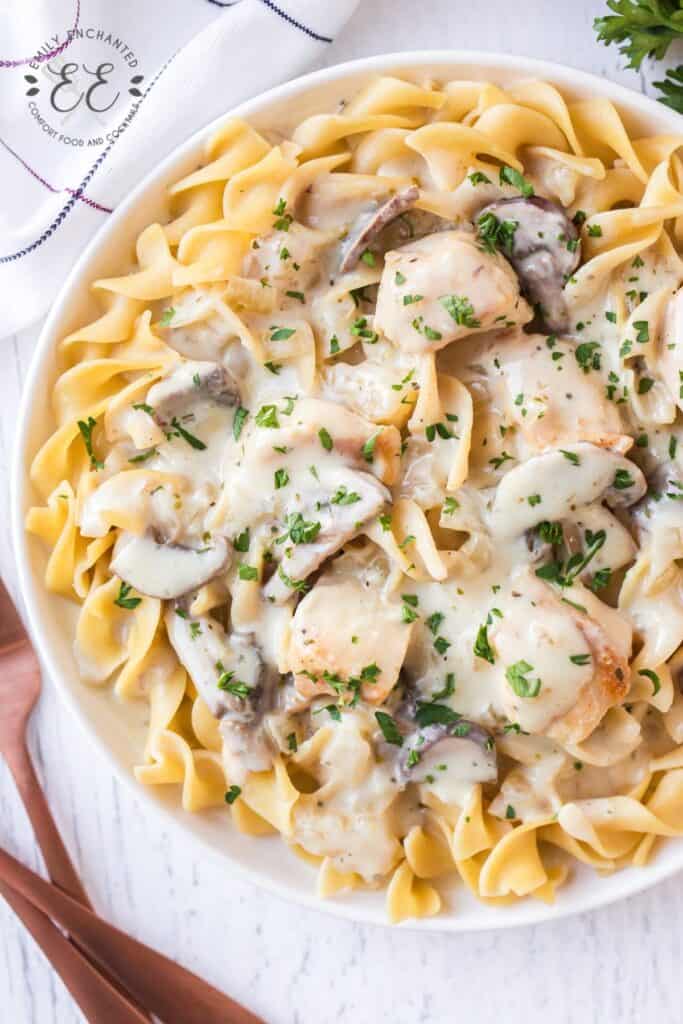 Chicken Stroganoff Ingredients
To make this stroganoff recipe, you will need the following (scroll down to the recipe below for exact quantities):
Cooking oil
Chicken breast: you can also use chicken thighs.
Onion
Mushrooms
Dry white wine: See notes for substitutions
Chicken broth
Garlic Powder
Italian Seasoning
Salt
Cornstarch
Ground Mustard
Heavy Cream: you can replace the heavy cream with half and half or whole milk.
Parsley, fresh (optional)
Noodles (for serving): The most common types of noodle eaten alongside stroganoff are egg noodles, but you can use your favorite type of pasta.
How to Make Chicken Stroganoff
The homemade cream gravy is to die for! It is easy to make, just follow these instructions.
Cook the chicken in a skillet. In a large skillet, heat 2 tablespoons oil on medium. Add chicken to pan and cook 3 to 4 minutes or until chicken is no longer pink and reaches 165 degrees internal temperature. Once cooked, take out chicken and set aside.
Cook the onions and mushrooms. Add onions to pan and cook until translucent and fork tender. Stir in mushrooms and pour in white wine. Let cook for three to five minutes until white wine has reduced
Make the cream sauce. Pour in chicken broth, cornstarch, garlic powder, Italian seasoning, salt, and ground mustard, and cook, stirring occasionally, until sauce has thickened, about 7-10 minutes. Stir in heavy cream.
Add chicken and serve. Place chicken and juice back into the pan and stir until combined. Serve over noodles. Garnish with chopped parsley, optional. Best when served warm.
Storage Instructions
Store this noodle dish in the refrigerator. It needs to be in a sealed container, and will last 2-3 days. I don't recommend freezing due to the addition of cream. It may not have the same consistency when thawed.
FAQs
What is Chicken Stroganoff?
Chicken Stroganoff is a twist on the classic and well-loved beef stroganoff. Stroganoff is made with a homemade, creamy mushroom sauce or cream of mushroom soup for ease. This recipe uses chicken breast instead of sauted beef.
How Do You Reduce Sauce?
Sauces "reduce" when they thicken slightly from their original consistency. This is important in some of these creamy dishes, since a creamier sauce is much more enjoyable to eat than a thin sauce. The addition of cornstarch will help the reduction to go faster.
What Can I Substitute for Dry White Wine?
If you don't have any dry white wine, there are some other options you can use. Brandy is a typical and common drink used in stroganoff, but you can also use bourbon, rum, whisky, apple juice, or more chicken stock.