Mini Spring Flower Cupcakes are the perfect dessert to celebrate the coming of Spring or holidays like Easter.
When you see the trees start to bloom pretty colors like white and purple, you know that Spring is here! The beginning of spring and the celebration of Easter always go together in my mind, so I thought these cute spring flower cupcakes would be the perfect thing on the Easter dessert table.
This post contains affiliate links.
Mini Spring Flower Cupcakes Ingredients
To make this mini cupcakes recipe, you will need the following ingredients (see the recipe card below for exact amounts):
all-purpose flour
salt
sugar
egg
vanilla extract
vegetable oil
buttermilk
hot water
chocolate buttercream
graham cracker crumbs
yellow candy melts: or white chocolate and yellow food coloring
coconut oil: not necessary if opting for white chocolate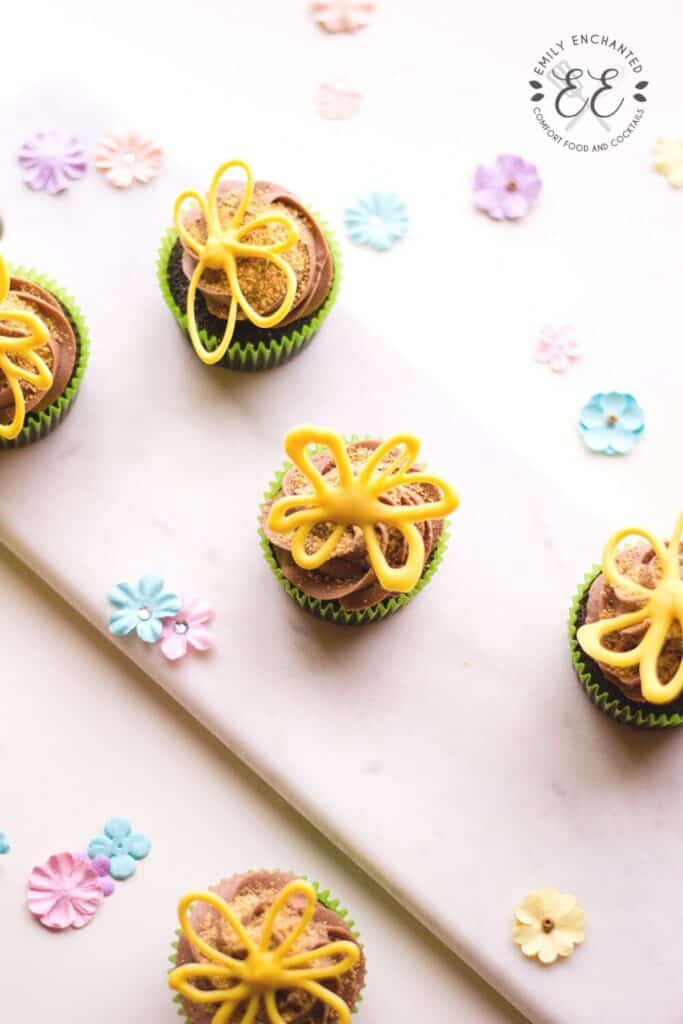 How to Make Mini Chocolate Cupcakes
Preheat your oven to 350 degrees and line a muffin pan [I like this Wilton Muffin Pan] with muffin cups. Set your pan aside.
In a large bowl [I use this OXO mixing bowl with grips], combine your dry ingredients: flour, cocoa powder, baking soda, and salt.
In a stand mixer [I'd be lost without my Kitchenaid mixer!], mix sugar, egg, and vanilla until smooth. Add vegetable oil.
In small amounts, add dry ingredients and buttermilk alternatively into your wet ingredients.
Once your cupcake batter is completely combined, mix in the hot water. Fill each section of your muffin pan halfway with cupcake batter. Bake for 12-15 minutes.
Cool cupcakes on cooling rack.
Using a piping bag, pipe on large amount of chocolate buttercream on each cupcake. Sprinkle graham cracker crumbs on top.
Line a baking sheet with wax paper. In a microwave-safe bowl, melt candy melts and coconut oil. Place in a piping bag and pipe out flower shapes on baking sheet. Let set in the refrigerator. If you decide to go with white chocolate, place a dab of yellow food coloring on white chocolate chips. Melt using the double boiler method.
Remove from wax paper and place on top of cupcake.
More Delicious Cupcake Recipes
Want more cupcake? Try these recipes: