These Champagne Cupcakes perfect for New Year's Eve are made with real champagne! Even though I prefer to go to bed early, I love New Year's parties. They are so full of anticipation and hope for the new year.
This New Year's cupcake recipe is very easy – you just add champagne to the cupcake mix with the rest of the wet ingredients and voilà! These sweet cupcakes are delicious! If you are looking for kid-friendly cupcakes, try these New Years Eve Ball Drop Cupcakes.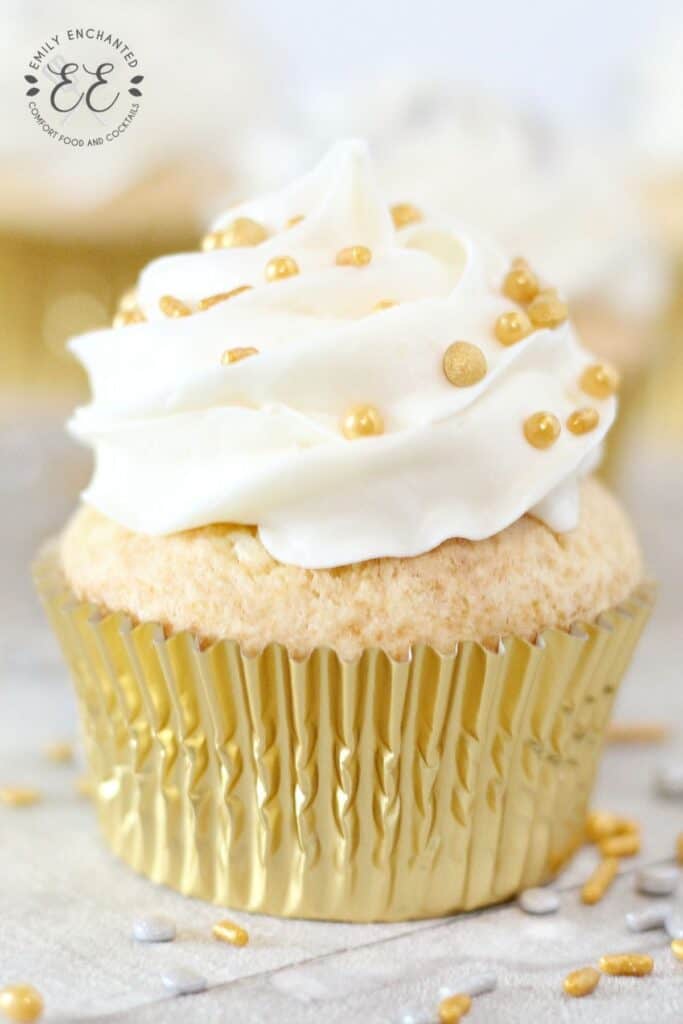 This post contains affiliate links.
Champagne Cupcakes Ingredients
Champagne cupcakes do not have a lot of ingredients and some can already be found in your kitchen. They are just like regular cupcakes, but with an adult twist. You'll need to stop at a liquor store for pink champagne.
The ingredients for champagne cupcakes are:
Betty Crocker Super Moist White Cake Mix
Pink Champagne (Rosé)
Butter
Eggs
Pillsbury Creamy Supreme White Frosting
Gold and Silver Sprinkles: Wilton offers this gold sprinkles and cupcake liners kit perfect for this recipe.
Tools Needed to Make These Cupcakes
To make this recipe, you will need the following tools:
How to Make Champagne Cupcakes
Champagne cupcakes are very easy to make. You are basically going to follow the box instructions and add champagne.
Make the batter. Start by mixing the cake mix, butter, eggs, and champagne. Mix with a mixer on high until well blended.
Bake cupcakes. Pour mixture into cupcake tin with liners, and bake according to box instructions. Let cool completely.
Ice the cupcakes. Fill piping bag with white icing and place 1M tip on the end. Start in the middle and work your way out and up with icing.
Apply sprinkles. Your champagne cupcakes are ready to serve! They will look so pretty served along side a glass of sparkling pink champagne.
Pink Champagne vs. White Champagne
I thought champagne only came in one color – white. But apparently there is such a thing as pink champagne, more commonly known as Rosé Champagne.
Pink champagne can have a different flavor than white champagne, but like any bubbly, flavor varies depending on the maker and the grapes. The unique color is derived from the way it is made. It is also a bit more expensive than white champagne.
Specifically for this champagne cupcakes recipe, you want a sweeter, fruity pink champagne, and not a nutty or musty white champagne.