These darling Snow Globe Dipped Oreos are so cute. White candy melts, blue candy melts, red candy melts, Oreo cookies, green icing and some specialty candies are all you need for these cheery treats!
Chocolate dipped Oreos are decorated with fun winter scenes to create the perfect Christmas cookie. Serve at a Christmas party or give as gifts to teachers and neighbors.
This post contains affiliate links.
Snow Globe Cookies Ingredients
To make these Christmas Oreo cookies, you will need the following ingredients (go to the recipe below for exact quantities and instructions):
Turquoise or blue candy melts
Oreo cookies: You can use regular or Double Stuf. I find the Double Stuf are easier to manage when using a fork to dip the cookie. Sometimes a fork can separate a regular Oreo.
Mini Reese's peanut butter cups
Tube of green decorating icing: Make sure you use decorating icing and not cookie icing. Cookie icing is thinner and runs together. Decorator icing is thicker and maintains the form you pipe out.
Additional red and white sanding sugar
How to Make Snow Globe Dipped Oreos
Heat and stir the red and blue candy melts, in separate bowls, according to package instructions for the microwave, until melted.
Use a toothpick or fork to dip a cookie into the melted background color candy (red or blue), coating both sides. Tap off the excess candy and place cookie on a sheet of parchment paper.
Immediately sprinkle white nonpareils over the cookie to create "swirling snow." Repeat to make 12 red and 12 blue dipped cookies. Allow the dipped cookies to harden completely.
Meanwhile, melt the white candy melts, following the same instructions (typically heat in 15-30 second increments). Dip one edge of a hardened blue or red cookie into the white candy melts to form the bottom "snow" layer.
Attach the bottom of a mini peanut butter cup to the base of the cookie.
Sprinkle with additional white nonpareils to form a "settled snow" layer. Allow candy to set.
Use a small round piping tip attached (I used Wilton No. 5) to the green icing to draw two trees in the center of the snow globe. You can make triangles or make a series of upside down V's to mimic the layers of a tree.
Sprinkle red nonpareils over the piped tree and place a star candy at the top.
We also dipped some red and white cookies and sprinkled with matching sanding sugar to add a little variety amongst the snow globe cookies. This is optional, of course.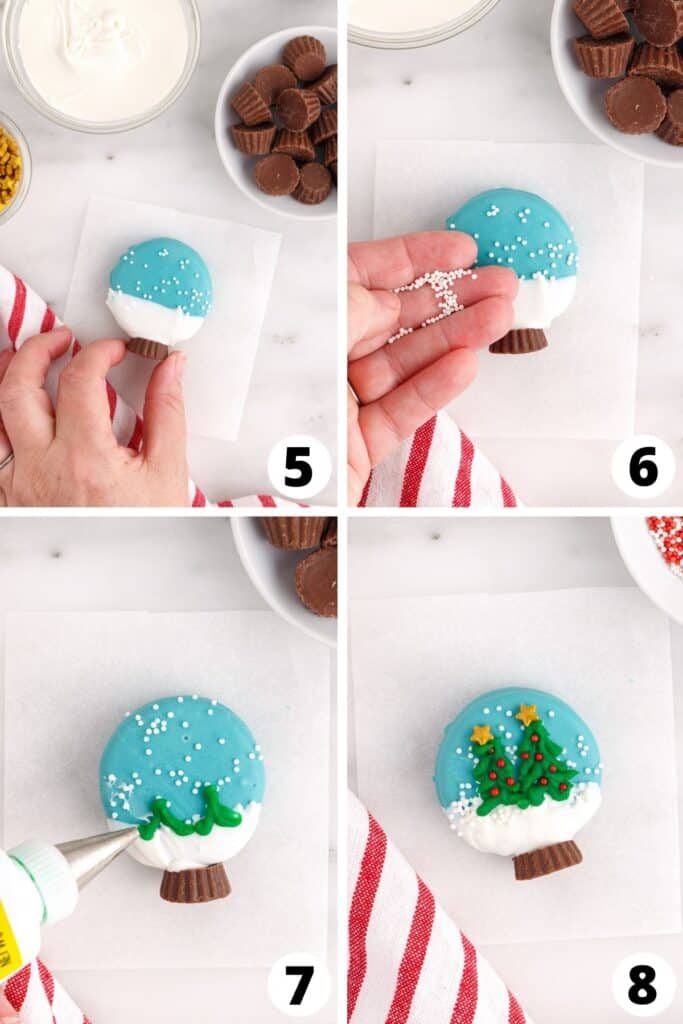 Storage Instructions
Candy coated cookies will stay fresh in an airtight container for 1-2 weeks.
FAQs
My chocolate is too hard. What should I do?
Reheat the candy melts in 15-30 second increments as needed if the bowl of candy starts to harden too quickly. But, do not get any water into the candy melts and do not overheat – the candy will seize up and turn hard and brittle.
I can't find green icing in a tube. What can I use instead?
The green icing tube is made by Wilton and is often available at the grocery store. You can screw on any piping tip to use with these, making this icing very versatile for cookie decorating. You can also simply pop some green icing into a plastic baggy, snip of the corner, and use that to "write." I recommend against using the "gel writers" as they often are too runny and smear.
Can I use other things to decorate these cookies?
Decorate the inside of your snow globe with any scene you'd like! Small candies or sugar scenes may also look nice!
Where do I find candy melts?
Candy melts are available at local craft stores and even many grocery stores in the baking aisle.
More Christmas Cookies and Treats