Chocolate Pretzel Rings with Kisses and M&Ms are the perfect sweet and salty Christmas treat. They are so easy to just pop in your mouth and enjoy. They take very little time to make and cool very quickly in the fridge.
This easy to make Christmas treat is perfect for the holiday season. I used to make Reindeer Noses with my mom and after much experimentation, we found the best way to get melted chocolate in the center.
I can guarantee that these will be gone in no time once you put them out on the Christmas treat table. And if you have leftover M&Ms, you can make these Christmas Monster Cookies.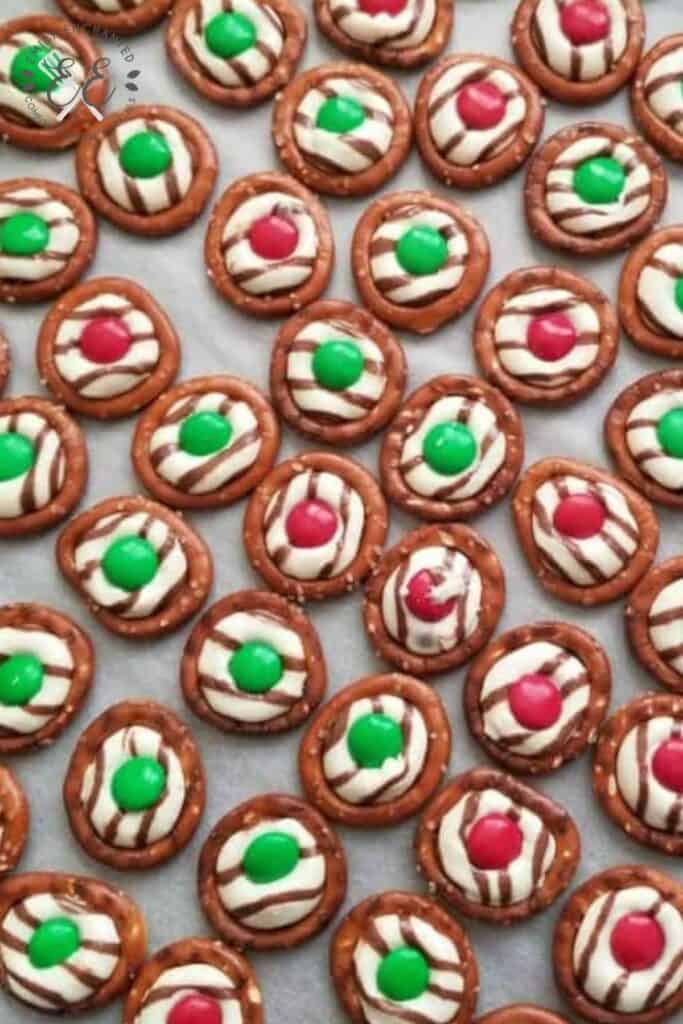 Why are They Called Reindeer Noses?
These can also be called Reindeer Noses and you can use red M&Ms to signify Rudolph's nose! These are originally made with regular Hershey Kisses, so with the red candy it looked like Rudolph the Red Nosed Reindeer. But I found that Kisses do not melt very well. So I started using Hugs instead.
I know they don't exactly look like Reindeer Noses when you don't use Hershey's Kisses, but they are still cute and just as good!
Pretzel Ring Ingredients
Chocolate Pretzel Rings with Kisses and M&Ms only calls for 3 ingredients and are so easy to make! You can make as many as you want, so just make sure you have equal amounts of each ingredient.
Pretzel Rings (round pretzels)
Hershey Swirled Kisses (aka Hershey Hugs)
Holiday M&Ms
You will also need a cookie sheet and parchment paper.
Where to Find Pretzel Rings
Pretzel rings are getting harder to find every year. It seems that Rold Gold has stopped producing their Holiday Rings. They are not even listed on the Rold Gold website. I did find Wege Circle Pretzel O's on Amazon, but I have not tried this brand.
I found the holy grail of pretzel rings last year at Albertsons. They sell them in a large barrel under their store brand Signature Select, so theoretically you should be able to find them at all banner stores:
Albertsons
Safeway
Vons
Jewel-Osco
Shaw's
ACME
Tom Thumb
Randalls
United Supermarkets
Pavilions
Star Market
Haggen
Carrs
2022 PRETZEL RING SIGHTINGS
Crav'n Flavor Pretzel Rings at Piggly Wiggly – My mom gets the credit for first pretzel ring sighting of 2022!
Sendik's Food Market in Wisconsin – Thanks, Amy!
Signature Select Pretzel Rings at Albertsons – They were in the chip/snack aisle on the end by the specialty items, not by the pretzels.
If you know where to buy round pretzels, please let us know in the comments! In the event that pretzel rings cannot be found, you can use pretzel twists or pretzel squares.
Alternatives to Hershey Hugs for Chocolate Filled Pretzel Rings
Hershey's Hugs (the white chocolate and milk chocolate swirled Kisses) are perfect for this recipe because they melt so well, but you can use other candies.
Hershey's Kisses (the plain milk chocolate kind) do not melt as well and have less "smush" factor. Because it is hard to melt a Hershey's Kiss, they end up very rounded.
Hershey Candy Cane Kisses get extra melty and need less time in the oven.
Rolo candies are another version I have seen, but I have not tried myself. You can even make these with Rolos and pecans.
How to Make Chocolate Pretzel Rings with Kisses and M&Ms
These Christmas pretzel treats with a kiss in the center and an M&M on top are so easy to make.
Preheat oven to 275 degrees.
Line a cookie sheet or baking pan with parchment paper. Lay out the pretzels. [Note: wax paper is NOT parchment paper!] Put one Hug or Kiss in the center of each pretzel.
Melt in oven for 2-3 minutes.
Immediately place an M&M in the middle and press down. I like to make sure the "m" is face down so they look nice. The Hugs may still look "peaked" but trust me, they are melted! They should smush as soon as you push an M&M down on the chocolate.
Cool on cookie sheet in fridge until hardened, about 10-20 minutes.
Remove from cookie sheet, place in a Christmas tin and store at room temperature.
Reindeer Noses Recipe
If you truly want to make the original Reindeer Noses Recipe, follow the same instructions above using Hershey's Kisses. Do not put in the oven for longer than 3 minutes. I find that they actually get harder the longer you leave them in the oven. You just have to accept that Reindeer Noses will not flatten.
If you do a search for Reindeer Noses, you will see that all of the recipes have mounded chocolate. They are coated with wax to maintain their shape.
An alternate method of melting Hersheys chocolate for Reindeer Noses would be to melt the Kisses in a microwaveable bowl, mixing in between until they are totally melted. You could even try melting chocolate chips. Make sure all your pretzels are on parchment paper on a cookie sheet. Then spoon the melted chocolate Kisses in the center of each pretzel, place the M&M on top and move to fridge to harden. I have not tried this method, so let me know how this Reindeer Noses Recipe comes out!
Storage Instructions
Store Reindeer Noses in container at room temperature. The chocolate will start to develop white spots and not look as nice if you keep them in the fridge too long.