Grinch Rice Krispie Treats are a fun and festive dessert perfect for the holidays. This classic treat is dyed green and layered with green chocolate on top.
Throw a Grinch themed Christmas party and make this Grinch Dip too!
This post contains affiliate links.
Grinch Rice Krispie Treats Ingredients
To make this Christmas rice krispie treat recipe, you will need the following ingredients (go to the recipe below for exact quantities and instructions):
mini marshmallows
salted butter
vanilla extract
rice krispie cereal
coconut oil
How to Make Grinch Treats
Grease a 9×13 inch baking pan with butter, set the pan aside.
In a large saucepan, combine the marshmallows and butter over medium heat. Cook until all the marshmallows are melted, making sure to stir occasionally.
Stir the vanilla extract and food coloring into the marshmallows. Once all the marshmallows are green, add in the rice krispies and stir until the cereal is coated.
Pour the mixture into the prepared pan, spray your hands with nonstick spray and press the rice crispy into an even layer.
Place the chocolate and coconut oil into a medium heat-safe mixing bowl. Microwave for 30-second intervals until the chocolate is melted, making sure to stir after every 30 seconds. Pour the chocolate over the Rice Krispies and spread it in an even layer. Sprinkle the hearts all over the top of the chocolate.
Place the pan in the fridge and allow the chocolate to set up for 15 to 20 minutes. Cut into squares and enjoy.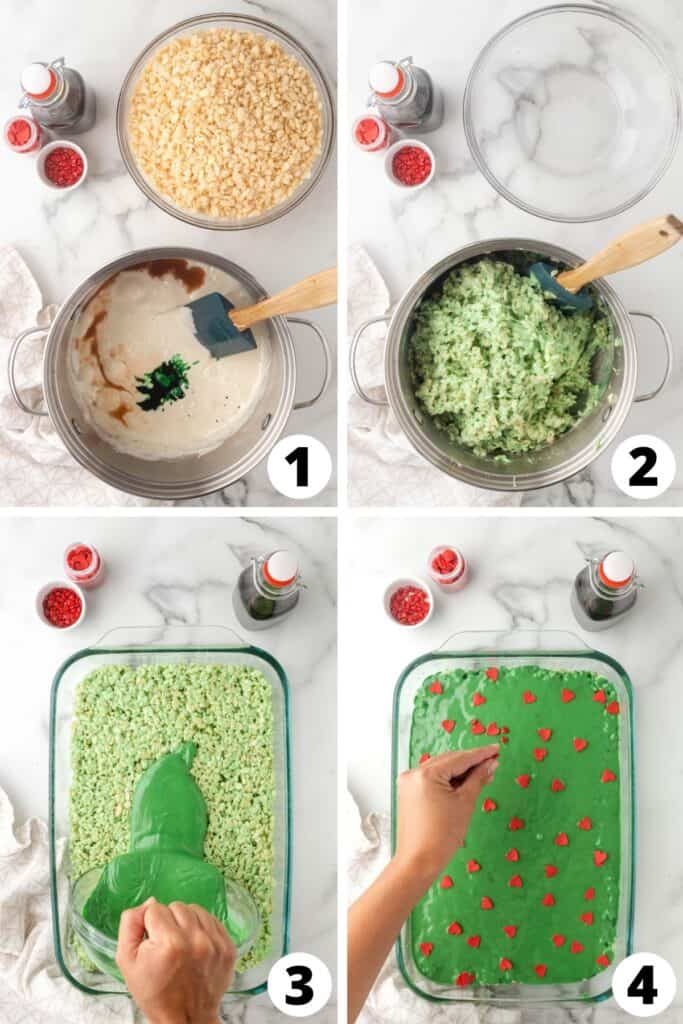 FAQs
Do I have to use coconut oil in the melted chocolate?
Yes, otherwise your chocolate will be too thick. It helps thin out the chocolate to help it spread evenly over the cereal treats.
Can I Freeze Rice Krispie Treats?
Yes, you can, but they are much better the day they are made. If you want to freeze them, you will just need to place them in the freezer for one hour. Then remove them from the freezer and take the treats out of the pan, wrap with two layers of plastic wrap, then a layer of foil. They will last for up to 6 weeks in the freezer.
What if I can't find heart sprinkles?
That's okay! Buy a tube of red icing and draw hearts.
Storage Instructions
It's best to store them in an airtight container at room temperature. They will last for up to three days out on the counter before they start getting stale.
More Festive Christmas Recipes