Slow Cooker Chicken Taco Soup is the perfect way to warm up on a cold day. This hearty soup is full of chicken, beans and corn. I love the corn in this soup because it gives it a little bit of a crunch. The seasonings make this soup so tasty.
This soup is similar to my Instant Pot Chicken Tortilla Soup, but works great for those who don't have an Instant Pot.
Cooking chicken in a slow cooker is great because the chicken stays moist and gets very tender. The chicken in this recipe just falls apart when it is done, making easy shredded chicken.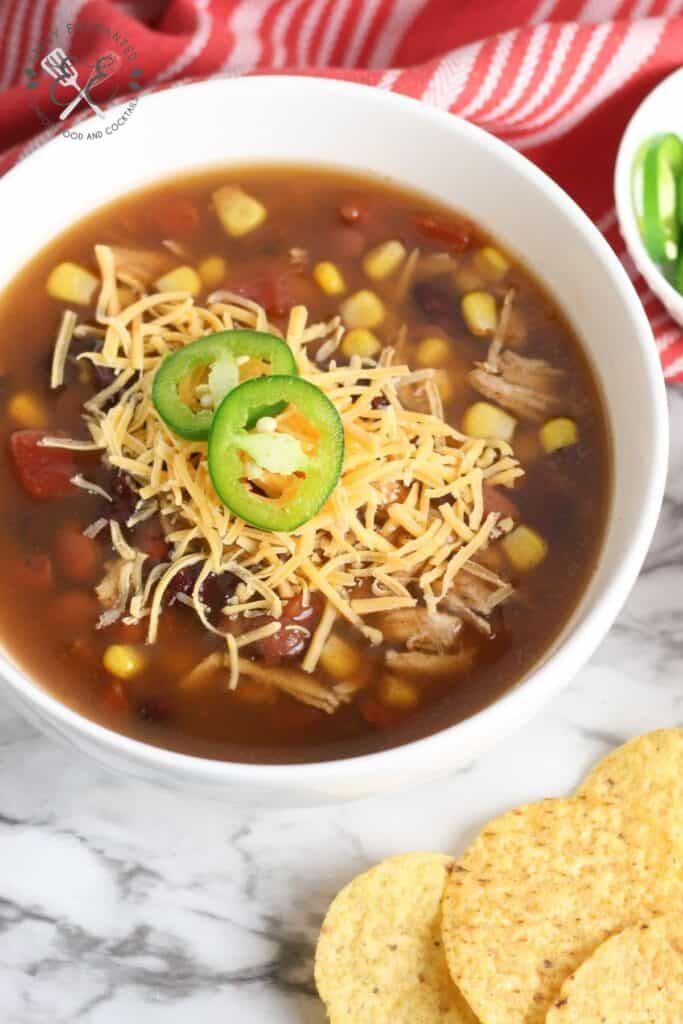 This post contains affiliate links.
Chicken Taco Soup Ingredients
Most of the items you need for this recipe may already be in your pantry. It is mostly canned goods and seasonings. Scroll down to the recipe card for exact amounts.
boneless skinless chicken breasts: You can add additional chicken breasts (1 or 2) to make this soup more like a stew. It tastes just as good but it makes more.
fat free chicken broth: You can substitute vegetable broth for the chicken broth, and it tastes just as good. Vegetable broth is full of flavor! I like to use Imagine Organic Low Sodium Vegetable Broth.
corn
kidney beans
pinto, red, or black beans
diced tomatoes with green chile
seasonings: chili powder, paprika, black pepper, salt, onion powder, garlic powder, cayenne pepper, oregano (For extra easy chicken taco soup in the crock pot, substitute a packet of taco seasoning for all the other seasonings. No measuring!)
How to Make Taco Soup in a Slow Cooker
This chicken soup recipe is as easy as dump, set and forget for 6 hours.
First, place all ingredients in the slow cooker and mix well.
Cover and cook on low for 6 to 8 hours or high for 3 to 4 hours.
Remove the chicken breast, shred the meat, and return the shredded chicken to the pot.
Serve with cheddar cheese and sour cream and enjoy!
Extra Ingredients and Toppings to Serve with This Soup
Cooked rice
Shredded cheddar cheese
Jalapeno slices
Sour cream
Tortilla strips
Crushed tortilla chips
What Crock Pot Should I Use?
I love cooking in my Crock Pot because it is so easy and makes my whole house smell amazing! I recommend this slow cooker. The options are super simple and it gets the job done.