Red Velvet Cake Roll is a rich and decadent Christmas roll with a beautiful display of drizzled white chocolate over a delicious swirl of red and white.
The bright red velvet cake is an eye catcher and dazzles onlookers. Aunts, uncles, nieces and nephews will be rushing through the meal to get a slice of this gorgeous cake.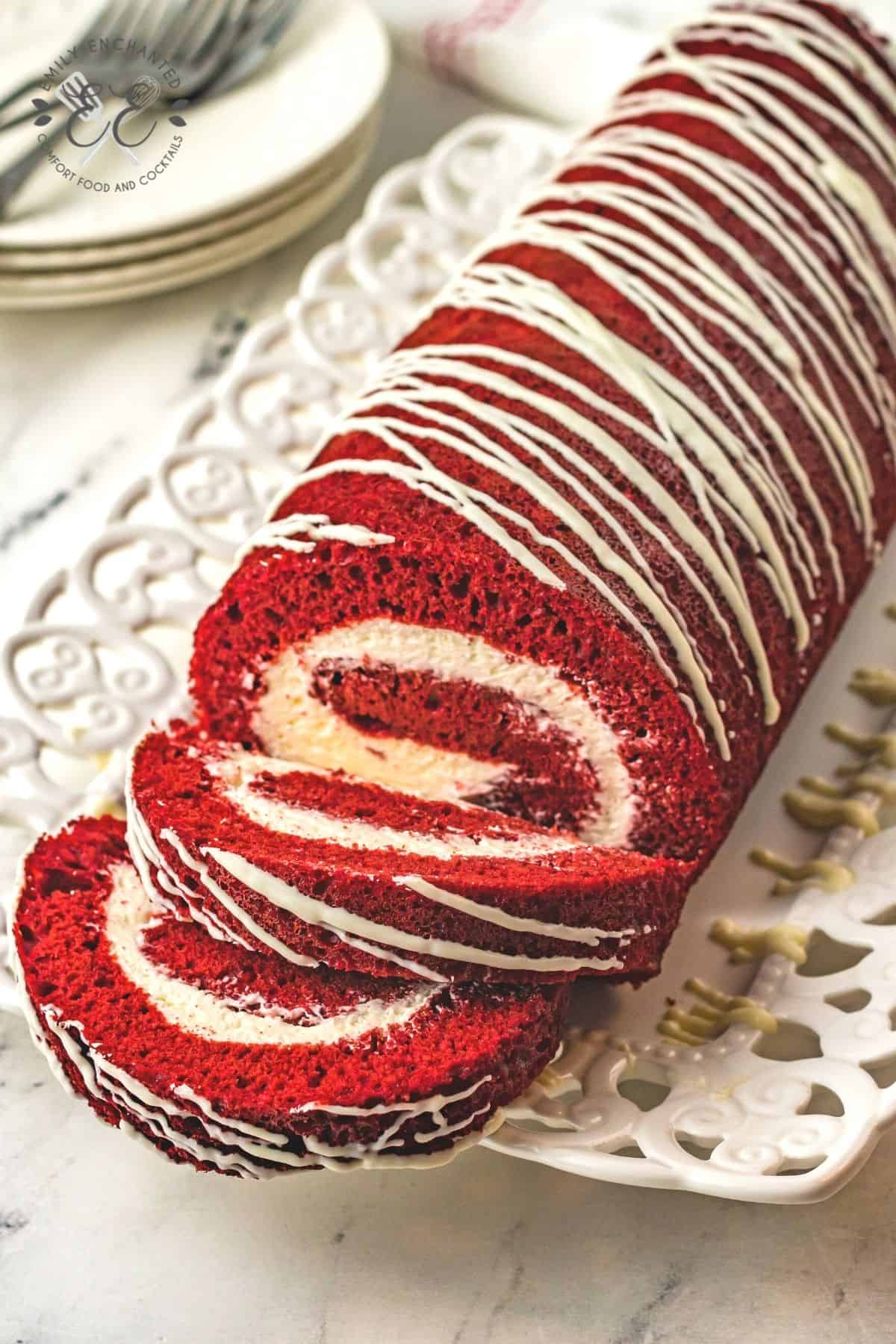 This post contains affiliate links.
Red Velvet Cake Roll Ingredients
To make this red and white cake roll, you will need the following ingredients (see the recipe card below for exact amounts):
Eggs
Red Velvet Cake Mix
Water
Oil
Cool Whip Topping
Cream Cheese
Red Food Coloring
Confectioners Sugar
Vanilla Extract
Butter
White Chocolate Melting Wafers: alternatively, you can sprinkle with powdered sugar.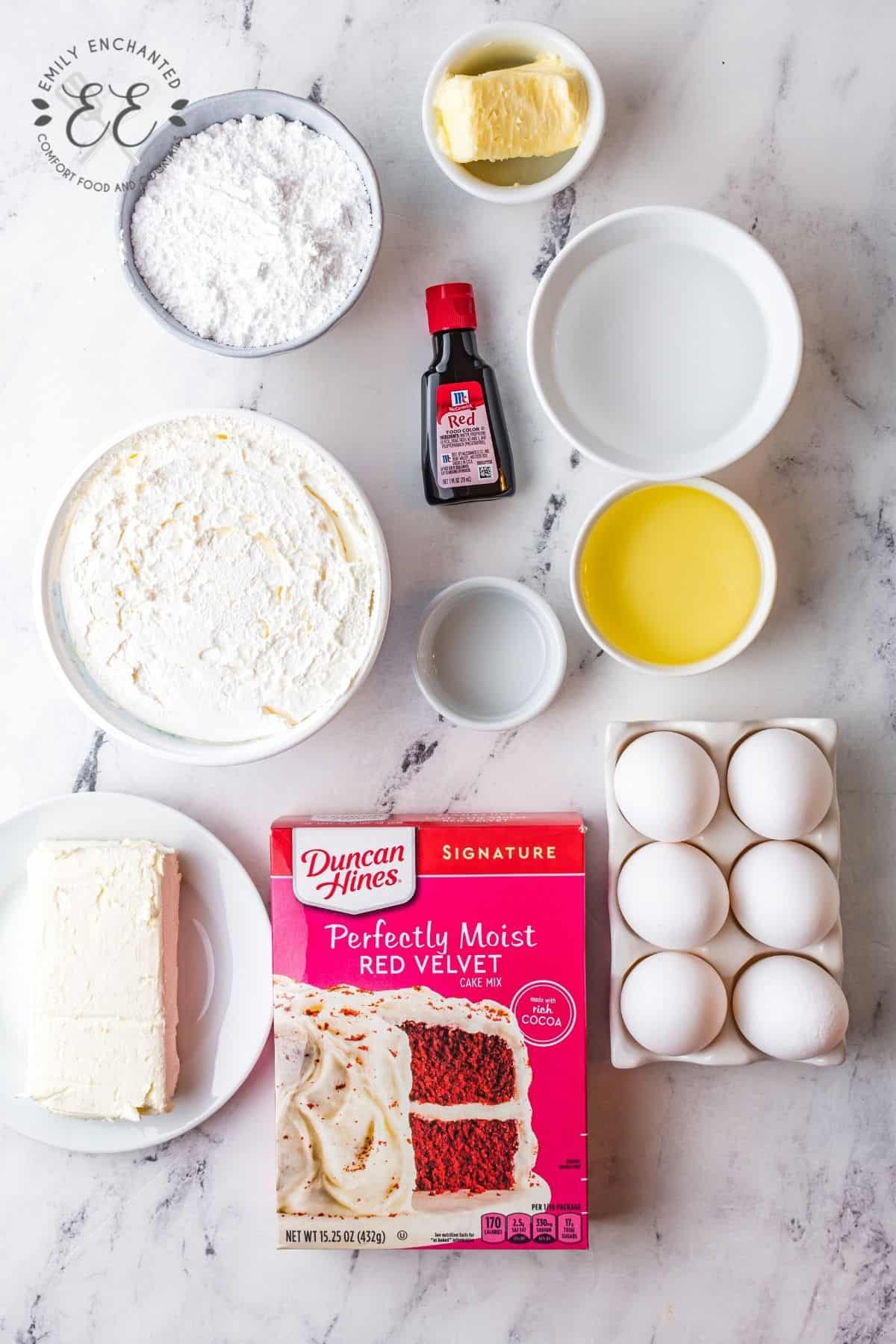 Special Tools Needed
To make a cake roll, you need a jelly roll pan. This pan usually measures 15 x 10 x 1. This shallow pan allows you to make a thin cake.
You will also need parchment paper to roll the cake.
How to Make Christmas Cake Roll
Preheat the oven to 350°. Line a 15x10x1 inch pan with parchment paper and spray with non-stick cooking spray.
Beat the eggs for 5 minutes until yellow and thick. Gradually add cake mix, water, and oil. Beat on low for 30 seconds, and then on medium for 1 minute. If you want a brighter red, add 1 teaspoon to 1 tablespoon red food coloring and mix to combine.
Pour 3 ½ cups of the batter into the pan and spread to the corners of the pan with a spatula (you may have leftover batter).
Bake for 15 minutes until the cake springs back if touched in the center.
Remove from the oven and roll up the cake with the parchment paper. Place on a wire rack and cool completely for 30 to 45 minutes.
In a large bowl combine butter and cream cheese with a hand mixer. Add confectioners sugar and vanilla extract and beat together.

Fold the whipped topping gently into the cream cheese mixture.

Unroll the cooled cake. Spread icing evenly across the cake and reroll cake, being sure to slowly and delicately remove the parchment paper as you reroll. Refrigerate the completed cake roll for 30 minutes.
Melt chocolate wafers according to the package directions and drizzle the white chocolate back and forth over the roll. Alternatively, you can sprinkle or sift confectioners sugar over the top of the roll.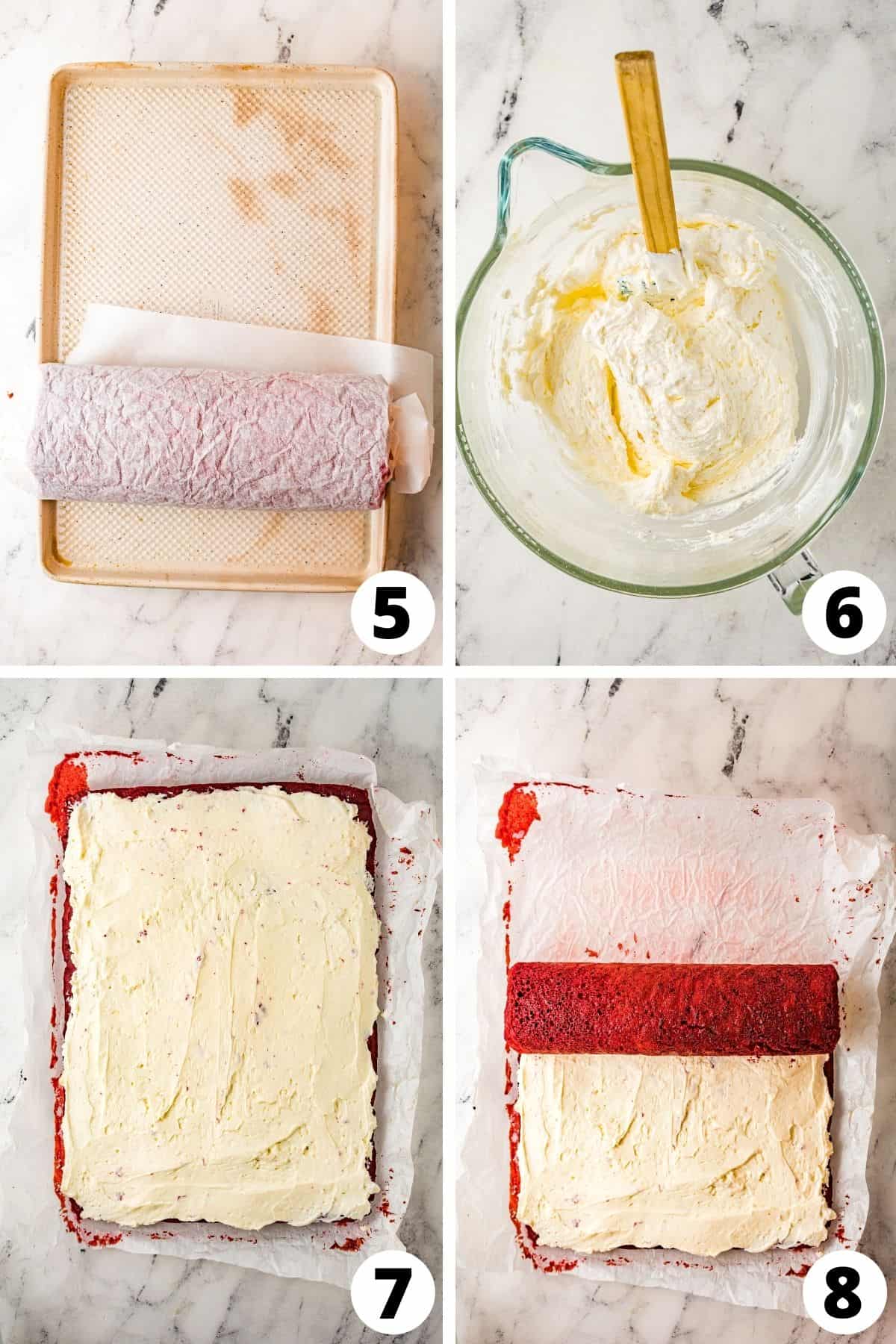 Recipe Tips
When spreading the filling be sure to get filling up under the first curl of the roll.
You will leftover cake batter. You can use it to make an extra cake, or make cake pops.
FAQs
How Do I Prevent the Cake from Cracking?
Pre-rolling the cake while it's still hot is key to making sure the cake doesn't crack when you roll it with the filling.
Can I Freeze Cake Roll?
Yes, cake roll will also freeze well for up to 3 months. To thaw, place in the refrigerator overnight.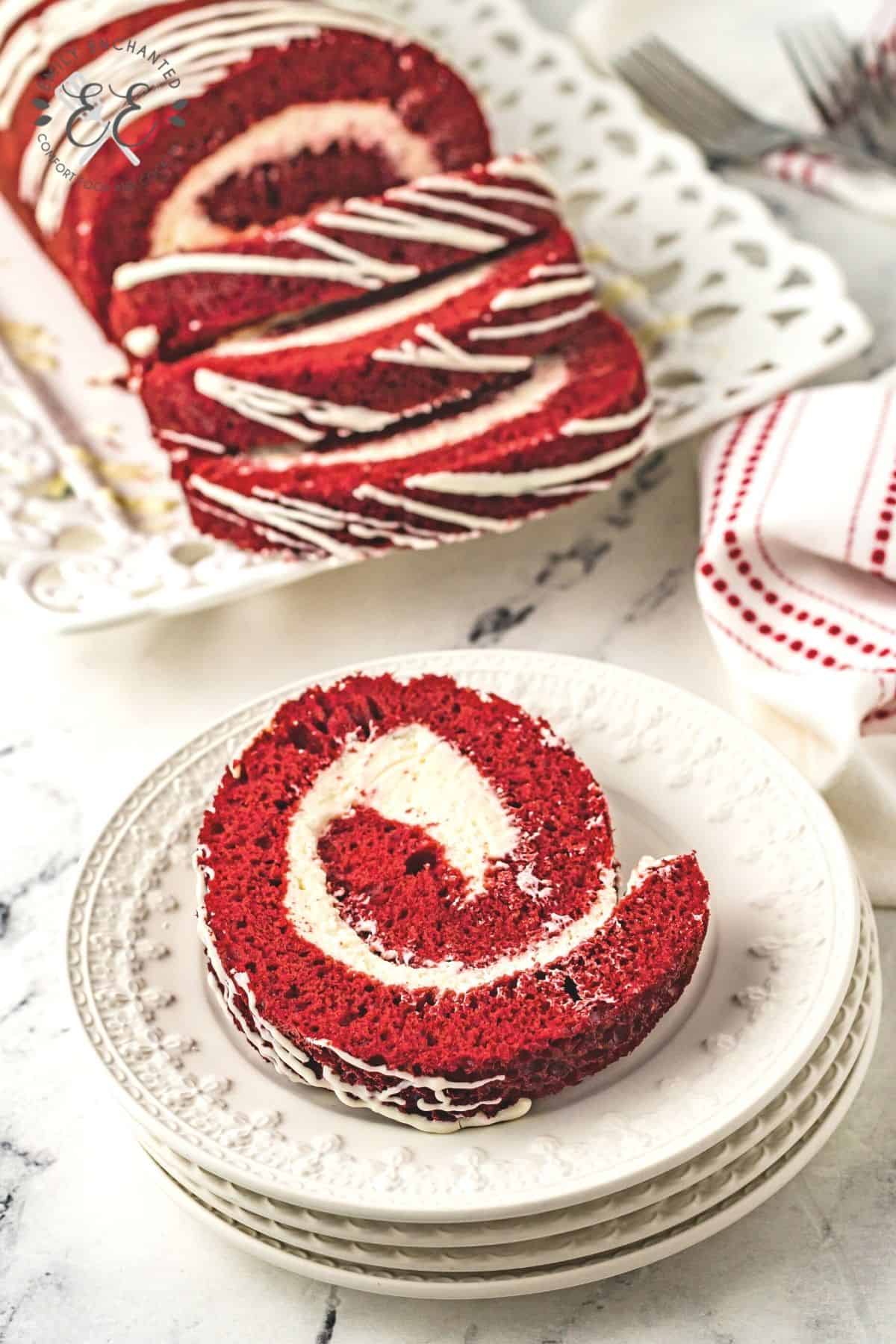 How to Decorate a Christmas Roll
For a fun feel, use red and white sprinkles or crushed candy cane to top.
For an elegant look, line the top of the roll with fresh strawberries cut in half, or Bing cherries with the stem, or fresh raspberries. Then drizzled with the white chocolate melts.
Storage Instructions
Rolled cake will keep refrigerated in an airtight container or sealed with cling wrap for up to 7 days.