4th July Cake Pops are decadent red velvet cake balls dipped in white chocolate and decorated in patriotic colors. These red, white and blue cake pops are the perfect dessert to celebrate America.
This post contains affiliate links.
Cake Pop Ingredients
To make this patriotic dessert recipe, you will need the following ingredients (see the recipe card below for exact amounts):
Red velvet cake mix (with box ingredients – usually eggs, vegetable oil, and water)
Cream cheese frosting
White Candy Melts
Red Candy Melts
Blue Candy Melts
Vegetable Shortening: I use Crisco but you can use any brand of vegetable shortening.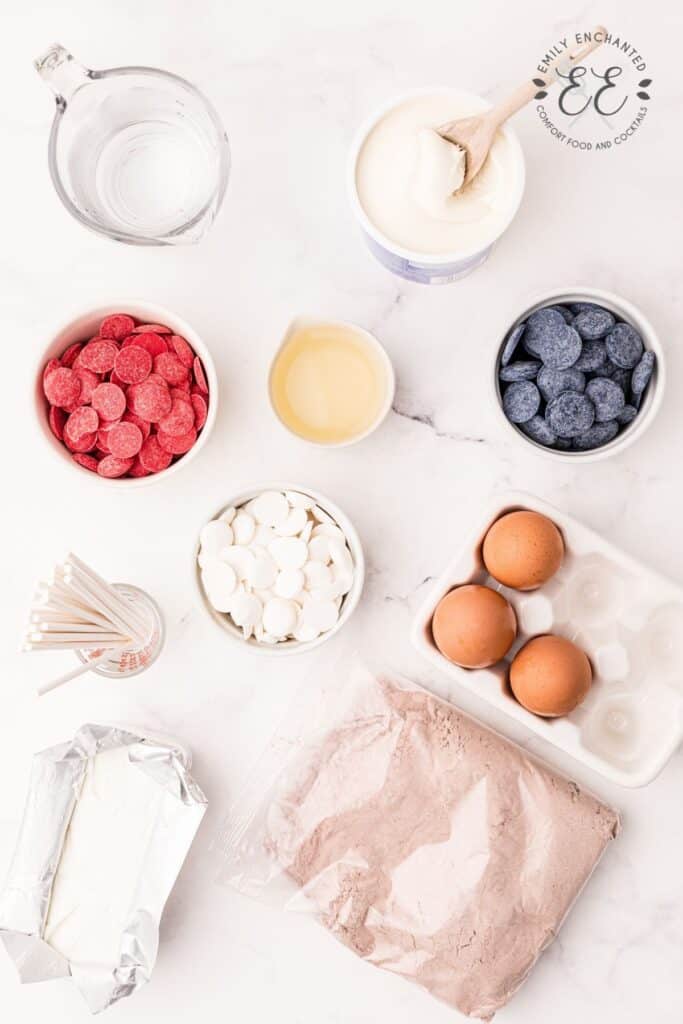 Special Tools Needed
Cake Pop Stand – These are perfect for keeping your cake pops intact until they dry.
Gloves – I love using food prep gloves when I have to roll things into balls. They don't stick to my hands and it is much cleaner.
Mason Jars – Using small mason jars for melting chocolate instead of a bowl makes it easier to dip and fully coat the cake pops.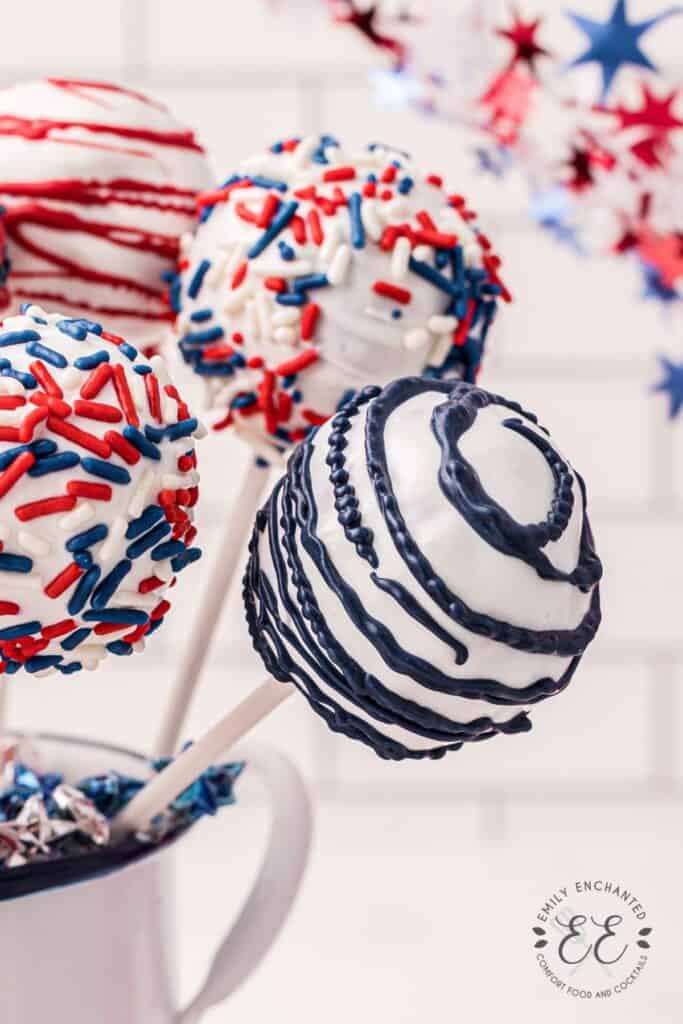 How to Make Red White and Blue Cake Pops
Step 1. Prepare the cake
Bake the red velvet cake as per instructions on the box. Allow to cool completely before proceeding to the next step.
Chop the cake into small crumbs.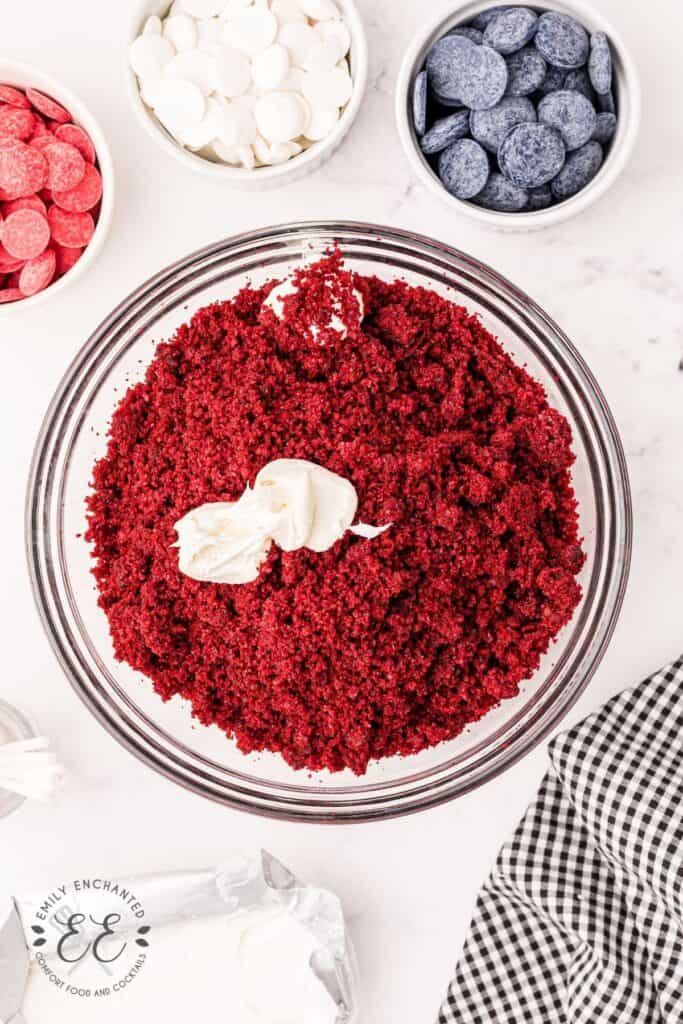 Step 2. Make the cake balls
Add the cream cheese frosting to the cake crumbs and mix with your hands, squishing together until a moldable texture is created. Take 2 Tablespoons of this mixture and mold into a ball using your hands. Make sure no cracks are present.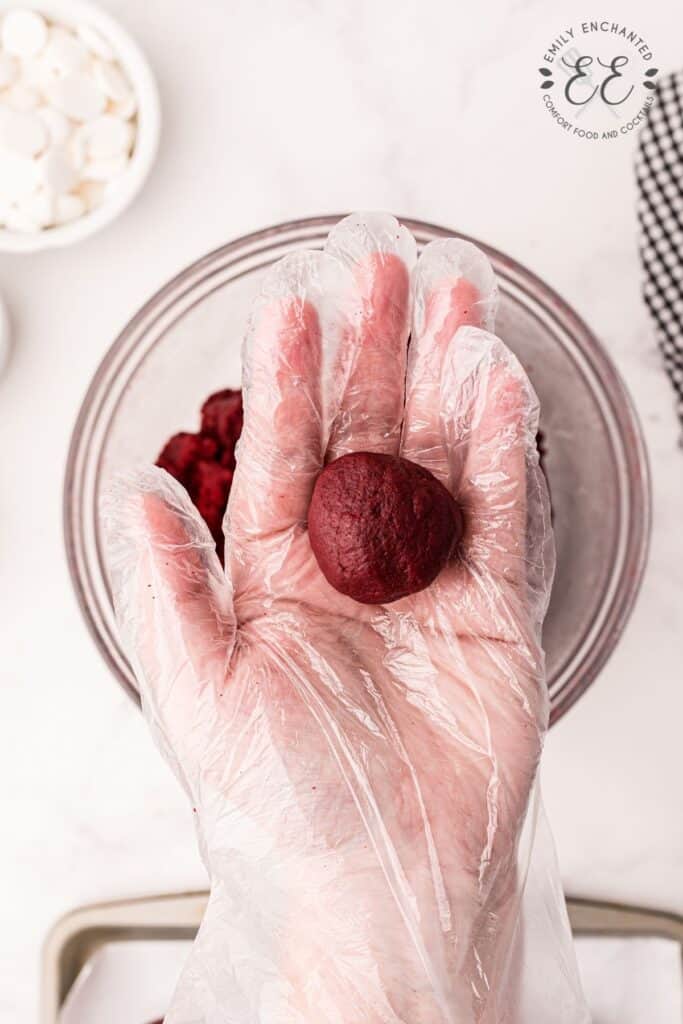 Melt a little (about 12) of the white candy melts. Dip the end of a cake pop stick into this white melted candy – about ½" in. Push this end into one of the cake balls, until about 2/3 of the way into the cake ball. This will help hold the cake ball on the stick.
Repeat this step with all the remaining cake balls. Place the cake pops flat on a tray.
Wrap the tray with plastic wrap and refrigerate for about 10 minutes. This will allow the melted candy to dry/harden all the way.
Step 3. Dip the cake balls in chocolate
Fill a small mason jar with white candy melt wafers and about ½ teaspoon vegetable shortening. Microwave on 50% power for 30 seconds. Remove and stir. Do this repeatedly until the candy melt has completely melted. Continue to stir the melted candy for about 2 minutes until you reach the desired consistency to dip the cake pops.
Take one of the cake pops and push down into the melted candy, until the top of the other side has been submerged and the entire cake pop is coated. Pull straight back up again. Do not twist and turn during this step, just a quick in and out is all that is required.
Keep tapping the stick of the cake pop while the excess candy melt is dripping off. When you think it safe to do so insert the stick into a holder. If you are simply using sprinkles now would be the time to add those sprinkles.
Repeat the last step for all the cake pops.
Step 4. Decorate the cake pops
Melt some red candy melts (about 25) with a little vegetable shortening. Place a small re-sealable bag into a glass. Pour this melted candy into the re-sealable bag and twist to close. Cut the tip from the bag and hold over a piece of wax paper.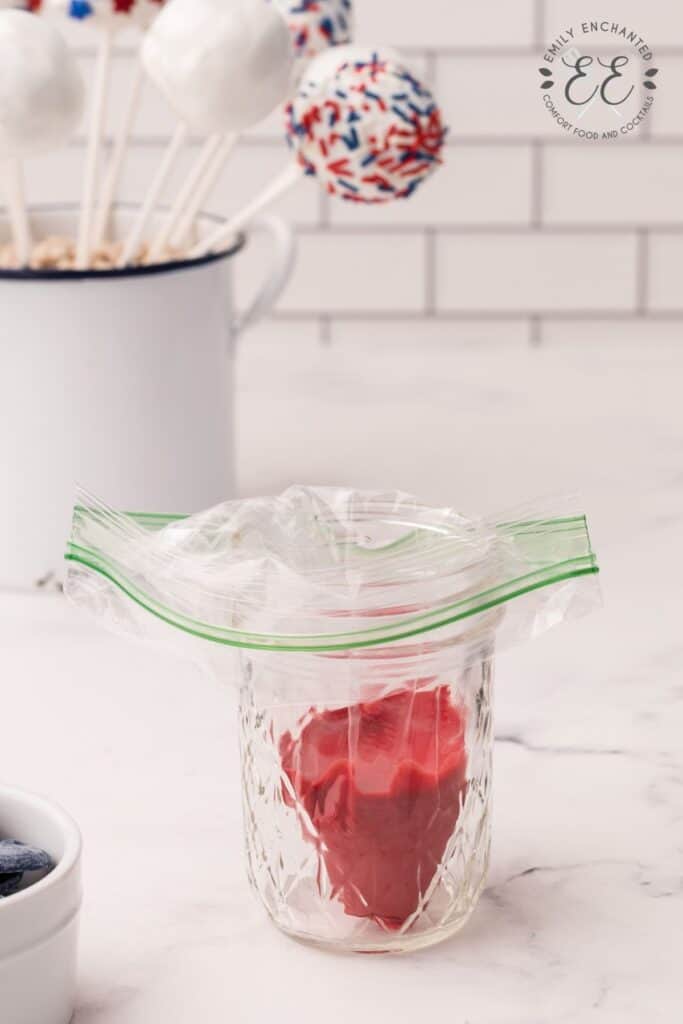 While squeezing the bag with the red melted candy pass a cake pop back and forth underneath to create pretty drizzle lines. Do this with half of the cake pops.
Repeat the above step with the blue candy melts.
Storage Instructions
The best way to store cake pops is to lie them down in an airtight container, lined with paper towels – in the refrigerator. They will stay fresh like this for up to a week.
Can I Make Cake Pops Ahead of Time?
The best way to make ahead would be to create the cake balls, cover well with freezer safe materials for up to 3 months. Then pull them out when you need to, defrost and dip as normal.
I Don't Like Red Velvet. Can I Use a Different Flavor Cake Mix?
You can use any cake flavor you personally like!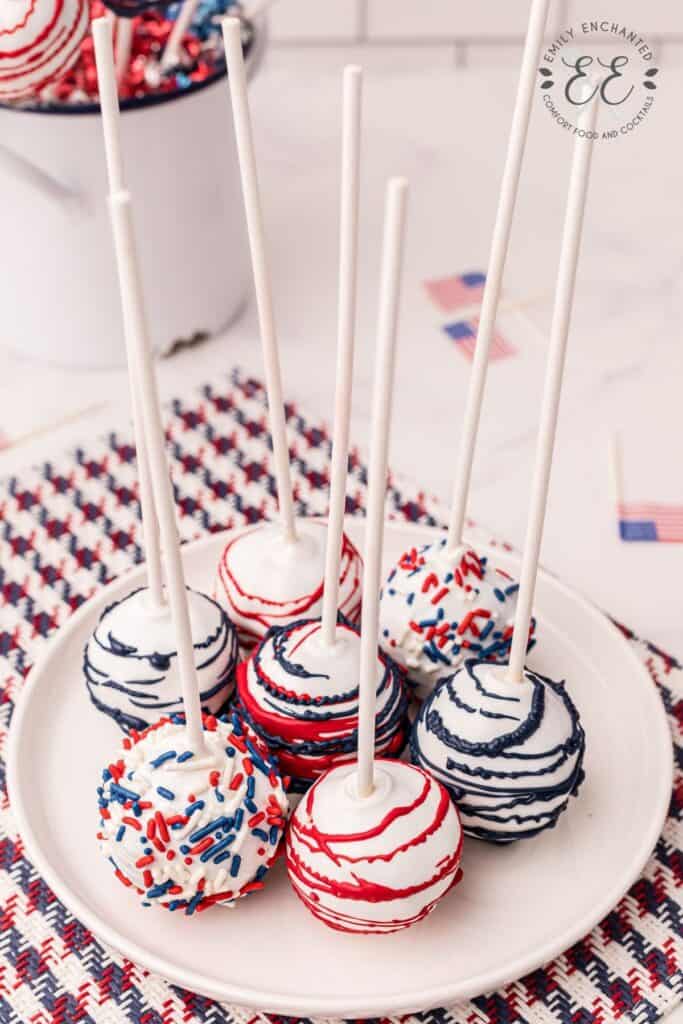 Can I Make these Bigger or Smaller?
You can make these cake balls as big/small as you like! I personally think 2 tablespoons is perfect.
Other Red White and Blue Desserts
4th of July Cookies – Monster patriotic cookies with red and blue M&M's and sprinkled with red, white, and blue stars.
No Bake Red White & Blue Cookies – These thumbprint cookies are so cute and fun to eat.
Fourth of July Cake in Jar – Cake pops not at your level? Try this easy layered 4th of July dessert.