Black Forest Bundt Cake is a decadent chocolate cake with a surprise cherry filling and topped with chocolate ganache and chocolate shavings.
This German dessert is easy to make and looks fantastic. The bundt pan effortlessly gives this cake a flawless design that will make anyone think you are a professional baker!
This bundt cake is a twist on Black Forest Cake, which is traditionally made with layers of chocolate sponge cake, whipped cream, and cherries.
I love baking in bundt pans because it is so easy! Whole cakes are made in one single pan. You bake it, let it cool, then turn it over and it's done! Read this article if you have any questions about bundt pans.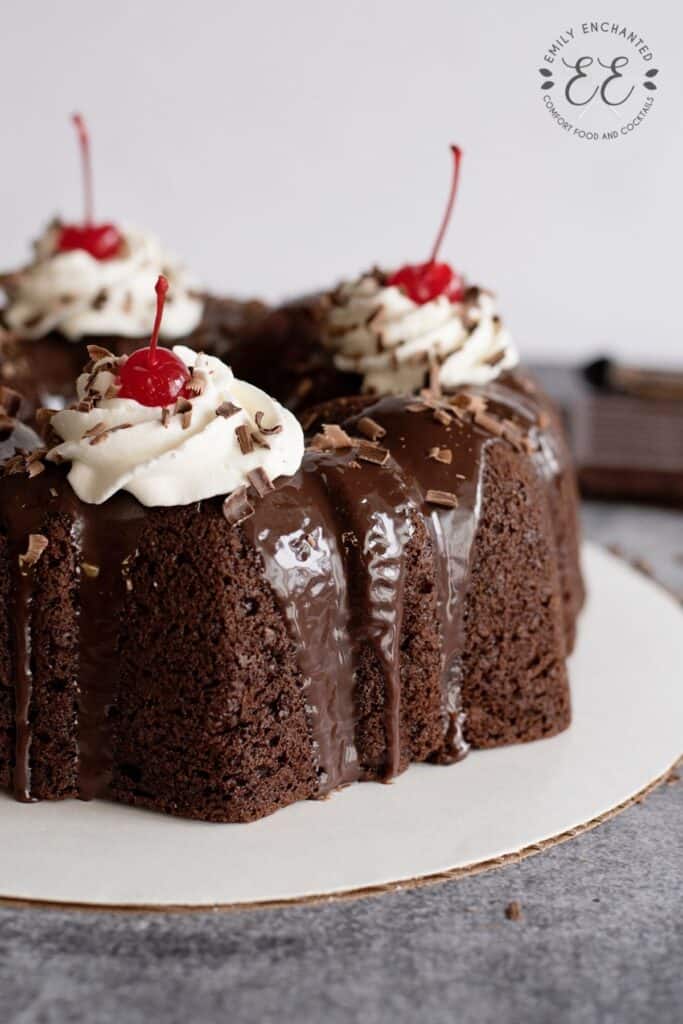 This post contains affiliate links.
Black Forest Bundt Cake Ingredients
To make this chocolate cherry bundt cake, you will need the following ingredients (go to the recipe below for exact quantities and instructions):
greek yogurt
eggs
heavy cream
Various toppings: chocolate bar, whipped cream, Maraschino cherries
How to Make Blake Forest Cake in a Bundt Pan
Preheat oven to 350 degrees and prepare a bundt pan with non stick spray.
In a large bowl, add the cake mix, chocolate pudding mix, greek yogurt, oil and eggs and mix until well combined.
Spoon half of the batter into the bottom of the bundt pan. Using the spoon, push the sides up in the middle and outer edge to create a well in the middle.
Spoon the cherry pie filling into the well, spread it all the way around, making sure it's filled but not so full it touches the edges of the pan.
Spoon the rest of the batter on top of the pie filling and spread it across the top, sealing the sides of your cake.
Bake for 45-50 minutes, until a toothpick comes out clean. Allow the cake to cool for 10 minutes and then invert onto a cooling rack to completely cool.
How to Make Chocolate Ganache
For the ganache, you can use semi sweet chocolate, milk chocolate, or dark chocolate. It is totally up to you. Personally, I am a fan of the dark chocolate. Simmer the heavy cream on the stove just until it's ready to boil.
Place the chocolate chips into a bowl, pour the heated cream over the top and allow it to sit for a few minutes.
Mix the two together until a nice thick ganache is made. Pour the chocolate ganache over the cake and allow it to set. Let cool.
How to Serve Chocolate Cherry Cake
Using a vegetable peeler or grater, create chocolate shavings from the chocolate bar. These can be refrigerated until ready to use. Top with whipped cream, some chocolate shavings and a cherry!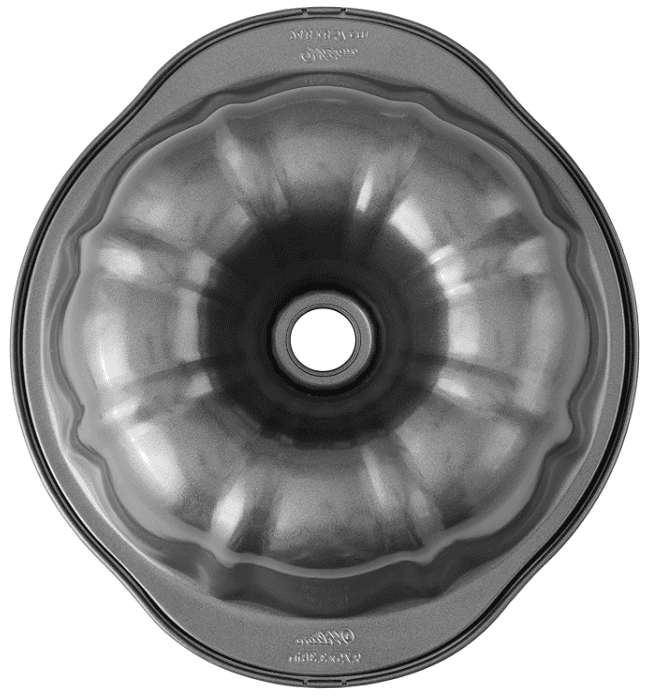 This Wilton Bundt Pan is affordable and has handles for easy use.
Delicious Bundt Cake Recipes