This Lemon Chicken Orzo recipe is an easy one-pot dinner that is a family favorite! Tender chicken is nestled into creamy lemon-Parmesan orzo and topped lemon slices. It is a comforting meal that is so simple to prepare!
This is also a great dish to make with leftover Air Fried Chicken Cutlets. If you would like to serve with a veggie side, try my green beans almondine for a pop of color.
Lemon Chicken Orzo Ingredients
To make this lemon chicken recipe, you will need the following ingredients (go to the recipe below for exact quantities and instructions):
Boneless Skinless Chicken Breasts: Boneless chicken thighs can also be used. Bone-in chicken has a longer cook time so I do not recommend it for this recipe.
Yellow Onion
Salted Butter
Garlic Cloves: ¾ teaspoon garlic powder can be substituted for the freshly minced garlic.
Orzo: Orzo is a short pasta that looks a lot like rice! Arborio can be substituted but your dish will be a little chewier than if you made it with orzo.
White Wine: If you do not have white wine or do not wish to use it, simply increase the chicken broth to 2 1/3 cups.
Chicken Broth
Half and Half
Kosher Salt
Black Pepper
Paprika
Ground oregano
Olive oil
Lemons
Shredded Parmesan Cheese: The Parmesan cheese rises to the top of the orzo adding a little bit of texture to the dish. It also adds a little bit of a nutty flavor. Asiago or Romano cheese can also be used.
Fresh Parsley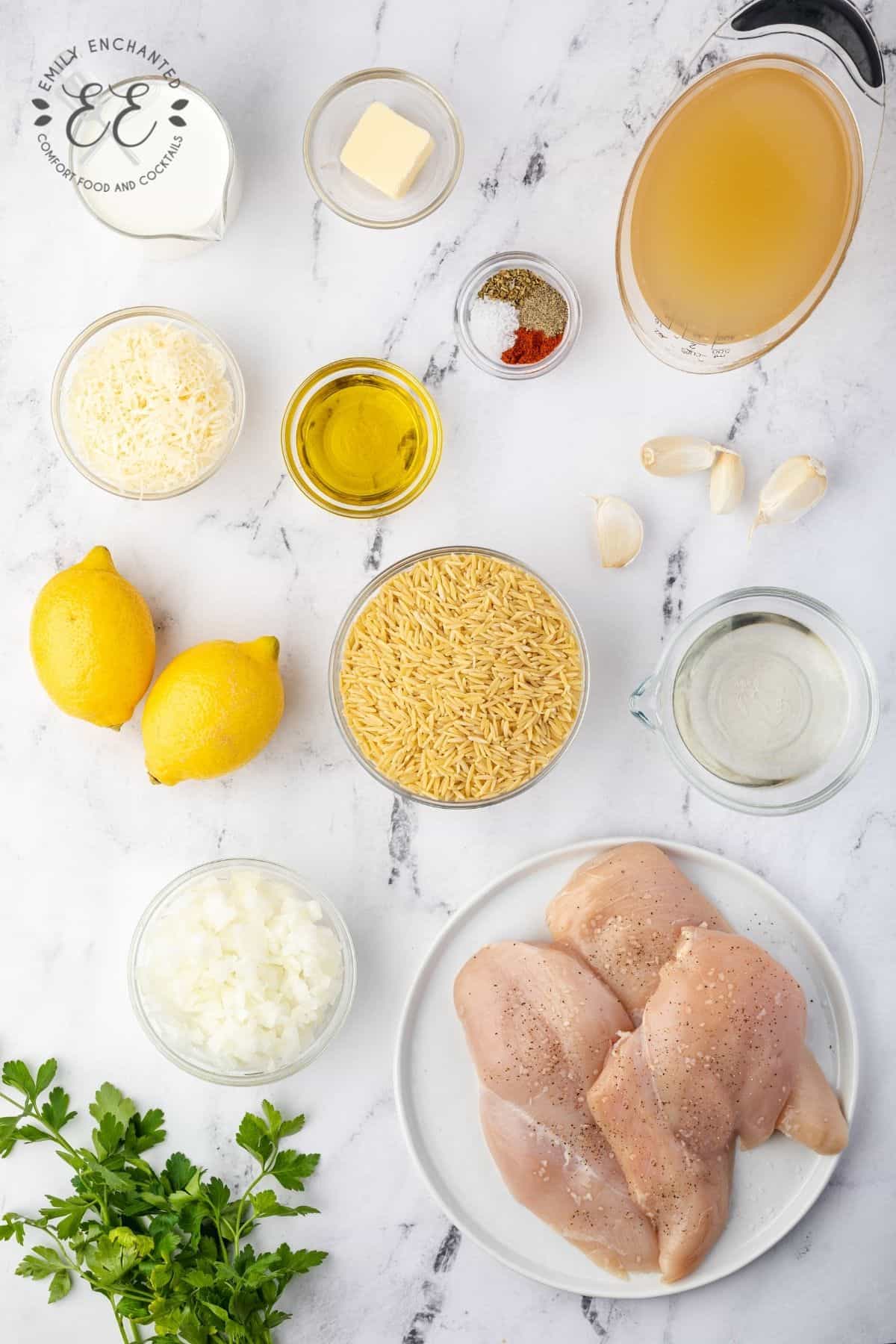 A heavy Cast Iron Skillet is the key to even cooking.
How to Make Lemon Chicken Orzo in One Skillet
Preheat oven to 375°F.
Mix the salt, black pepper, paprika, and oregano in a small bowl then rub to coat the chicken.
Heat olive oil in a 12-inch oven-safe skillet over medium-high heat. Add the chicken and sear both sides, 3-4 minutes each side. Remove the chicken and rest on a plate.
Turn the heat to medium and melt the butter, then add the onion and garlic, cooking until the onions are translucent, about 3 minutes.
Add orzo to the skillet and cook for 1 minutes to toast the orzo.
Pour wine into the pan and use a wooden spoon to scrape up the bits that are stuck to the bottom of the pan.
Stir in the chicken broth, half and half, 2 tablespoons of lemon juice, and Parmesan cheese. Nestle the seared chicken into the orzo and sauce. Lay lemon slices on top.
Bake in the oven for 25-30 minutes, or until the chicken has reached an internal temperature of 165°F.
Sprinkle with chopped parsley before serving.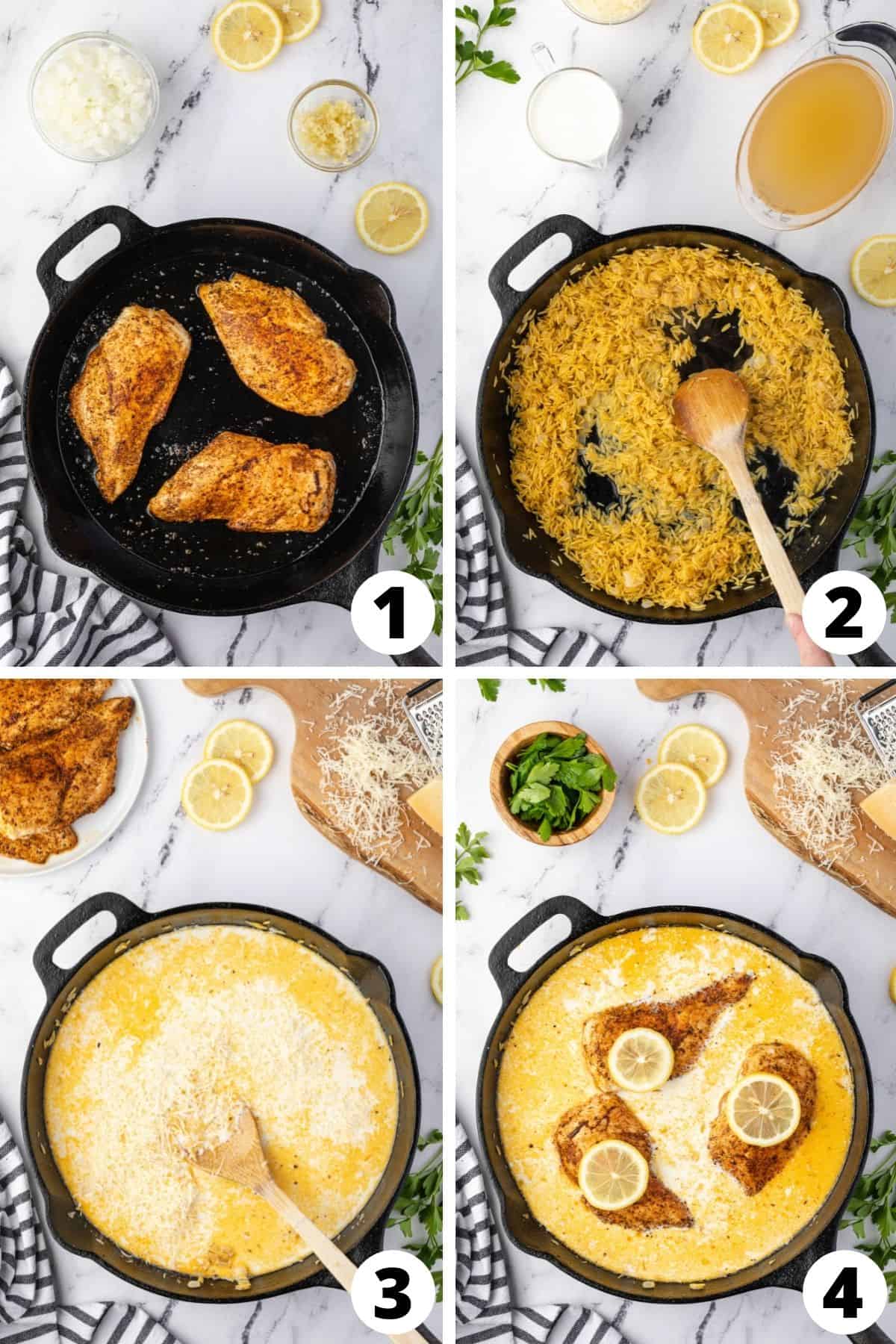 Storage Instructions
Leftover Chicken Orzo can be kept in the refrigerator for up to 5 days. I do not recommend freezing this dish as the orzo will become very mushy.
FAQs
What if I do not have an oven-safe skillet?
If you do not have an oven-safe skillet then you can use a Dutch oven. Alternatively, after step 6 of deglazing the pan you can transfer the ingredients to a casserole dish and bake in the oven.
Can I make Creamy Chicken Orzo in the slow cooker?
Yes, chicken orzo can be made in the slow cooker. Place all of the ingredients except for the orzo, 2 tablespoons Parmesan cheese, and parsley in a slow cooker and cook on high for 3 hours. Add the orzo and cook an additional hour, then stir in the remaining Parmesan cheese and parsley before serving. For added flavor, sear the chicken before putting it in the slow cooker.
Can I add vegetables to this dish?
Add vegetables to your chicken orzo for a simple one-pot meal! A cup of mushrooms or asparagus, or 2 cups of spinach or kale are great additions!
Serving Suggestions
You have everything you need for a hearty meal right in one pan. But if you want to serve a larger crowd or create a multi-course meal, here are some side dishes to consider serving with creamy orzo chicken.