Strawberry Salad with Poppy Seed Dressing is a refreshing and easy salad recipe. Fresh strawberries, cucumbers, and pecans make this a perfect summer salad.
This salad is so good, it can be enjoyed as a main dish or a side dish. Try it with Instant Pot Ribs, Cornflake Chicken, or Crispy Baked Chicken Thighs.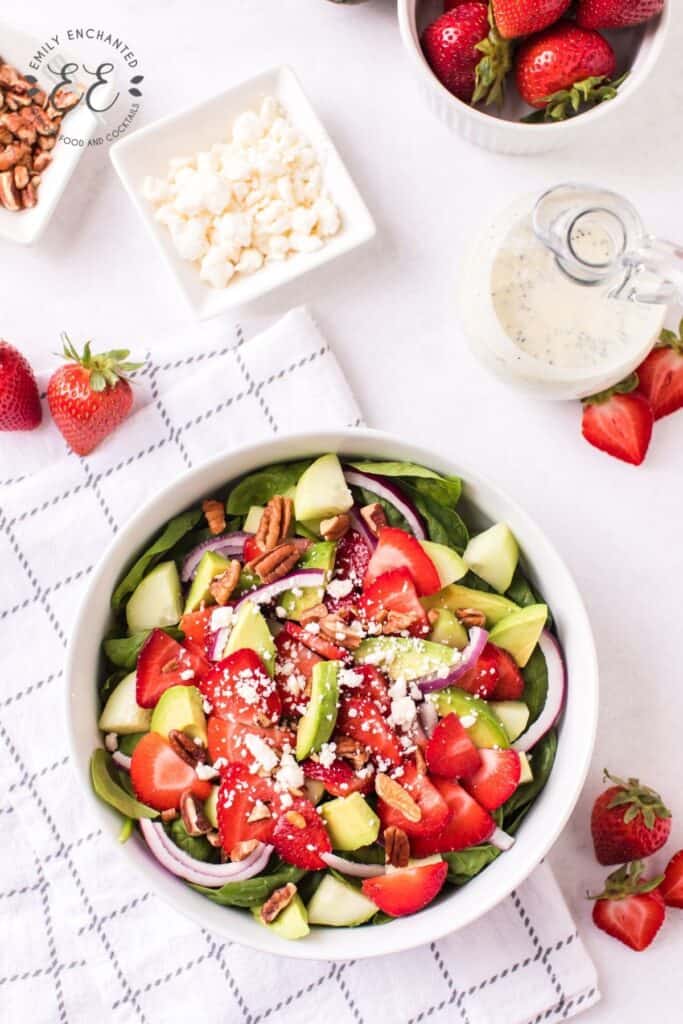 Strawberry Salad Ingredients
To make this delicious salad recipe, you will need the following ingredients (go to the recipe below for exact quantities and instructions):
Strawberries
Spinach or romaine lettuce: You can substitute these two with your favorite Green leafy vegetable.
Cucumber: You can use a regular cucumber or an English cucumber if you would like more of a crunch.
Red onion
Pecans: The pecans can be substituted for your favorite nut. I like the flavor of a toasted pecan, but it's not entirely necessary and the salad tastes great with raw pecans.
Avocado
Olive oil
Greek yogurt
Vinegar: I used Apple cider vinegar, but it can be substituted with red or white wine vinegar.
Poppy seeds
Garlic
Dijon mustard
Honey
Salt and pepper
I recommend a small cruet or dressing shaker (affiliate link) to hold the salad dressing. These are perfect for storing and serving.
How to Make Strawberry Salad
Make the salad. Place the spinach or romaine lettuce (or both if you fancy!) in a large bowl and then layer the rest of the ingredients on top.
Make the poppy seed dressing. Combine all the ingredients all the into bowl and whisk until combined.
Serve and enjoy. Drizzle dressing over salad and toss (you may need to whisk the dressing before drizzling to combine the vinegar and oil). Serve immediately.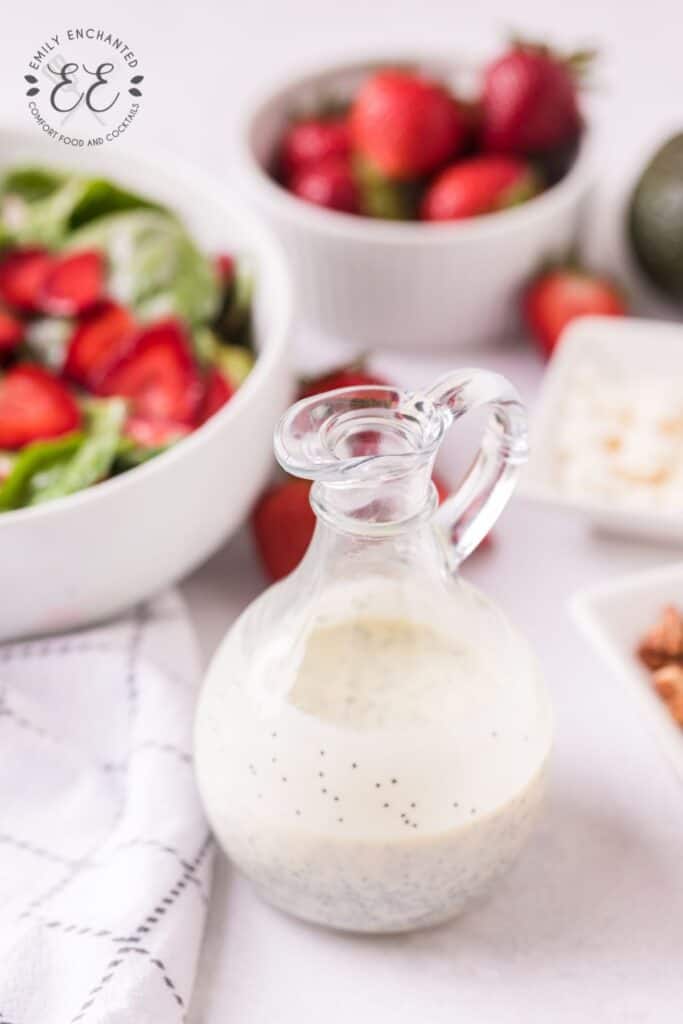 How to Toast Pecans
You can toast pecans by placing them in a dry skillet over medium high heat. Gently shake the pan occasionally while pecans cook for 4-5 minutes or until they become fragrant.
Be careful not to leave them unattended as they can burn quickly.
Optional Add Ins
Feta cheese crumbles
Mandarin oranges
Pear
Ramen noodles (for added crunch!)
Shredded chicken breast
Storage Instructions
Once assembled, the strawberry salad will taste best when eaten fresh, the day of. I recommend assembling your salad the day that you plan to eat it.
Once the salad dressing has been mixed with all the other ingredients, it will last for 1 day. The salad dressing can be made up to two days in advance.