This semi-homemade Ginger Mint Lemonade is easy and delicious, your two favorite things in the kitchen! Elevate your lemonade by adding fresh ginger, mint leaves, and lemon zest.
There is nothing more refreshing than sitting on the patio on a warm, breezy summery day and drinking a glass of lemonade. A satisfying beverage doesn't need to be made from scratch, just spice it up be adding a few things! You can even take it to the next level and make a frozen lemonade.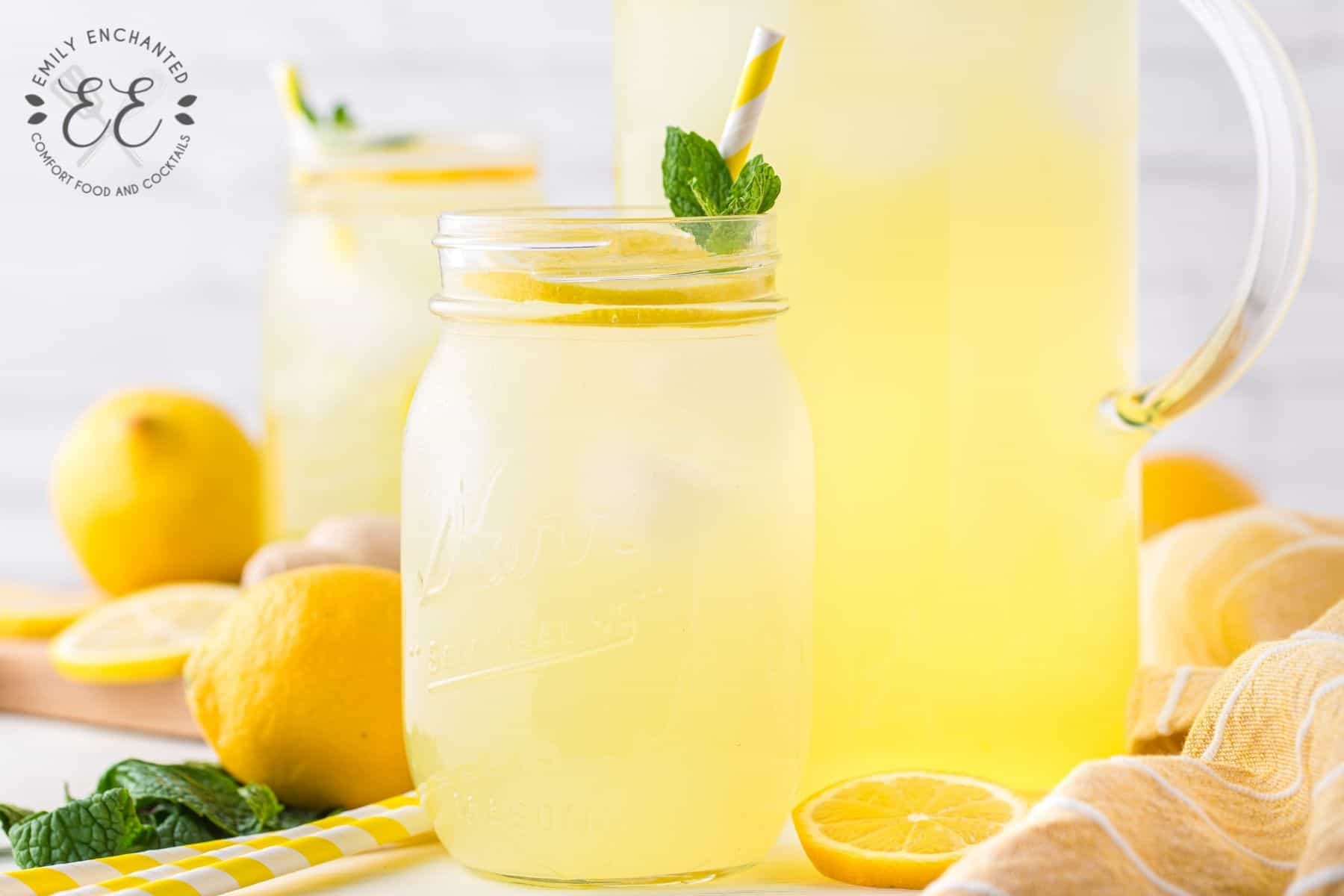 Ginger Mint Lemonade Ingredients
To make this refreshing summer drink, you will need the following ingredients (go to the recipe below for exact quantities and instructions):
Lemonade: Feel free to use your favorite lemonade for this. You can use a store bought lemonade or make it from scratch. I used Simply Lemonade because it's got a great flavor.
Grated fresh ginger: Fresh ginger will have the best flavor, but you can use ginger paste if you need to.
Large lemons: You could use some limes to make this a limeade instead.
Fresh mint leaves: If you really need to substitute this, try ¼ teaspoon of mint extract instead. It won't have the same fresh flavor, but will do the trick in a pinch.
How to Make Flavored Lemonade
Place grated ginger, mint leaves, and lemon zest into a small glass or bowl. Pour boiling water over the top of the ginger mixture and let steep for 30 minutes.
While the ginger is steeping, pour lemonade into a half gallon or larger glass pitcher.
Strain the ginger mixture into the lemonade with a fine mesh sieve.
Stir the lemonade well and refrigerate until ready to serve.
Serve cold with additional mint leaves and lemon slices as garnishes.
Recipe Tips
If you would like more ginger and mint flavor, add additional torn mint leaves and chopped ginger to your drink before serving. This will release more flavor into your lemonade.
Adding the ½ cup water will water your lemonade down a little. If you are concerned with this, omit any ice to prevent any more watering down and add some fresh lemon juice or additional lemon zest to your lemonade.
Storage Instructions
Because this uses lemonade from the store, you can store it for longer than normal. However, because of the mint leaves, this will only last for about two days in the refrigerator before they start to go bad. Without the mint leaves, you can keep the lemonade for a few weeks. You can also freeze it for a few months, then thaw in the refrigerator.
Is Lemonade Healthy?
Lemonade: While lemons are very good for you and have many benefits (digestion, vitamin C, heart health, weight control), lemonade has a little more sugar so it doesn't deliver quite the same results. However, the freshness of lemonade can still help you stay hydrated, provide antioxidants, and get that vitamin C. Fortunately, this lemonade doesn't deliver as much sugar to the system as others, which allows all of those other benefits to shine through!
Ginger: This fresh ginger is very good for you. It has antioxidants and anti-inflammatory properties, can help nausea and osteoarthritis, can lower blood sugar levels and improve indigestion, and might even help with Alzheimer's. It never hurts to have some ginger!
Mint: These leaves are rich in nutrients like vitamin A and iron, can help improve IBS and indigestion, can improve brain function, and cover up bad breath! Not only that, mint helps temporarily clear up congested nasal passages to help people breathe. In all, this drink is great for any time, even when you are sick!