Lemon Blueberry Bundt Cake with Lemon Glaze is a delicious bundt pan recipe that can be served for breakfast or dessert. Enjoy with a cup of coffee or an espresso.
This bundt cake recipe is so beautiful and so easy to make. The pan does all the work!
Feel free to skip right to the recipe, but this post is filled with helpful tips and information on how to cook that perfect cake in a bundt pan, what to do if it is sticking to the pan, and high altitude baking tips.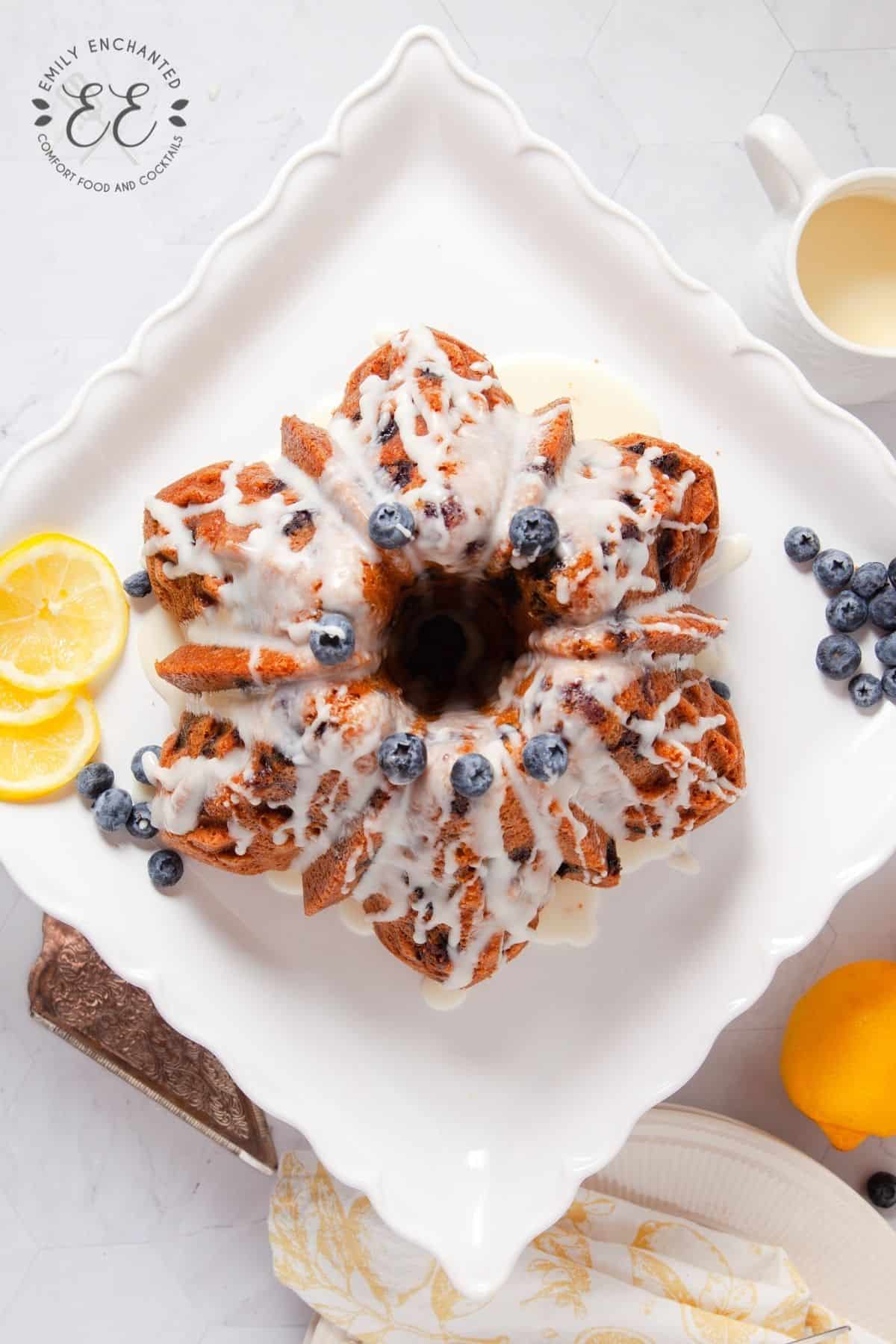 This post contains affiliate links.
Lemon Blueberry Bundt Cake Ingredients
To make this lemon blueberry cake, you will need the following ingredients (see the recipe card below for exact amounts):
Cake flour
Baking soda
Salt
Unsalted butter
Sugar
Lemons
Eggs
Lemon extract
Vanilla extract
Buttermilk
Blueberries
Salt
Powdered sugar
GET A FANCY BUNDT PAN HERE ↓↓↓↓↓
How to Make a Blueberry Lemon Bundt Cake
Bundt pans are great for making easy cake recipes because they do all the work. You do not have to cut designs into the cake. All you have to do is bake, flip them over, and you have a stunning cake.
Preheat oven to 350 degrees and prepare Bundt cake pan thoroughly. See notes below.
In a large bowl, whisk the flour, baking soda and salt together, then set aside.
Using an electric stand or handheld mixer, beat together the butter and sugar until light and fluffy – about three minutes.
Add lemon rind and beat for another minute.
Add eggs one at a time, then add lemon extract and vanilla extract.
Continue beating for three minutes or until the mixture thickens and becomes smooth.
Add flour mixture and buttermilk to the butter and egg mixture and beat thoroughly.
In a small bowl, sprinkle the 3 tablespoons of cake flour over the blueberries and toss to coat. This will prevent the blueberries from sinking to the bottom of the cake batter while baking.
Fold the blueberries into the cake batter using a soft spatula or wooden spoon only until combined. Do not overmix.
Carefully scoop or pour the batter into the Bundt pan that was prepared earlier and smooth the top with the spatula or wooden spoon.
Bake for 50 to 60 minutes, or until a cake-testing skewer or toothpick inserted near the center of the cake comes out with only a few crumbs at the end.
Remove from oven once cake has finished cooking and rest on a wire rack for 15 to 20 minutes.
Flip the cake pan over onto a cake plate or other flat surface to remove the cake and finish the cooling process.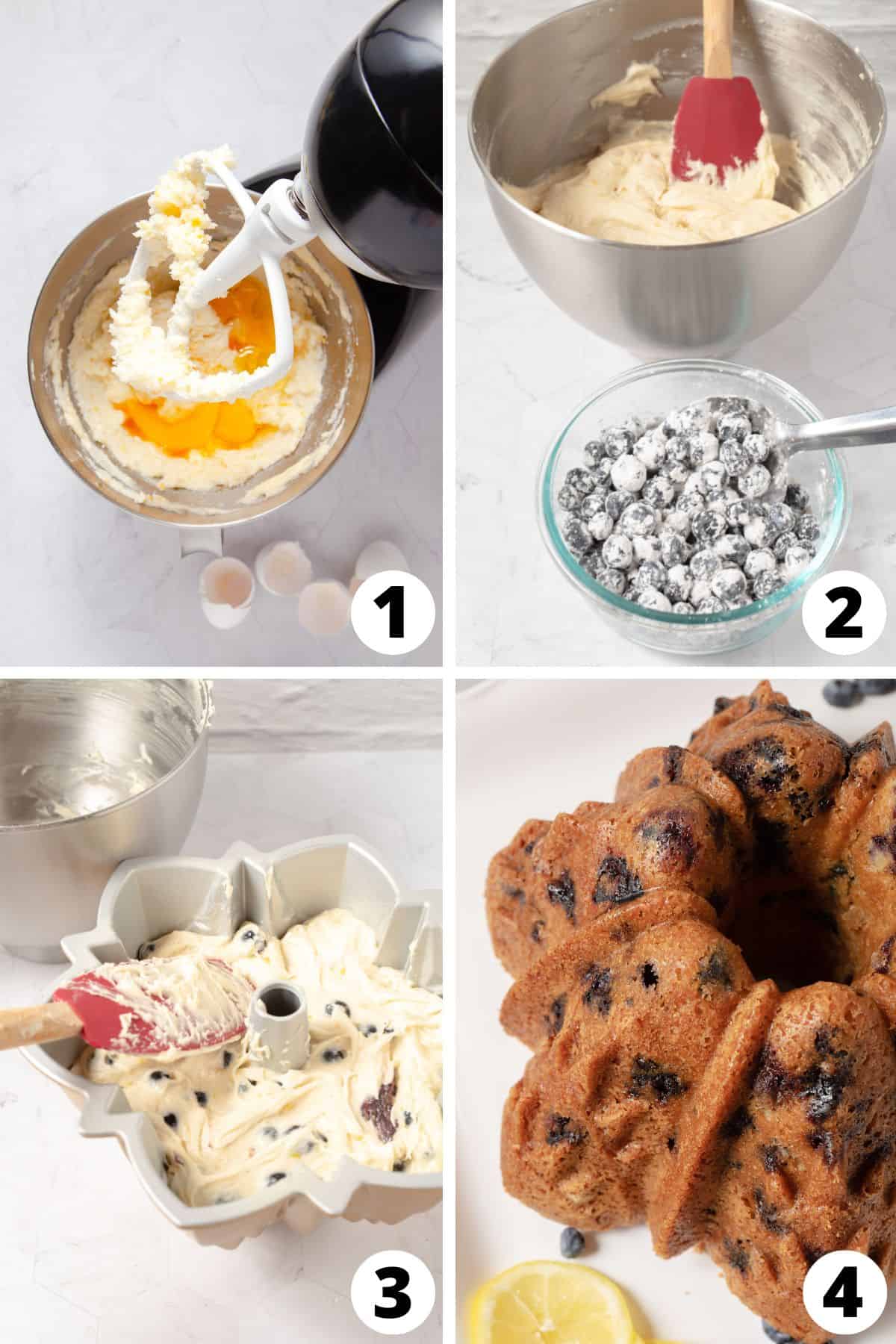 How to Make Lemon Glaze
Whisk lemon zest, lemon juice, butter, and salt. Add powdered sugar continue whisking until smooth and glaze has pourable consistency. Add more powdered sugar or lemon juice to suit your glazing texture needs.
Drizzle over cake as needed before serving.
How to Cook Bundt Cake at High Altitude
Starting at 3500 feet above sea level, be prepared to start checking the cake for doneness at around the 60-minute mark. The cake can take up to 20 additional minutes of cooking time, depending on your specific altitude, humidity, and other environmental factors.
I live at over 5,000 feet above sea level, in Albuquerque, New Mexico. For this recipe I start checking the cake at the 1-hour mark as it needs to cook for an additional 15 minutes (or more) before it's done. I do not have to increase the baking temperature as noted in the paragraph below but found that increasing the time works as well for this recipe.
You can also increase the oven temperature by 25°F. Decreasing the amount of baking soda may also help if the cake rises too much.
Helpful Tips for Baking with Bundt Pans
If you want to know about all things bundt pan related, then check out my post on how to use a bundt pan. I have included the most helpful tips here that are relevant to this recipe.
How Do I Stop My Bundt Cake from Sticking to the Pan?
When it comes to preventing cakes from sticking to Bundt pans, preparation is key.
For highly decorative Bundt pans with intricate nooks and crannies: use a flour-based baking spray (such as Baker's Joy) to coat your pan. Spray your Bundt pans as thoroughly as you can for the best results. Regular cooking spray is generally not recommended for these types of cake pans. Coating with shortening and flour is also generally not recommended.
For standard fluted Bundt cake pans: the general wisdom here is: if you have a recipe that you've successfully baked with and have a methodology that works for you, then "stick" with it. For some less-dense cake recipes, using a coating of shortening and a dusting of flour can work, although for other recipes, the flour can act as "glue" and have the reverse effect that you may be going for in preventing sticking. Butter is also generally not recommended for coating cake pans for baking.
If you wish to grease with shortening and dust with a flour coating, use a coarse almond flour for lighter cakes, and fine cocoa powder for chocolate cakes. The almond flour will not affect the flavor of your cakes as it can easily be brushed off. If you have a concern about nut allergies, you can use a light cornmeal as well.
What To Do if Bundt Cake is Stuck to Pan
If you've done everything right and your cake is still stubbornly refusing to come out, there's a few tricks you may be able to use to coax it out.
First, put it back in your warm (but powered off) oven for 10-20 minutes. The heat may loosen your cake a bit without cooking it further, and I've found this to be my go-to solution for stubborn cakes.
Conversely, you can allow the cake to cool down for a half an hour or more. Conventional wisdom says remove cake from pan after 10-20 minutes, but you can wait longer to see if the cake needs to "set up" longer – depending on recipe.
Use your cake testing skewer, or a thin paring knife to loosen the edge of the cake around the inner and outer rims, but only very gently. This may sometimes "pop" the cake free, whole.
While your cake is turned over, cover with a dish towel and tap the cake pan several times with the hollow of your hand. Be careful not to burn yourself, as the pan may still be hot to the touch. Gravity and the tapping motion of your hands may prod the cake out.
How Do I Stop Fruit from Sinking to the Bottom of My Cake?
Roll your fruit in whatever flour you're cooking with, or powdered sugar to prevent the fruit from sinking to the bottom of the batter, before gently folding into your batter. Somehow this works every time.
More Delicious Bundt Cake Recipes