Deviled Eggs with Relish is a flavorful twist on the classic recipe. Worcestershire sauce, white wine vinegar, sugar and pickle relish really make this one of the best egg recipes.
Deviled eggs make a great appetizer or snack. They are one of the most traditional side dish recipes for any holiday meal or family gathering. I have always thought deviled eggs were too plain, so here is a very flavorful egg recipe. Don't forget to sprinkle paprika and chives on top for the garnish.
Deviled eggs are more versatile than you think. Try dying the eggs for the holidays, like this Christmas edition.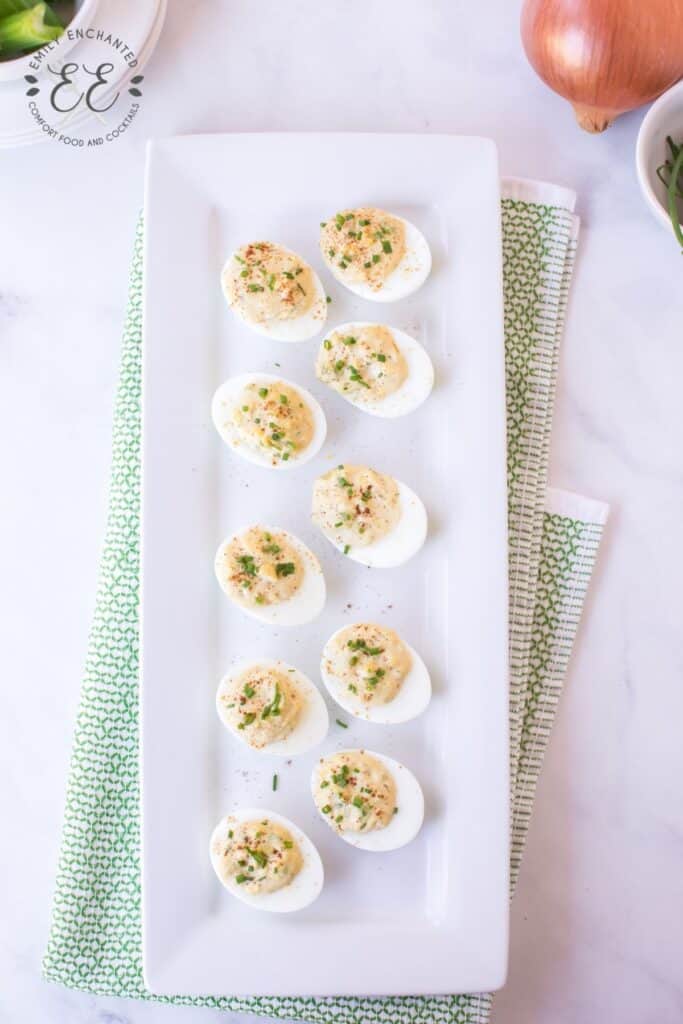 Deviled Eggs with Relish Ingredients
To make this deviled eggs recipe, you will need the following ingredients (scroll down to the recipe card below for exact amounts and directions):
eggs
mayonnaise
Worcestershire sauce
white wine vinegar (you can also use red wine vinegar)
granulated sugar
sweet pickle relish
Dijon mustard
Onion
Celery
Salt & pepper
hot sauce
paprika
chives
How to Make Deviled Eggs with Relish
Fill a medium sized pot with 1 inch of water. Bring water to a boil and carefully drop eggs into the water. Cover the pot with a lid and cook eggs for 14 minutes.
As soon as the timer goes off, immediately place eggs in an ice bath.
Peel eggs and pat them dry.
Cut eggs in half lengthwise. Take out yolk and add it to a separate bowl.
Mash yolk with a fork and mix all ingredients together except paprika and fresh chives.
Fill white part of egg with either a spoon or a piping bag (I also use a Ziplock bag and cut one of the corners for easy handling and less mess). Sprinkle on paprika and fresh chives. Enjoy!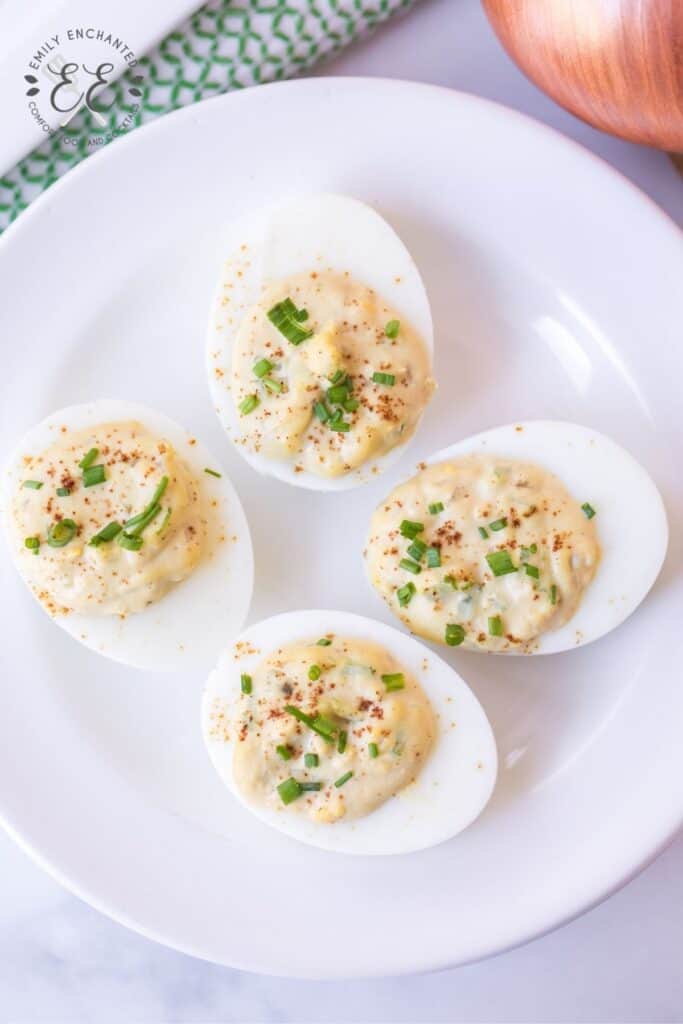 Can I Make Deviled Eggs Ahead of Time?
You can make deviled eggs up to 2 days ahead of time. Do not fill the egg whites until the day of. Store the egg whites and filling separately in the refrigerator in an airtight container and then assemble the day you need them. Doing so will keep them from getting watery.
How Do I Make Hard-Boiled Eggs That Are Easy To Peel?
There are a couple of different methods you can use to make it a breeze to peel your hard-boiled eggs.
Carefully drop the egg into already boiling water. Place the cooked egg into an ice bath as soon as the timer goes off for 14 minutes. It helps the eggs to start them hot and end them cold.
I like to put 1 teaspoon of baking soda in the boiling water. I have found this to be more helpful when I place the baking soda in the boiling water just after I have dropped the eggs in. I have noticed that it's not as effective if I put the baking soda in before the water has started to boil.
Use older eggs. This normally only applies to if you have purchased eggs from a farmer's market where the eggs are only days old. If that is the case, wait a few days before making hard boiled eggs for optimal peeling. If you are using supermarket eggs, they are usually old enough that it doesn't make as much of a difference when you buy them. They are already old enough when you purchase them from the supermarket.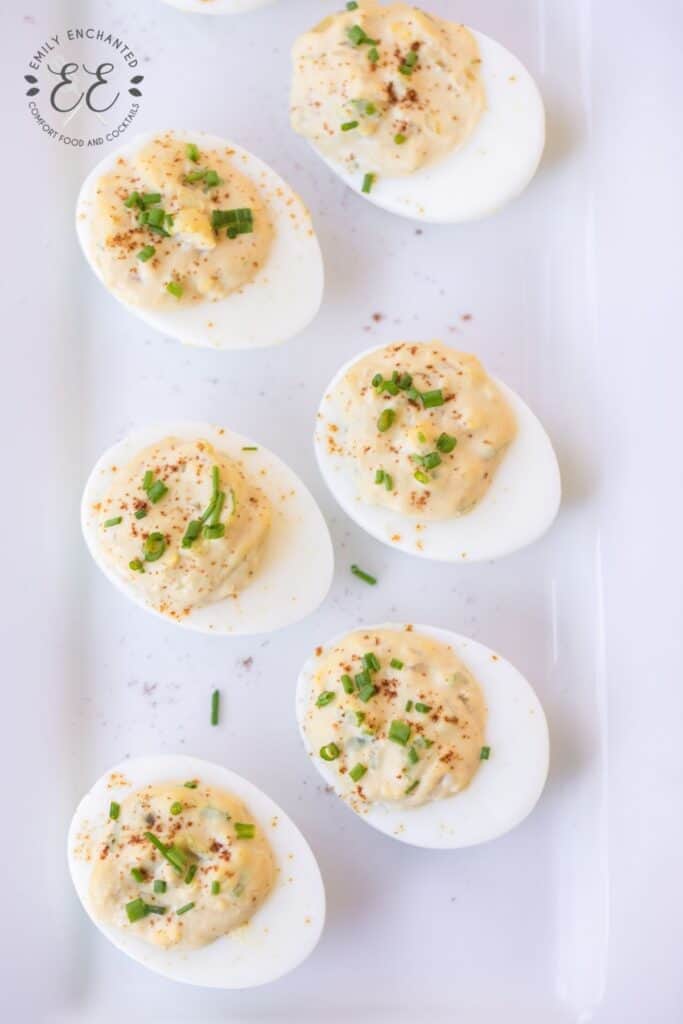 What Can I Substitute in this Recipe?
You can make these deviled eggs your own by making them to your personal preferences:
Mayo: You can use plain Greek yogurt for a healthier alternative. If you love Miracle Whip, feel free to use this instead.
Dijon mustard: This can be substituted with yellow mustard as seen in classic deviled egg recipes, or stone-ground mustard.
Celery: Use 1 teaspoon of the sweet relish for the crunch and a pop of sweetness. If you use the sweet relish, I recommend omitting the granulated sugar.
Top with crumbled bacon for a salty garnish.
Storage Instructions
These will last for 2 days in the refrigerator when stored in an airtight container.