Grinch Dip is a bright green dip with a big red heart in the middle. This rich, thick and creamy dip is almost like cheesecake! It is perfect for dipping Christmas cookies.
Enjoy this dip while watching the movie and watch his heart grow three sizes, or throw a Grinch themed party.
This post contains affiliate links.
Grinch Dip Ingredients
To make this Grinch recipe, you will need the following ingredients (go to the recipe below for exact quantities and instructions):
Cream cheese: While the recipe will work with cold cream cheese, room temperature cream cheese will give you a smoother, creamier dip.
Cool Whip
Powdered sugar
Neon green food dye: When adding in your food dye, start with a few drops and mix to test the color. Keep adding small amounts until you get the right color green.
How to Make This Grinch Dessert Dip
Place cream cheese block in large mixing bowl and add powdered sugar. Mix on low with an electric mixer.
Add in the whipped topping and mix on high.
Add in green food coloring and mix until all the color is mixed into the dip.
Spoon dip into your serving bowl and smooth out the top with the back of your spoon. Using the heart shaped cookie cutter gently place it on the surface of your dip. Use a spoon to gently sprinkle the sprinkles in a thin, even layer covering the whole heart. Gently push the sprinkles into the dip around all the edges of the cookie cutter to make sure they stay in place.
Remove the cookie cutter and your dip is ready to serve with your favorite Christmas cookies.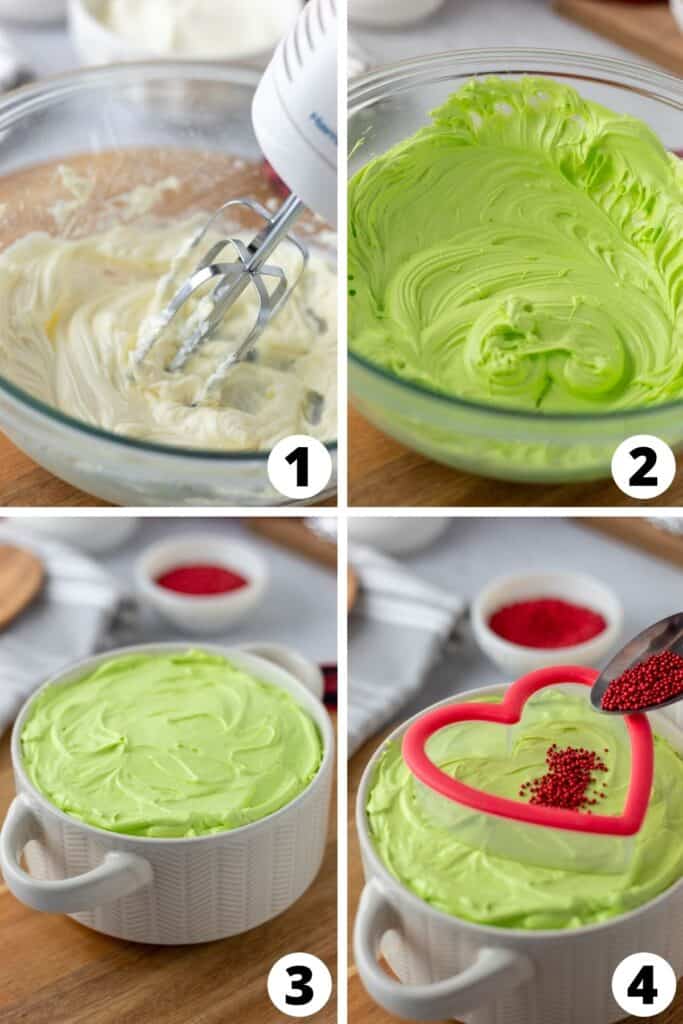 Storage Instructions
Should keep for 3-4 days in fridge, although sprinkles will bleed their color and is best eaten day of making.
What to Serve with this Dip
ginger snaps
gingerbread man cookies
pretzels
vanilla wafers
graham crackers
apples or bananas
or your favorite sweet cracker
More Christmas Dessert Dips