Indulge your spring sweet tooth with this incredible Cherry Cheesecake Dip made with cream cheese, powdered sugar, Greek yogurt, and cherry pie filling.
This no bake cheesecake dip is ready in just 10 minutes. Whip the ingredients together, top with cherry filling, and serve! My favorite dipper is graham crackers, but you can use pretzels, fresh fruit, sugar cookies, or whatever else sounds good. I recommend the chocolate graham crackers. YUM!
Want to make it your own way? Dessert dips are so versatile. All you need is cream cheese and marshmallow fluff as a base, and then you can add flavorings from there.
This post contains affiliate links.
Cherry Cheesecake Dip Ingredients
To make no bake dessert dip, you will need the following ingredients (go to the recipe below for exact amounts):
Cream cheese
Marshmallow fluff
Plain Greek yogurt: For a little extra sweetness, feel free to use Vanilla Greek yogurt instead.
Confectioners' sugar: Also called Powdered sugar
Almond extract: You can use vanilla extract here as well.
Honey
Lime Juice: The lime juice can be replaced with lemon juice. It can be fresh or from concentrate.
Cherry Pie filling: Try with another favorite pie filling instead. Raspberry or apple are other great options
Graham Crackers: Feel free to use vanilla wafers as well!
How to Make Cherry Cheesecake Dip
In a medium sized bowl, use a mixer to whip together the cream cheese and confectioners' sugar until well combined and smooth.
Add in the marshmallow fluff, Greek yogurt, honey, lime juice, and almond extract. Beat on medium high until everything is smooth and fluffy.
Pour the mixture into a 7 x 9 inch pan and smooth over to create an even layer.
Carefully spread the cherry pie filling over the cream cheese mixture to create an even top layer.
Refrigerate to chill until ready to serve.
Serve with a side of graham crackers and enjoy!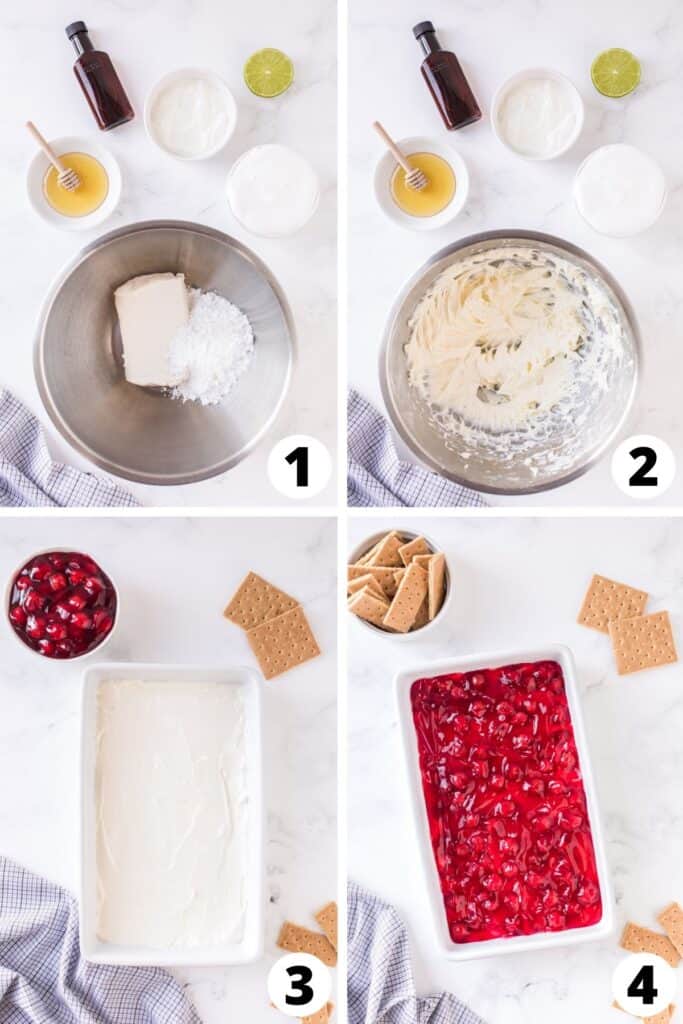 Tips for Cheesecake Dip
Make sure the cream cheese is softened, otherwise it will be difficult to achieve the right consistency.
You can serve your dip in any kind of bowl or container. If you don't have a 7 x 9 inch pan, you can use a 9 x 9 inch dish or an 8 x 8 inch pan instead. If you have a large shallow bowl, that will work as well. You can also scoop into individual serving bowls.
Although the recipes calls for graham crackers as the main dipping tool, you could also crumble the graham crackers and add a layer of them to the very top, or under the cherry filling. This definitely makes it feel more like a cheesecake because it resembles the crust.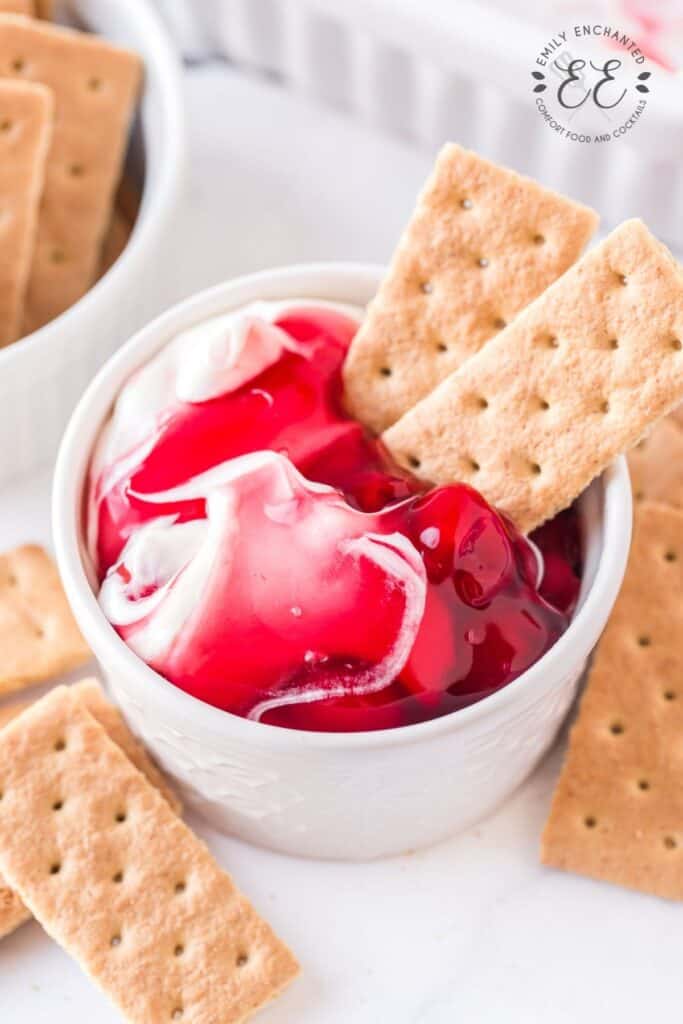 Storage Instructions
This dip will easily last for about 24 hours in the refrigerator, and is best eaten within that time. What the means is that you can prepare this dip 24 hours in advance, and store it in the refrigerator before serving it.
Or, you can make it just before serving, then store the leftovers in the refrigerator for about 24 hours.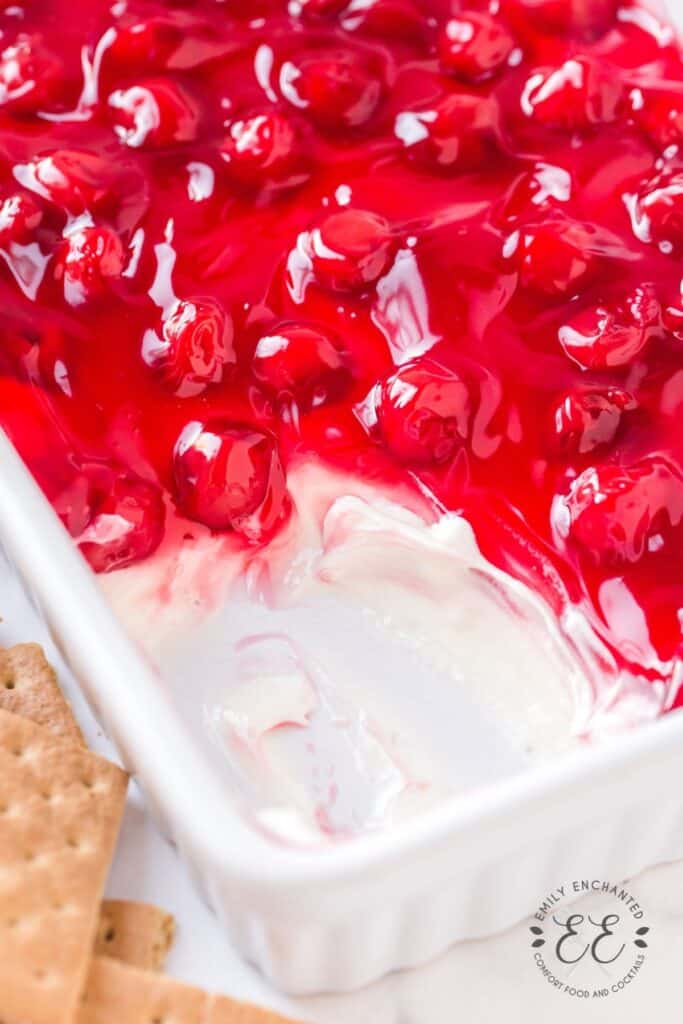 No Bake Dip Recipes
I am obsessed with dessert dips. No bake desserts are so easy to make. Whip them up in a jiffy and serve to a crowd who will be so pleased.
Red Velvet Dip – Red velvet cake batter is used to make this edible dough dip. Add sprinkles on top for added flair.
Chocolate Chip Cheese Ball – This dessert ball is made with everything chocolate – cake mix, chips and sprinkles.
Christmas Booty Dip – Booty dip is a TikTok recipe that is marshmallow fluff with cream cheese and whipped topping. WOW!
Caramel Apple Dip – This cream cheese dip is topped with caramel sauce and toffee. Serve with apples for the perfect fall dessert.
Pumpkin Pie Dip – This pumpkin dessert tastes like a pumpkin cream pie. It has all the spices that you love in a fall recipe.
S'mores Dip – Bring summer to your skillet with this amazing smores dip! Melt chocolate and marshmallows, and serve with graham crackers.
Funfetti Cake Dip – You can make this dip for any occasion, but I formed this cream cheese ball into a bunny butt for Easter. So cute!