Peach Cobbler Dump Cake is a super easy cake recipe made with boxed cake mix, seasoned with cinnamon and cloves. Just dump the ingredients and bake!
For a similar recipe that uses fresh peaches, try my Skillet Peach Cobbler.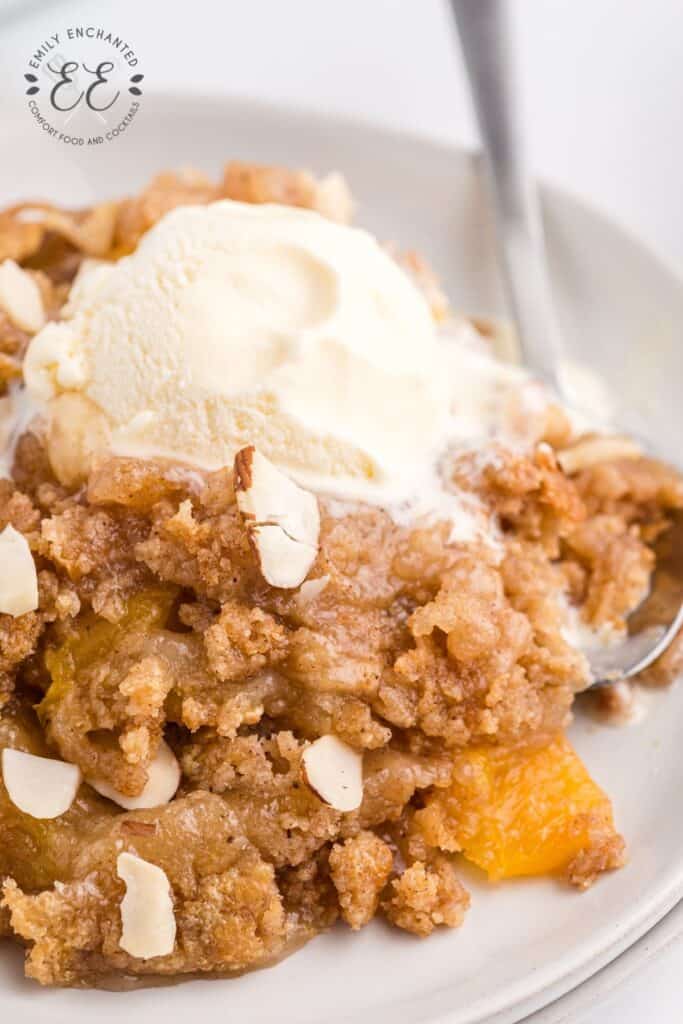 Peach Cobbler Dump Cake Ingredients
To make this easy dump cake recipe, you will need the following ingredients (see the recipe card below for exact amounts):
Sliced peaches in heavy syrup: the syrup from the peaches adds enough liquid to make this recipe work so make sure not to drain the peaches. Pie filling or peaches in juice would also work in this recipe.
Lemon juice: you can use either fresh or bottled juice
Vanilla extract
White cake mix: you can use a gluten-free cake mix to make this recipe gluten-free. You can also use a yellow cake mix.
Ground cinnamon
Ground cloves
Unsalted butter: unsalted butter works best in this recipe
Sliced almonds: walnuts or pecans would be great variations to use here.
Vanilla ice cream: other flavors of ice cream could be used, as well as whipped cream
How to Make Peach Dump Cake
Preheat the oven to 325° F. Line a small baking sheet with parchment paper and spread the almonds out in a single layer on the baking sheet. Toast the almonds for 5-7 minutes, or until fragrant and beginning to brown. They can burn quickly so be sure to keep an eye on them! Set aside to cool.
In a small mixing bowl, stir together the peaches in syrup, lemon juice, and vanilla extract. Pour into the bottom of a 9×13 inch baking dish.
In a medium mixing bowl, mix together the cake mix, ground cinnamon, and ground cloves. Spread the mix evenly over the peaches.
Cut the butter into 24 small pieces, or enough to cover the entire cake, and place them evenly over the cake mix.
Increase oven temperature to 350° F and bake the cake according to the time listed on the package, or until golden brown.
Remove from oven and sprinkle the toasted almonds over the top.
Serving Suggestions
Serve warm with a scoop of vanilla ice cream.
FAQs
What other variations can I make?
You can use a variety of different fruits to make this dump cake recipe unique. Try it with cherries, blueberries, apples, or raspberries.
Why is it called "dump cake?"
The name of the cake comes from the method. Instead of all the mixing that comes along with a cake made from scratch, this cake requires just dumping some ingredients into a pan and baking it!
Do you need to stir this cake at all?
You do not need to stir anything after dumping it into the baking dish. The ingredients combine themselves as they bake and magically make a cake/cobbler right in the oven!
Storage Instructions
Cool the cake completely and store any leftovers in an air-tight container in the refrigerator for up to 5 days. You can reheat in the microwave or oven for a few minutes to warm leftovers. You can also safely store in an air-tight container at room temperature for up to 3 days.
More Delicious Fall Recipes