This post contains affiliate links. As an Amazon Associate I earn from qualifying purchases. View our Privacy Policy.
4th of July Rice Krispie Treats are a no bake dessert perfect for this red, white and blue holiday. Sprinkles and white chocolate decorate this star-shaped treat.
If you are looking for other no bake Fourth of July desserts, try my no bake 4th of July cookies or red white and blue popcorn.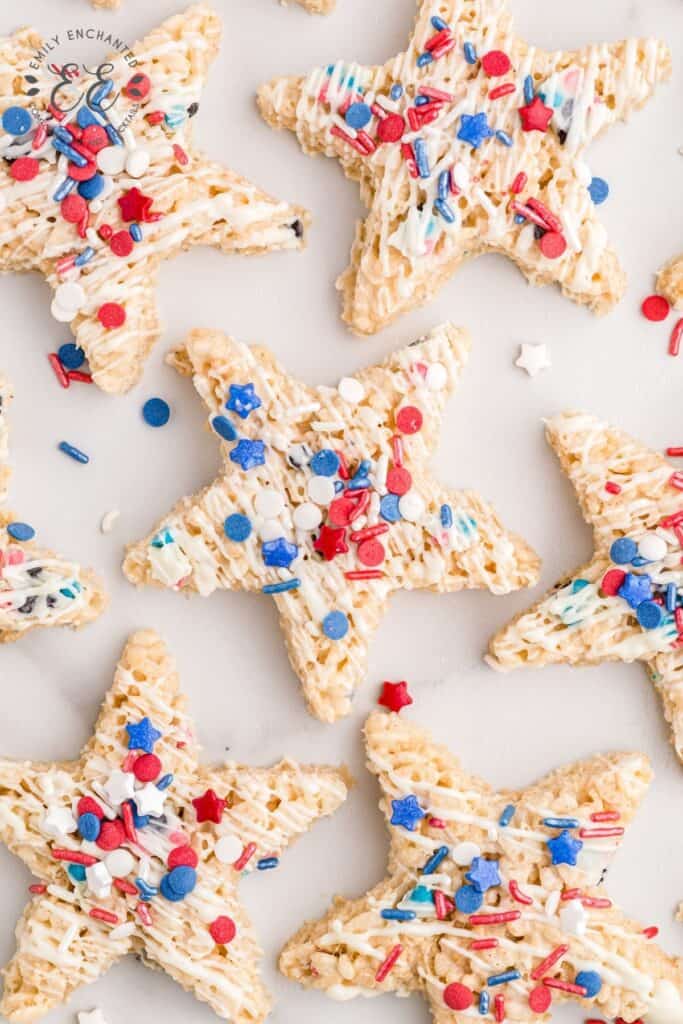 Red White and Blue Rice Krispies Ingredients
To make this Fourth of July dessert recipe, you will need the following ingredients (see the recipe card below for exact amounts):
Salted butter: the salt in the butter acts to balance out some of the sweetness of this recipe. If you use unsalted butter you can add extra ¼ teaspoon of fine sea salt.
Mini marshmallows: mini marshmallows melt faster but you can also use a 10 ounce bag of regular sized marshmallows.
Vanilla extract
Fine sea salt
Crispy rice cereal: you can use regular Rice Krispies for this recipe.
Hershey's Cookies and Creme bars: you can substitute any red, white, and blue chocolate candy here such as M&M's or Sixlets or you can mix in some colored sprinkles.
Vanilla chocolate chips: I recommend using a high-quality chocolate for best meltability.
Coconut oil: this helps the chocolate become really smooth as it melts and makes it easier to drizzle over the treats.
Red, white, and blue sprinkles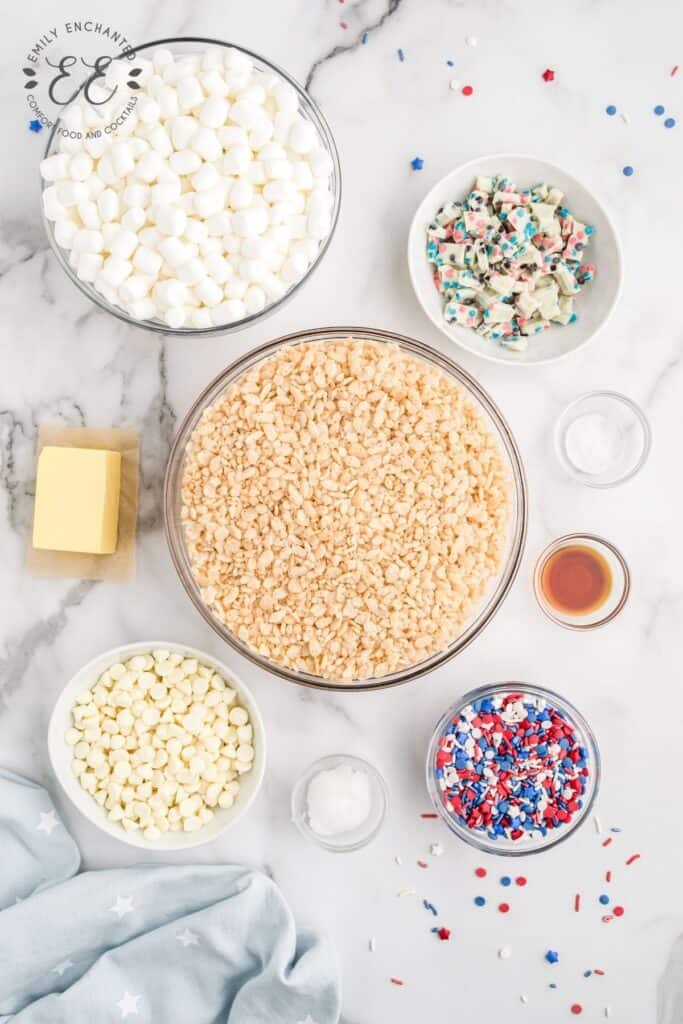 How to Make Patriotic Rice Krispie Treats
Lightly butter a 9×13 inch jelly roll pan or baking sheet and set aside.
Melt the butter in a large saucepan over low heat. Add in the mini marshmallows and stir to coat them in butter. Continue to stir and heat until the marshmallow are melted and smooth.
Stir in the vanilla extract and sea salt.
Remove from heat and stir in the cereal.
Pour the mixture into a large mixing bowl and allow to cool for 4-5 minutes or until no longer warm to the touch. Gently fold in the chopped cookies and creme bars.
Press the mixture into prepared pan and allow to cool completely.
Use a star-shaped cookie cutter to cut the treats into stars and place them on a sheet of parchment paper or a greased cookie sheet.
In a small saucepan, add the vanilla chips and coconut oil. Heat over low heat, stirring frequently, until melted and smooth.
Drizzle the melted chocolate onto the tops of each star-shaped treat and top with sprinkles.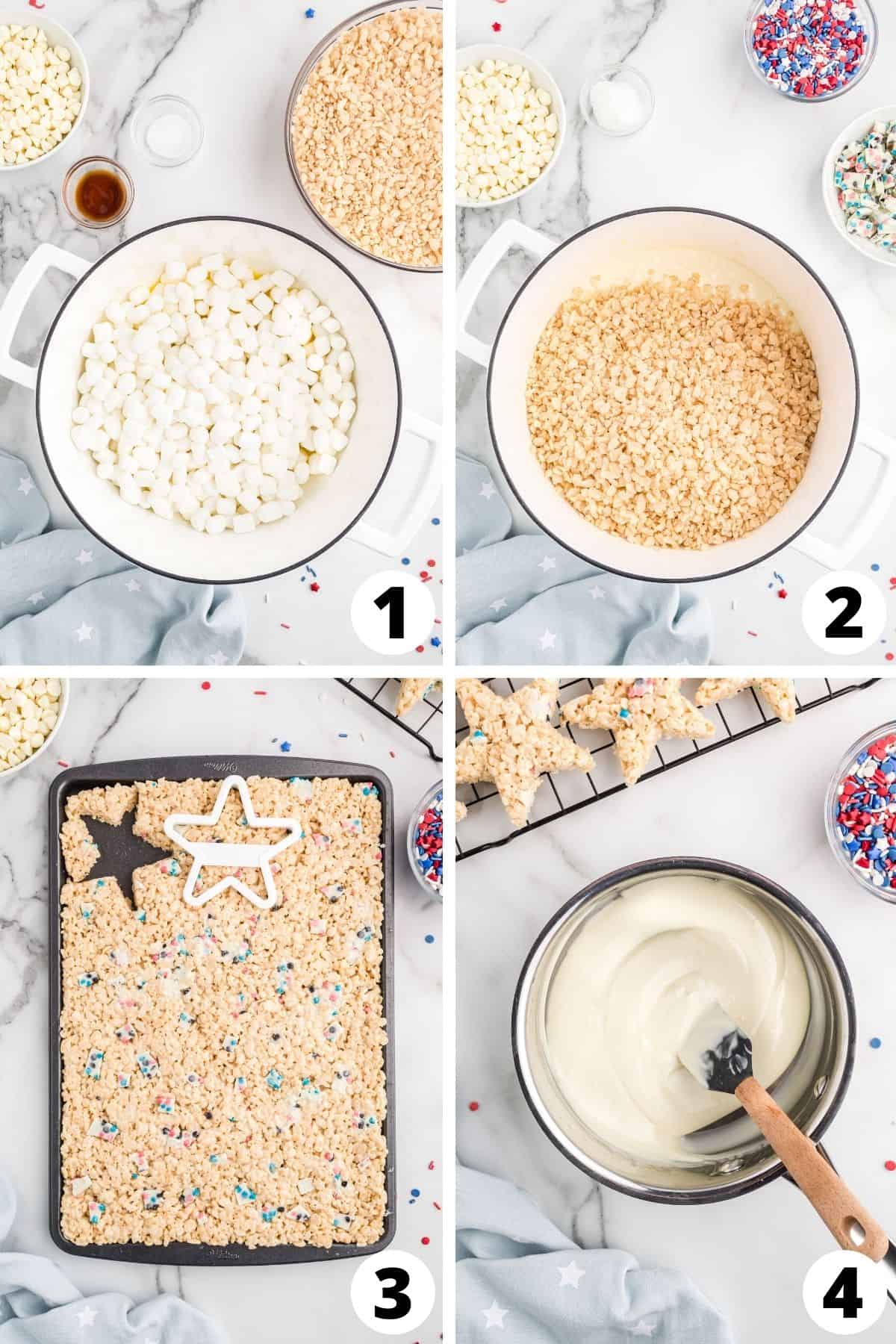 Storage Instructions
Store these treats in an air-tight container at room temperature for up to 3-4 days. I do not recommend storing these treats in the refrigerator. They tend to become hard and crunchy when chilled.
Can I Use a Different Size Cookie Cutter?
Yes. I used a 3 inch cookie cutter for these treats. If you use a larger or smaller cookie cutter you will have a different number of final treats.
Can I Make These Ahead of Time?
You can easily make them a day or two ahead of time and simply store them at room temperature.
Help! My Krispie Treats are Too Hard and Crunchy!
To prevent your treats from becoming too hard make sure you take the marshmallows off the heat as soon as they are melted. Gently press the mixture into the pan so the treats don't become too dense and be sure to use an air-tight container for storage. Following these tips should help keep your treats soft and chewy.