Witches Brew Cocktail is purple Halloween drink make with vodka and frozen berries. Edible glitter adds extra pizzazz to this party favorite.
This recipe makes 16 cocktails and needs to be made ahead of time, so it is great for Halloween parties.
You can add eyeball gumballs or even dry ice for some added flair.
This post contains affiliate links.
Witches Brew Cocktail Ingredients
To make this spooky cocktail, you will need the following ingredients (see the recipe card below for exact amounts):
Special Tools Needed to Make Witches Brew Recipe
Masher – I like to use a flat masher since berries are smaller, or you can use a common potato masher or muddler.
Mixing bowl – You will need a large mixing bowl to ensure you don't spill any of the drink.
Cocktail shaker – You can use a cocktail shaker for best results, or add ice to the mixing bowl and mix quickly. Make sure to remove the ice and pour the drinks right away so the ice does not melt and water down the drink.
How to Make this Halloween Cocktail
Unpack the berries into a mixing bowl and pour the whole bottle of vodka over the top.
Mash the berries a little then allow the berries and vodka to steep for a minimum of 6 hours (overnight would be best). Mash at times intermittently.
Strain the juices to leave the pulp out of the drink.
Add honey and stir well.
Add purple glitter and stir well.
Dip the rim of a martini glass into water then into the colored sugar.
Add the cocktail to a shaker with ice.
Shake well then pour into the martini glass.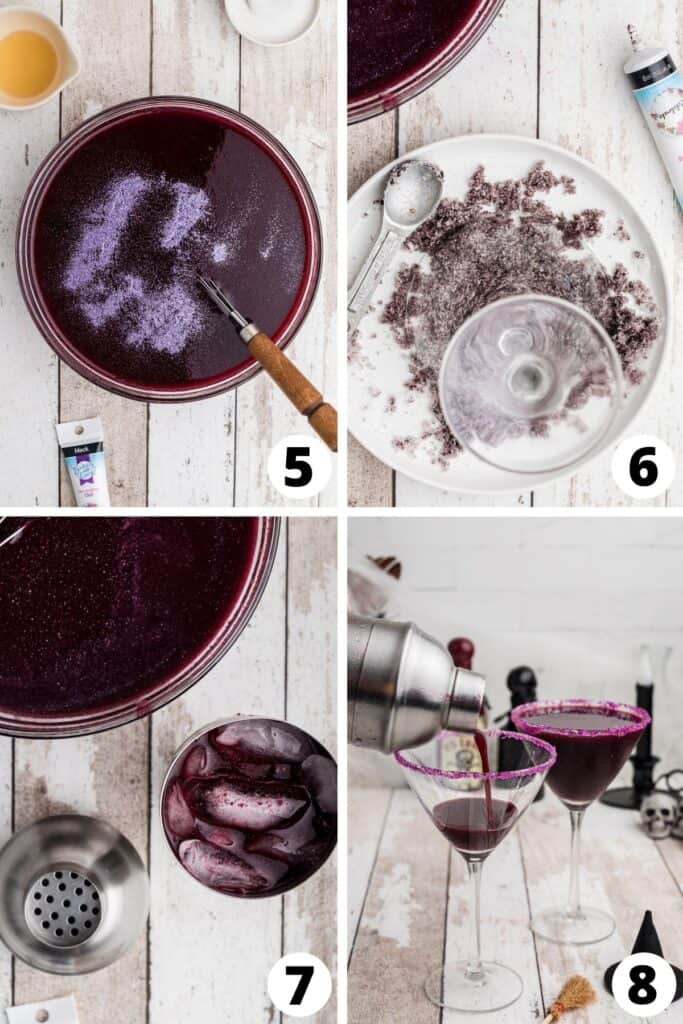 Storage Instructions
Before putting this drink on ice you can store in a bottle in the refrigerator for up to 4 days.
How Can I Add Smoke to My Drink?
Use a small amount of food grade dry ice, but be super careful when handling it. Never touch with your hands, wear gloves and use a tiny amount. Don't drink before the dry ice has dissolved.
Can I Make This Drink a Different Color?
I prefer this drink to have a purple tone to it, so love to use just black berries, which helps with that. Sometimes, depending the time of year it can be hard to find just blackberries, so I will freeze them when they're in season. Because I used mixed berries this time around there was more of a red tint to the drink. You can use food color to try to change the tone.