This Sugar Free Cranberry Sauce Recipe only has 3 ingredients! This cranberry sauce is guilt free as it is low carb, sugar free, and keto.
Cranberry sauce is a required condiment for Thanksgiving and Christmas. This delicious sauce goes perfect with turkey. You can even use the leftovers in a berry smoothie, yogurt bowl, on toast, or on a turkey sandwich.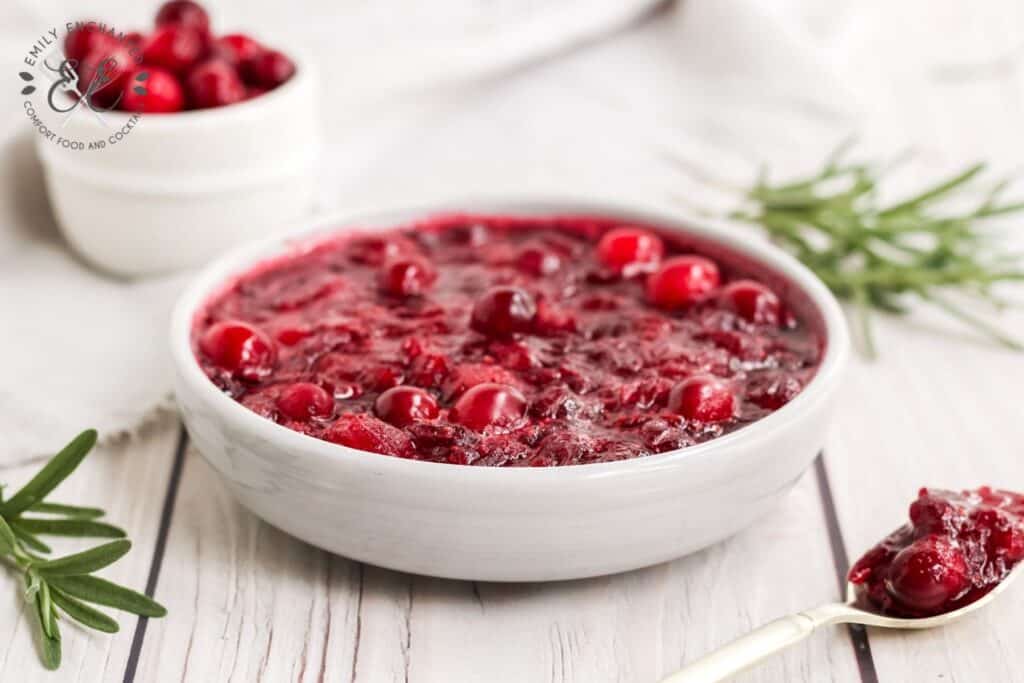 Sugar Free Cranberry Sauce Ingredients
To make cranberry sauce without sugar, you will need the following ingredients (go to the recipe below for exact quantities and instructions):
Frozen cranberries
Powdered Swerve
Water
How to Make Cranberry Sauce Without Sugar
This healthy cranberry sauce only takes 15 minutes to make. This recipe has no prep except for measuring. So easy!
Add all ingredients to one pot and cook. In a small saucepan, combine the cranberries, swerve and water. Stir until well combined. Bring the mixture to a boil then reduce heat and cook, covered, for 15 minutes or until the cranberries begin to pop.
Mash the cranberries. If desired, use a potato masher to press half the cranberries.
Let cool. Cool completely and allow to thicken before serving.
Can I Make Cranberry Sauce with Powdered Swerve?
Using powdered swerve will help prevent crystallization if it is stored in the refrigerator. If you are planning to use this right away, feel free to use alternative sugar replacement. But I find that powdered options are the best for storage.
Variations
If you are looking to try a unique twist, try adding some orange zest and juice to the recipe. If using orange juice, remember to reduce the amount of water.
You can also add other berries if desired.
What to Serve with Keto Cranberry Sauce
I love using this keto cranberry sauce over chicken, turkey and pork. I also enjoy it drizzled over a Keto Muffin. The possibilities are endless!
This cranberry sauce is perfect for serving with Christmas recipes and Thanksgiving recipes.
Storage Instructions
If using powdered Swerve, this recipe will keep in the refrigerator for up to 5 days. Be sure to store it in an airtight container. You can also freeze the sauce for up to a month.