This is an easy, classic recipe for stuffed peppers with beef. The peppers are stuffed with a tasty mix of ground beef, onion, mozzarella, tomatoes, and rice.
This is a hearty yet healthy meal that can be a busy weeknight staple. The flavors are Italian-inspired, using Italian seasoning and diced tomatoes.
To make these quick stuffed peppers, you simply prepare the filling in one pan, stuff your peppers and bake them. The peppers are also topped with a delicious sprinkle of melted mozzarella cheese.
Stuffed bell peppers can be eaten just by themselves or with a savory side dish. Try it with roasted potatoes, watermelon salad, or Italian salad.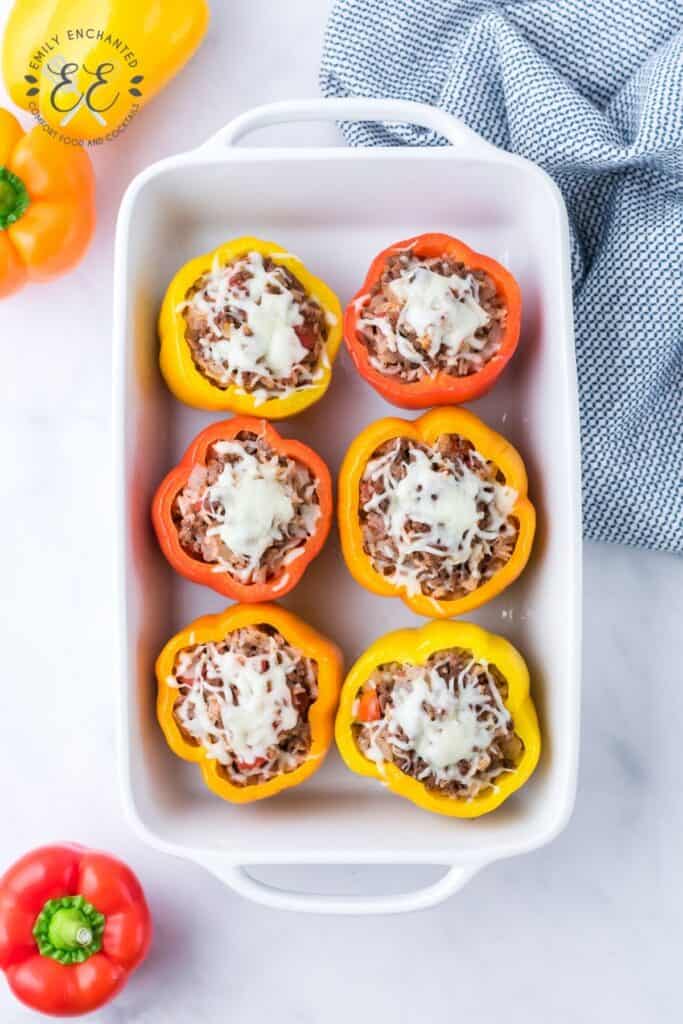 Stuffed Peppers with Beef Ingredients
To make this cheesy stuffed bell pepper recipe, you will need the following ingredients (go to the recipe below for exact quantities and instructions):
white rice
bell peppers (any color)
olive oil
ground beef: you can also try ground turkey or ground pork
onion
diced tomatoes
Italian seasoning
salt and pepper
mozzarella cheese
parsley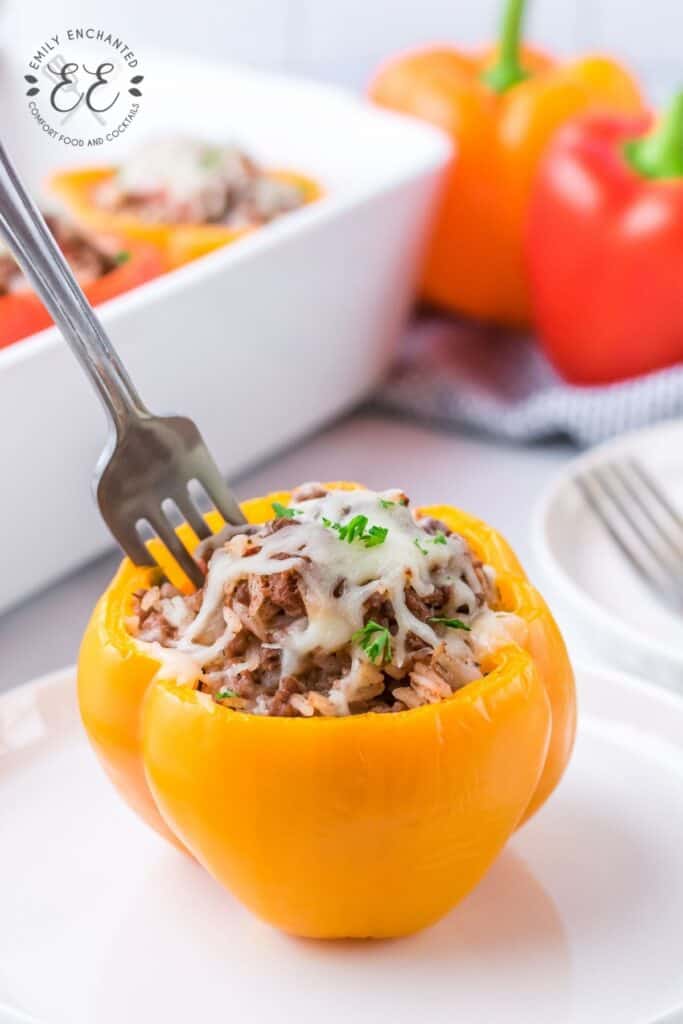 How to Make Stuffed Bell Peppers
Preheat the oven to 350. Cook 2 cups of rice according to the packaging and set aside.
Prepare your peppers by cutting off the tops and removing the seeds. Fill a large pan with water and bring it to a boil. Boil the bell peppers for 5 minutes. Place them upside down on a paper towel to dry.
Make the stuffing. In a large skillet, heat 1 tbsp olive oil. Add the onion and saute until translucent. Add the ground beef to the skillet. Cook until brown and cooked through. Drain any excess grease. Add the diced tomatoes, Italian seasoning, salt, pepper, rice and ½ cup of mozzarella cheese. Stir to combine.
Fill the peppers. Place the peppers in a 9 x 13" baking dish lightly sprayed with nonstick cooking spray. Spoon the filling into the peppers, filling each one full.
Bake the peppers. Bake uncovered in the preheated oven for 25 – 30 minutes. Add the remaining mozzarella cheese to the tops of the peppers and bake for 5 minutes more.
Garnish and serve. Optionally, serve garnished with chopped parsley.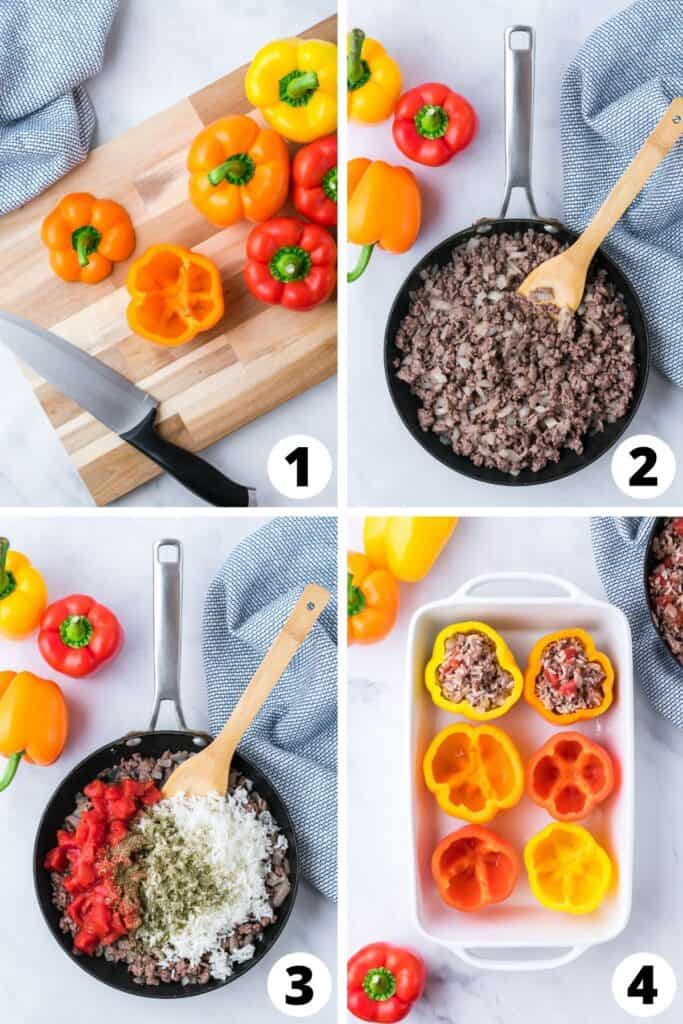 Do I Have to Boil the Peppers?
Bell peppers have a thick skin and boiling the peppers helps to make them more tender. If you wish to skip this step, you can leave the peppers in the oven for an additional 20 minutes after adding the cheese on top.
Tips For The Recipe
Preparing your peppers: if you're having trouble getting your peppers to stay upright in your baking dish, trim the bottoms of them slightly so that they are flat. This is best done at the beginning of the recipe before you boil your peppers.
How to freeze stuffed peppers: to freeze these stuffed peppers, place them in an airtight container after they have been cooked and freeze for up to 3 months. When you're ready to eat them, let them thaw in the fridge overnight and then heat them through completely in the oven at 350 (for about 10 minutes).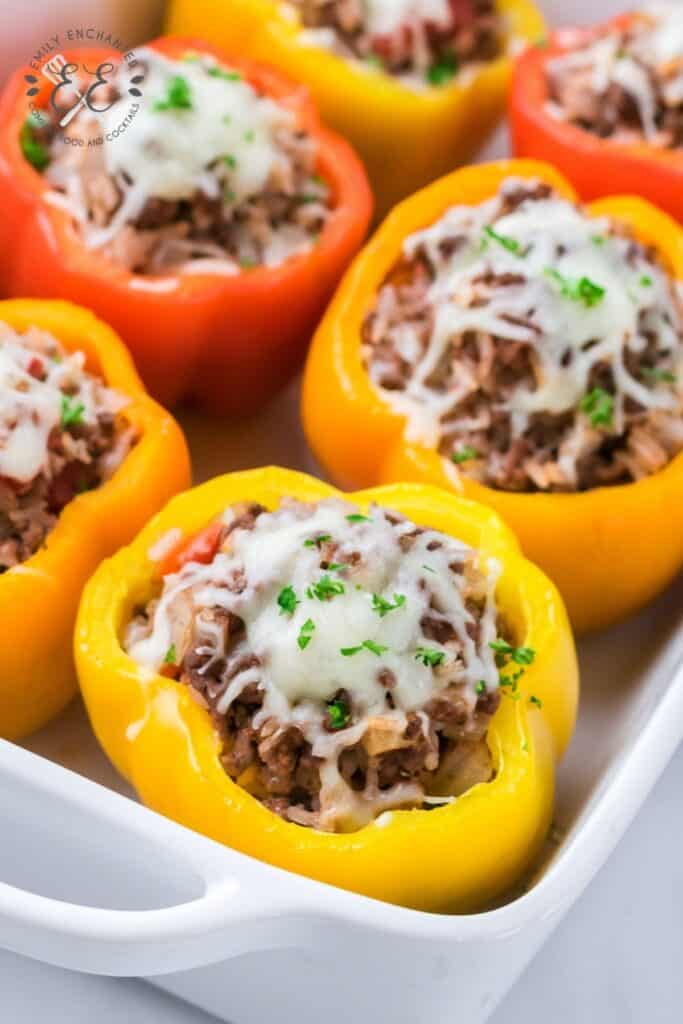 Substitutions & Optional Add-Ins
Meat: you can easily swap out ground beef for ground turkey or chicken in this recipe if you prefer.
Rice: it's recommended to use a long grain white rice for this recipe, but you can also use your favorite white, brown or wild rice.
Peppers: This recipe is classically made with green bell peppers, but I like to use a mix of red, orange and yellow peppers. You can use any color you like.