This easy and delicious Crescent Roll Taco Pizza is a great appetizer or snack. Crescent roll dough is baked and then layered with a sour cream and cream cheese "sauce," ground beef, veggies and cheese.
This taco pizza recipe is served cold. It is a great after school snack or appetizer for a party. You can cut the taco pizza into small or large squares, depending on how many you want to feed.
Crescent rolls are so delicious and I love making other dishes with them. These Pizza Crescent Rolls are really good, too.
Crescent Roll Taco Pizza Ingredients
To make this taco pizza recipe, you will need the following ingredients (see the recipe below for exact quantities):
Crescent Rolls (you can buy the rolls or the sheet)
Cream Cheese
Sour Cream
Ground Turkey or Beef
taco seasoning packet
tomatoes
shredded cheddar cheese
mozzarella cheese
lettuce
olives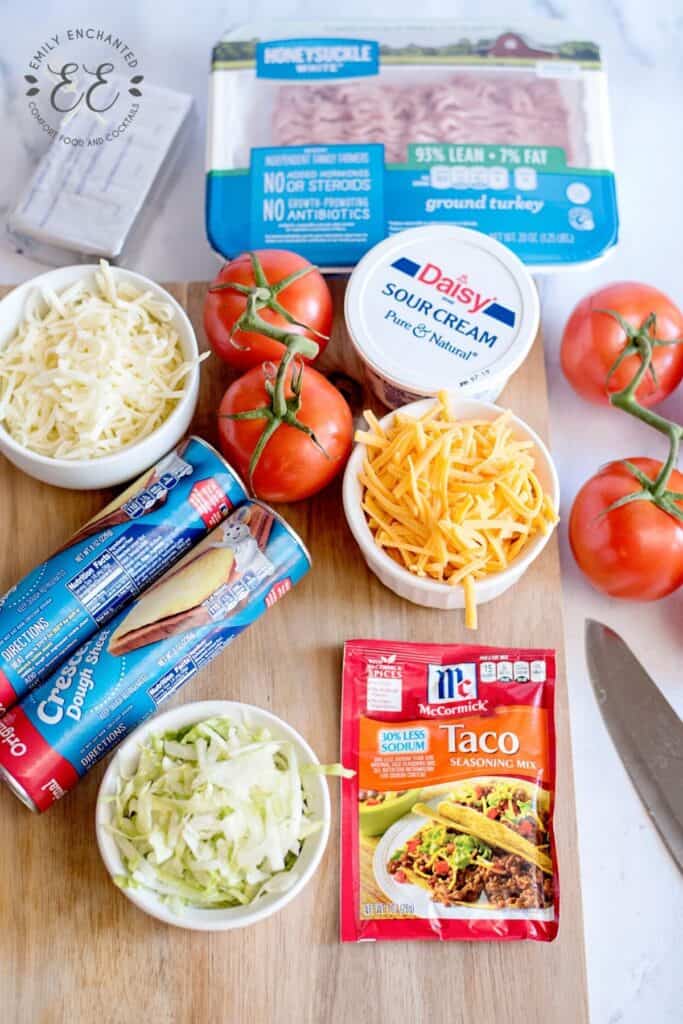 How to Make Taco Pizza Recipe
Preheat the oven to 375 degrees. Prepare a cookie sheet with a piece of parchment paper or a very light coating of non-stick spray.
Open the crescent roll dough and unroll onto the prepared cookie sheet. Lightly press together the seams if any of them have separated. Cook in the oven for 10 minutes and set aside to cool.
In a bowl, mix together the sour cream and cream cheese until most of the lumps have disappeared. Spread the mixture onto the cooled crust.
Put the cookie sheet with the pizza crust in the fridge while you prepare the meat.
Brown the meat and prepare it according to the instructions on your taco seasoning packet. Drain the meat.
Take the pizza crust out of the fridge and spread the taco meat across the top. You will have some meat leftover. Sprinkle the cheese, lettuce, olives and tomatoes on top.
Slice and serve!
Can I Make this Ahead of Time?
Taco pizza is best if served immediately, otherwise the crust might get soggy.
Storage Instructions
You can store leftovers in an air-tight container the refrigerator. I would not leave them in the fridge for longer than 2 days.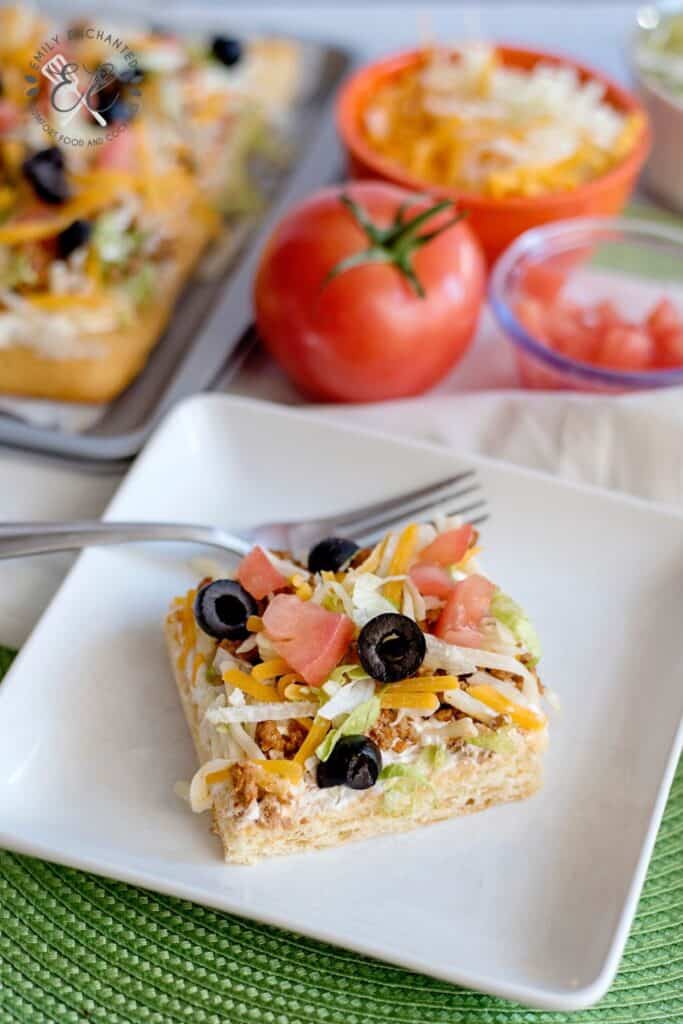 What Toppings Can I Use for Taco Pizza?
Because taco pizza is both taco and pizza, you can use traditional ingredients for both, such as cheddar cheese, mozzarella cheese, ground beef, olive, tomatoes and lettuce. You could also use:
green chile
onion
salsa
cilantro
crumbled yellow corn chips or taco shells
jalapenos
pepperoni
and more. Get creative!