Greek Pasta Salad with Tortellini is a delicious side dish recipe bursting with the flavor of olives, feta cheese, olive oil and red wine vinegar.
This pasta salad recipe is best served cold, perfect for summer time. The cheese tortellini provides little pockets of joy in your mouth. I love this dish so much, I could eat it as my main meal.
This Greek salad is simple and easy to make. Crispy veggies and tortellini are tossed in light Greek dressing and sprinkled with feta. Double the vinaigrette recipe and store it in a mason jar for more salads!
Greek Tortellini Salad Ingredients
To make this easy Greek pasta dish recipe, you will need the following ingredients (see the recipe card below for exact amounts):
Cheese tortellini: Substitute a simple pasta like cavatappi, rotini, bow tie or penne. Make sure it is cooked al dente.
Lebanese cucumber: You can substitute English cucumber.
Tomatoes: If you do not wish to chop a tomato, you can just add pint cherry tomatoes.
Green bell pepper
Red onion
Black olives: You can also use pitted kalamata olives.
Feta cheese: You can add up to one cup feta cheese for the best ratio.
Fresh oregano, optional garnish
Extra Virgin Olive Oil
Red wine vinegar
Dried oregano
Salt & Pepper: Don't add too much salt to the dressing as the Feta is already salty.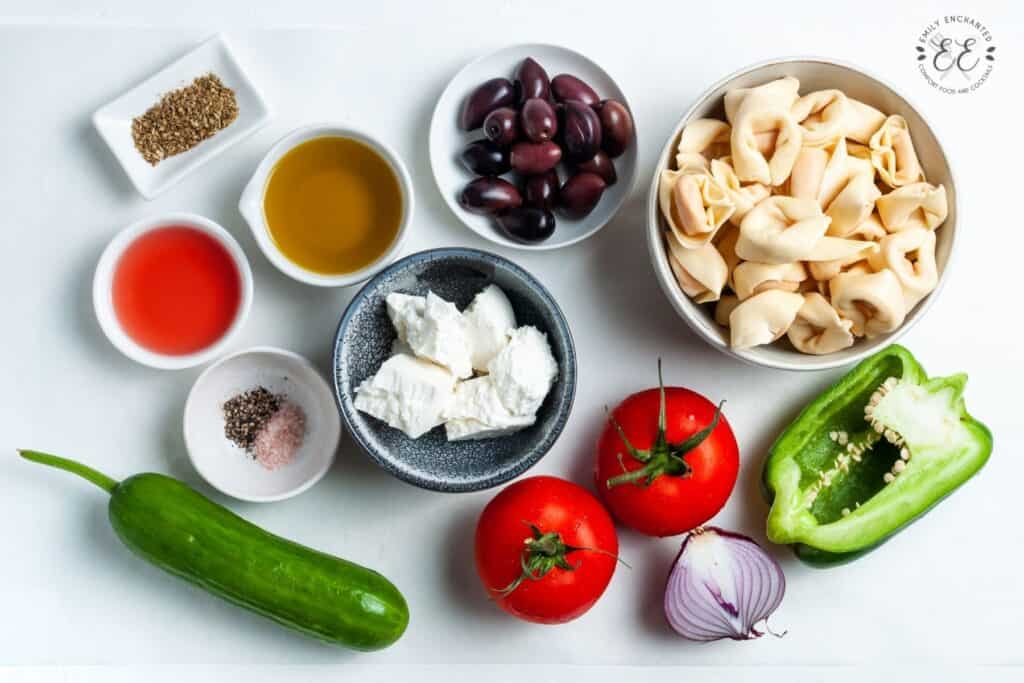 How to Make Greek Pasta Side Dish
Cook pasta according to the package instructions. Once the pasta is cooked, run under cold water to stop it cooking further.
Combine the olive oil, red wine vinegar, dried oregano, salt and pepper. Pour the Greek salad dressing over the tortellini in a large bowl.
Dice the cucumber, tomatoes and pepper, finely chop the red onion, and halve the olives. Mix the vegetables in with the tortellini.
Sprinkle over the feta cheese. Sprinkle dried oregano on top, optional.
Can I Add Meat to this Recipe?
If you wanted extra protein you could add grilled chicken to the salad along with the vegetables.
FAQs
Can I Make Pasta Salad Ahead of Time?
If you want to make pasta salad ahead of time, keep the dressing in a separate container and mix in with the rest of the ingredients when you are ready to serve. You can also use premade dressing instead of making your own.
How do you make red onions less hot?
Red onions have a natural bite to them. To make red onions more mild, soak slices in a bowl of ice water for 10 minutes to an hour.
Should you rinse pasta for pasta salad?
Because this pasta is served cold, stop the cooking process by rinsing in cold water. Rinsing the pasta also keeps it from sticking together by removing some of the starches.
Storage Instructions
This cold pasta salad will keep in the fridge for 2 to 3 days. However, the red onion flavor gets stronger the longer it sits, so it is recommended to eat the same day.
More Delicious Pasta Salad Recipes
Pasta salads are one of the best side dish recipes. They are easy to make ahead of time and great for serving to a crowd. Here are some of my favorite pasta salads:
BLT Pasta Salad – The dressing for this pasta dish is super creamy and you can't go wrong with bacon!
Pizza Pasta Salad – This Italian pasta salad has everything you love about a pizza: mini pepperonis, mozzarella, and toppings all mixed with an Italian dressing.
Chicken Bacon Ranch Pasta Salad – Pasta salads can be main dishes with this protein-packed recipe.