Greek Pasta Salad with Tortellini is a delicious side dish recipe bursting with the flavor of olives, feta cheese, olive oil and red wine vinegar.
This pasta side dish is best served cold. The cheese tortellini provides little pockets of joy in your mouth. I love this dish so much, I could eat it as my main meal.
Crispy veggies and tortellini are tossed in light Greek-style dressing and sprinkled with feta. This Greek salad is simple and easy to make.
Greek Tortellini Salad Ingredients
To make this Greek side dish recipe, you will need the following ingredients (see the recipe card below for exact amounts):
Cheese tortellini
Lebanese cucumber: You can substitute English cucumber.
Tomatoes
Green bell pepper
Red onion
Black olives: You can also use kalamata olives.
Feta cheese
Fresh oregano, optional garnish
Olive oil
Red wine vinegar
Dried oregano
Salt & Pepper: Don't add too much salt to the dressing as the Feta is already salty.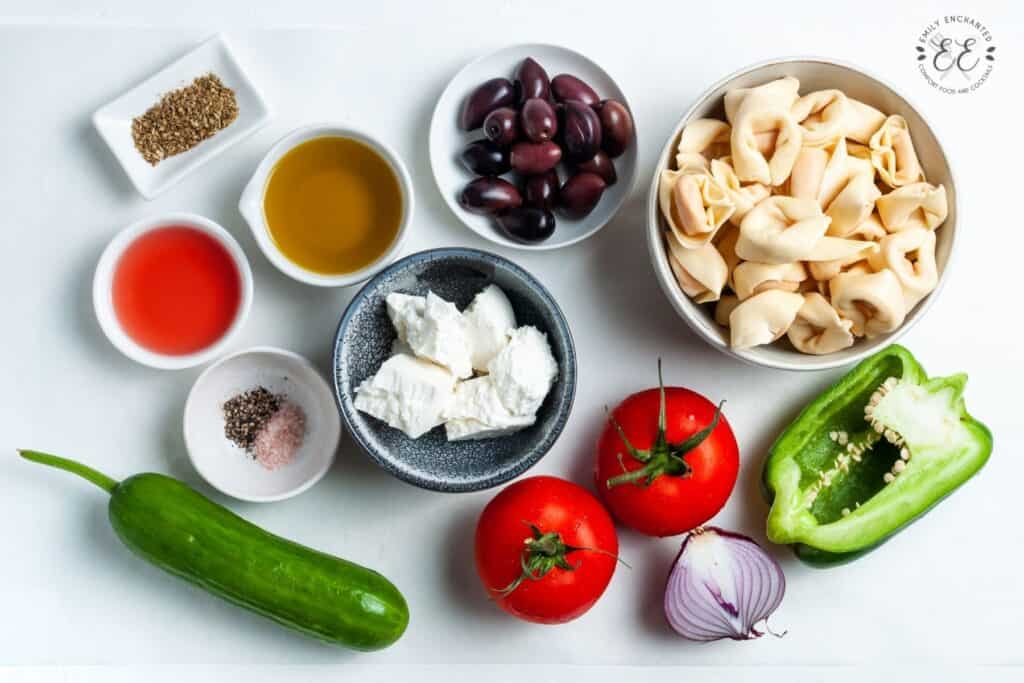 How to Make Greek Pasta Side Dish
Cook the tortellini according to the package instructions. Once the pasta is cooked, run under cold water to stop it cooking further.
Combine the olive oil, red wine vinegar, dried oregano, salt and pepper. Pour the dressing over the tortellini.
Dice the cucumber, tomatoes and pepper, finely chop the red onion, and halve the olives. Mix the vegetables in with the tortellini.
Sprinkle over the feta cheese. Sprinkle dried oregano on top, optional.
Can I Add Meat to this Recipe?
If you wanted extra protein you could add grilled chicken to the salad along with the vegetables.
Storage Instructions
This cold pasta salad will keep in the fridge for 2 to 3 days.