Easy Instant Pot Black Beans is a back to basics recipe for making black beans. Using your pressure cooker to make black beans is fantastic for customizing your beans to any savory or sweet recipes.
If you want perfectly cooked beans every time, then you need to know how to cook dry beans in a pressure cooker.
This no-soak black beans recipe is quick and easy – only 3 ingredients and no waiting around for your beans to be ready.
This post contains affiliate links.
Instant Pot Black Beans Ingredients
To make this pressure cooker black beans side dish, you will need the following ingredients (see the recipe card below for exact amounts):
Dry black beans
Water: or broth of choice for a little more flavor
Salt
You will need a pressure cooker for this recipe, and an Instant Pot works great. The Instant Pot Duo is a 7-in-1 Electric Pressure Cooker, Slow Cooker, Rice Cooker, Steamer, and other functions. This is probably the best Instant Pot and works with this recipe.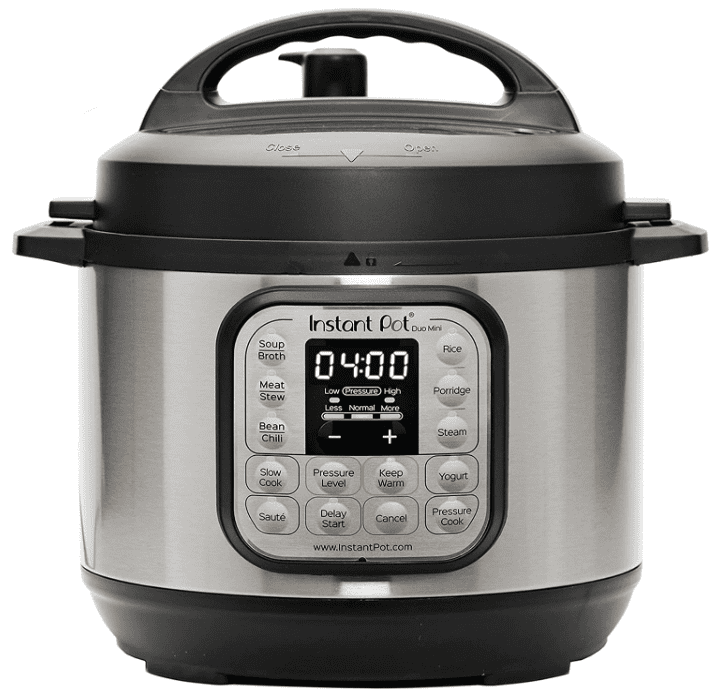 The Instant Pot Duo is simple and easy to use. This 7-in-1 appliance can pressure cook, slow cooker, steam, sauté & more.
How to Make Black Beans in an Instant Pot
Pick through the beans to remove any dirt or debris. Thoroughly rinse them under cold running water.
Place inside pressure cooker, pour in the water, set valve to Sealing, select Pressure Cook to High and for 25 minutes. Allow pressure cooker to come to pressurize (time will depend on your altitude, mine took 12 minutes), once it's pressurized cooking time will begin to count down. Once the 25 minutes are up, and the machine beeps, allow to Natural Release for 15 minutes. Once this time is up release any remaining pressure in the pot by set-ting valve to Venting.
Carefully open the pot turning away from your face. Most of the water will have been absorbed by the beans.
At this time you can add salt, and any herbs or spices you may like. Serve and enjoy the black beans as desired.
What is the No Soak Method?
Dry beans are commonly soaked in water before cooking. You can do a quick soak or soak them overnight. They cook faster this way, but it's not necessarily the best way to cook them.
Beans that have not been soaked don't really take that much longer to cook either, maybe 10-20 minutes depending on the quantity. For this recipe, we are using the no soak method. Just dump and cook.
Storage Instructions
To store leftover beans, allow to come to room temperature before placing in the refrigerator or in the freezer. Beans will stay fresh in the fridge for about 7 days and in the freezer for a couple of months.
I highly suggest you wait to season the beans until after they're cooked so this way they can be refrigerated or frozen to use in any of your favorite recipes.
How to Serve Black Beans
Instant Pot Black Beans can simply be served with seasoning as a side dish, in your favorite Mexican dish, or with rice. Here are some ideas of what to serve with black beans: