Gingerbread Bundt Cake with Cinnamon Glaze is the perfect dessert for Thanksgiving or Christmas. Flavors of ginger, cinnamon, nutmeg, and cloves not only make your taste buds dance, but fill the kitchen with an amazing aroma.
If you love holiday bundt cakes, try my Spiced Rum Bundt Cake or Black Forest Bundt Cake.
Gingerbread Bundt Cake Ingredients
To make this gingerbread bundt cake, you will need the following ingredients (see the recipe card below for exact amounts and directions):
Eggs
Sour cream
Canola oil
Brown sugar
Granulated sugar
Molasses
Vanilla extract
All purpose flour
Ground spices: ginger, cinnamon, nutmeg, and cloves
Baking powder
Baking soda
Salt
Butter
Powdered sugar
Maple syrup
Whole milk
How to Make Gingerbread Cake in a Bundt Pan
Preheat oven to 350°F.
Mix dry ingredients. In a large mixing bowl take the brown sugar, granulated sugar, all purpose flour, ground ginger, baking powder, ground cinnamon, baking soda, salt, nutmeg and ground cloves. Mix well using a whisk and set to the side.
Mix wet ingredients. In a separate mixing bowl mix together the eggs, sour cream, canola oil, molasses and vanilla.
Combine mixtures. Add the dry ingredients to the wet ingredients and mix together just until smooth.
Prepare the bundt pan. Use the 1 tablespoon of butter to grease a bundt pan well. Take the ½ Tablespoon of flour, ½ Teaspoon of ginger and ½ Teaspoon of Cinnamon and mix together. Use this mixture to dust over the buttered bundt pan.
Bake the cake. Pour the batter into the bundt pan and bake for 45-50 minutes. Depending on your oven you might want to check after 40 minutes, using a toothpick. Check that the toothpick comes out clean.
Cool the cake. Let cool on a cooling rack for about 5-10 minutes. No longer, or the cake will stick. Remove from the bundt pan onto the cooling rack and cool completely.
Prepare the glaze. Mix together the cinnamon glaze ingredients and pour over the cake, once cooled.
FAQs
Can I Freeze this Cake?
The cake freezes well. I would not freeze it with the glaze though. Freeze the cake after it has cooled and then glaze once thawed. In a freezer safe container you can freeze this cake.
Can I make this cake without a Bundt pan?
Yes, definitely. You will need to add a little time to the baking process. You could also make this as a loaf instead. Use two 8" loaf pans.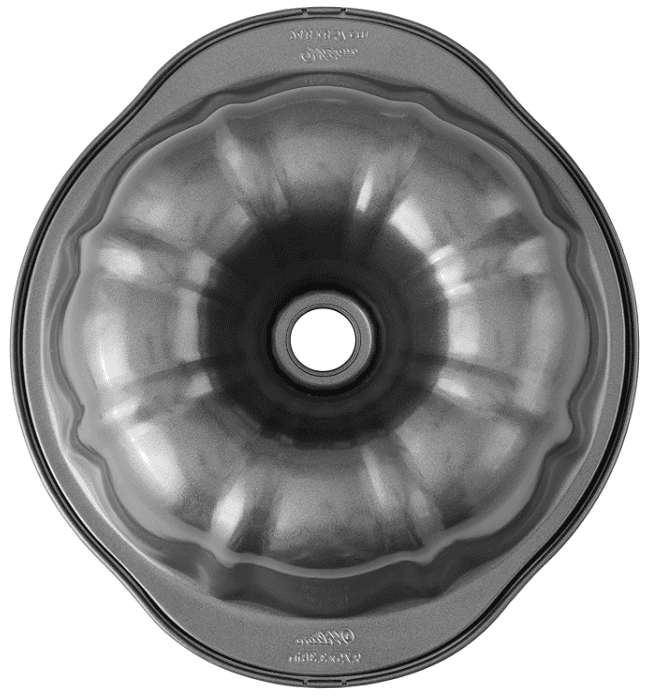 This Wilton Bundt Pan is affordable and has handles for easy use.
Storage Instructions
Once cooled this cake can be stored at room temperature in an airtight container for up to 7 days.
More Delicious Gingerbread Recipes
Gingerbread Cake with Mascarpone Frosting
Air Fryer Gingerbread Man Cookies
Gingerbread Cheesecake Bites