Instant Pot Gluten Free Mac and Cheese is an easy one pot, no drain macaroni and cheese recipe. It is super cheesy and delicious. Gluten free mac and cheese is the perfect comfort food.
For this recipe, you will need gluten free noodles. I like to use rotini, but you can use the traditional macaroni. Gluten free pasta is made with corn and/or rice. It has the same taste and texture as regular pasta, just without the gluten. This recipe is gluten allergy friendly.
This post contains affiliate links.
You will also need an Instant Pot for this recipe. If you don't have an Instant Pot, you could make this Garlic Parmesan Noodles dish and use gluten free fettuccine.
The Instant Pot Duo is a 7-in-1 Electric Pressure Cooker, Slow Cooker, Rice Cooker, Steamer, Saute, Yogurt Maker, and Warmer. This is probably the most common Instant Pot and works with this recipe.
What You Need for Instant Pot Gluten Free Mac and Cheese
12 oz package gluten free pasta
3 C chicken broth
1 T butter
salt and pepper to taste
1 tsp garlic, minced and smashed
¾ C whole milk
1 C Parmesan cheese
½ C sharp cheddar cheese
½ C mild cheddar cheese
How to Make Instant Pot Gluten Free Mac and Cheese
It is really easy to make mac and cheese in an Instant Pot. You will add everything except the dairy to the pot and cook. No draining needed! Once done, stir in the milk and cheeses until melted.
First, combine the pasta, broth, butter, salt, pepper and garlic in the Instant Pot and twist on the locking lid. Select the Manual setting. Set the Instant Pot for ½ of the time listed on the package of pasta.
When the pot has finished the pressurized cook time and beeps, allow everything to Natural Pressure Release for 2 minutes.
Then cover the steam valve with a clean, damp cloth. This will help release the steam without dangerous and messy liquids spraying everywhere.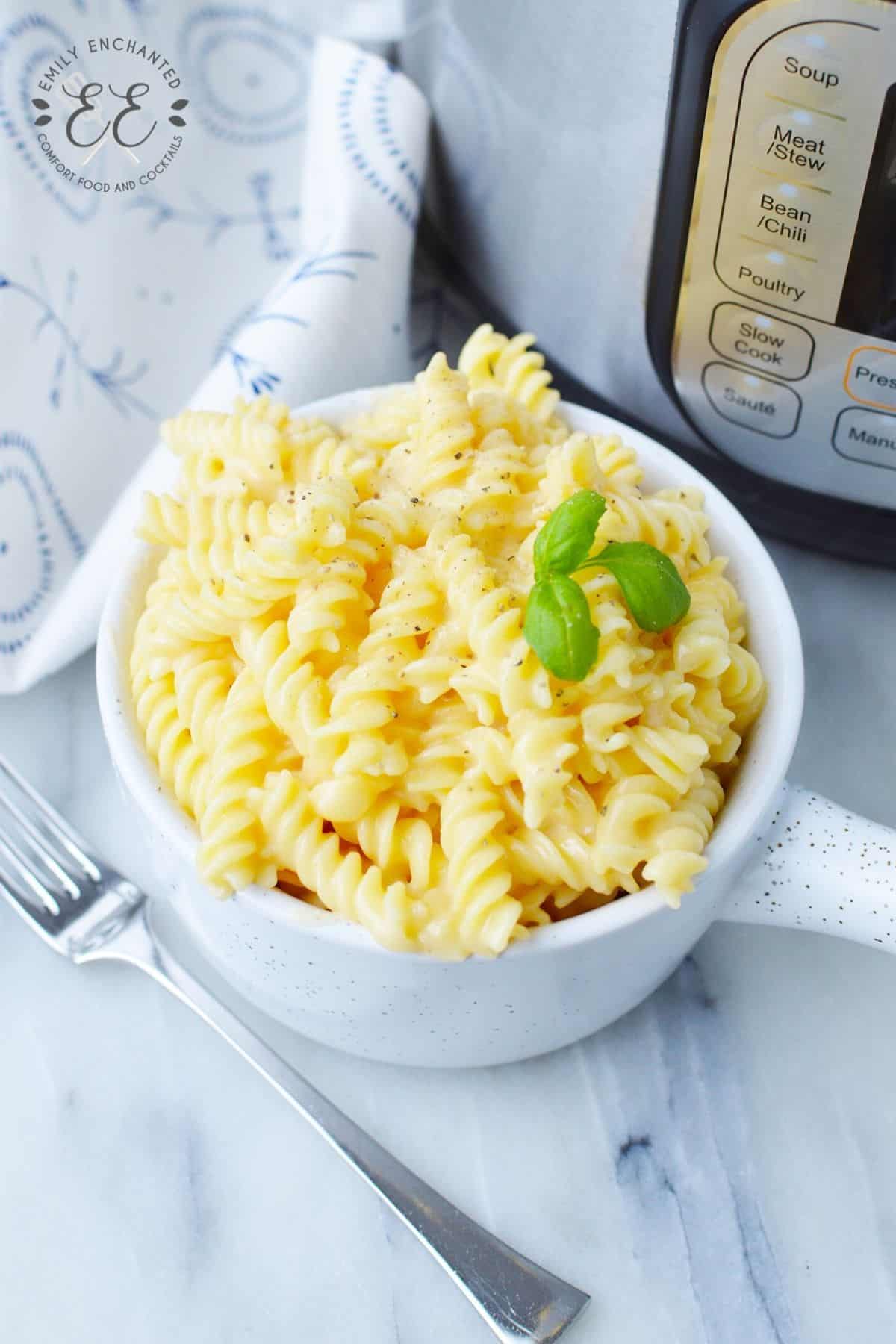 Give the pasta a solid stir and then add in the milk and cheeses. Stir everything together until smooth and creamy. Serve right away.
Can I Substitute Ingredients for Gluten Free Mac and Cheese?
Instead of chicken broth, you can use vegetable broth.
Instead of butter, you can use avocado oil or olive oil.
Instead of whole milk, you can use heavy cream for a thicker sauce.
Can I Reheat Gluten Free Pasta?
Gluten free pasta reheats best in a pan and not the microwave. You can reheat leftovers in a non stick pan on the stove with a little liquid (cream or milk) added in.