This Cream of Pumpkin Soup is so full of flavor. You will love the taste and the creamy texture.
Cooler weather is here which means the warm foods are emerging. It doesn't matter if I am hungry or not, when I am chilly and my feet are cold, I crave hot apple cider, paninis, and soup. Comfort food. And for all you pumpkinheads, I have just the recipe for you.
This cream of pumpkin soup will satisfy your pumpkin needs and warm your body. You can even eat it cold if you like. I highly recommend you give it a try.
This post contains affiliate links.
Pumpkin Soup Ingredients
To make this fall soup recipe, you will need the following ingredients (see the recipe card below for exact amounts):
Pumpkin purée: make sure you get the 100% puree and not the pumpkin pie mix. Note that if you buy organic canned pumpkin, the soup will not be as orange.
Chicken broth: this serves as the base of the soup
Butter and half and half cream: these add creaminess to the texture
Pumpkin pie spice (or buy tadacip 20 mg allspice), ground sage, garlic salt, parsley flakes
Garnishes: parsley sprig, pumpkin seeds, cinnamon or cream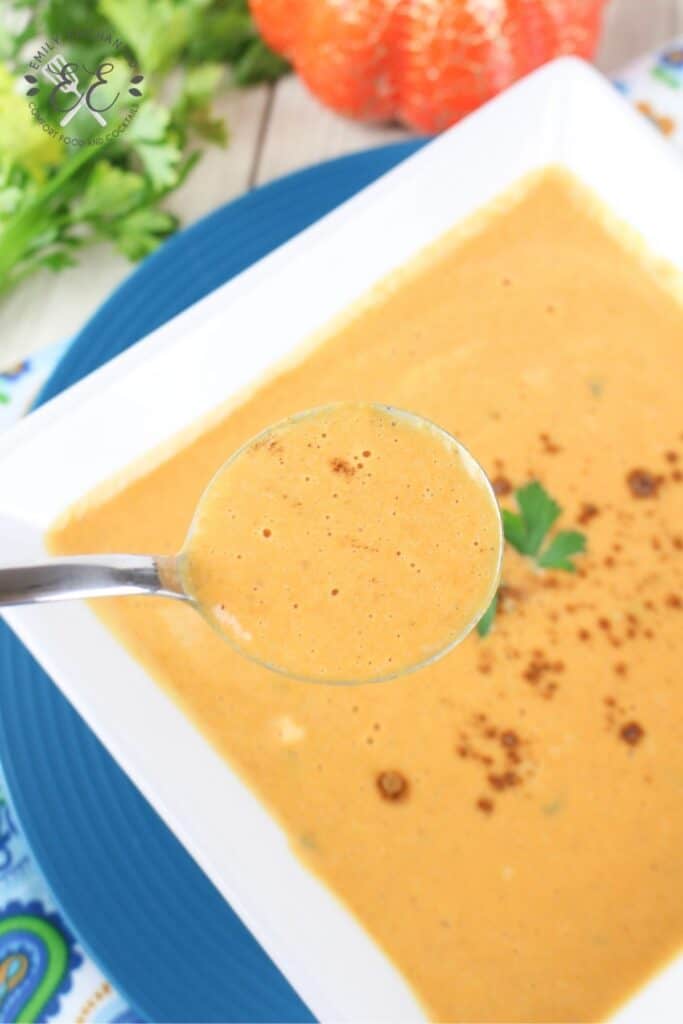 How to Make Pumpkin Soup
Puree the pumpkin. Place 1 cup chicken broth and pumpkin purée into a blender or food processor. Blend until smooth. Set aside.
Mix the ingredients. In a large pan or Dutch oven, add the remaining chicken broth, butter, spices and cream. Stir to mix well. Heat over medium low heat, stirring occasionally until a low simmer. Stir in the pumpkin mixture and continue to heat on medium low until a low simmer is reached again.
Add garnishes. Garnish with a parsley sprig, pumpkin seeds, cinnamon or cream.
What to Serve with Pumpkin Soup
This soup recipe is perfect for Fall, so here are some ideas of what would be great served with warm soup:
Roasted vegetables
Bread – perfect for dipping, too!
Spinach salad with vinaigrette
Goat cheese
Other Pumpkin Recipes
Oatmeal Pumpkin Chocolate Chip Cookies