Nothing says "I love you" more than baked goods! These Chocolate Valentine's Day Cookies with Sprinkles and Hershey Hugs will make anyone feel special! These chocolate cookies have red, pink and white sprinkles on them with a Hershey Hug.
This Valentine's Day chocolate cookie recipe is easy and makes about 18 cookies.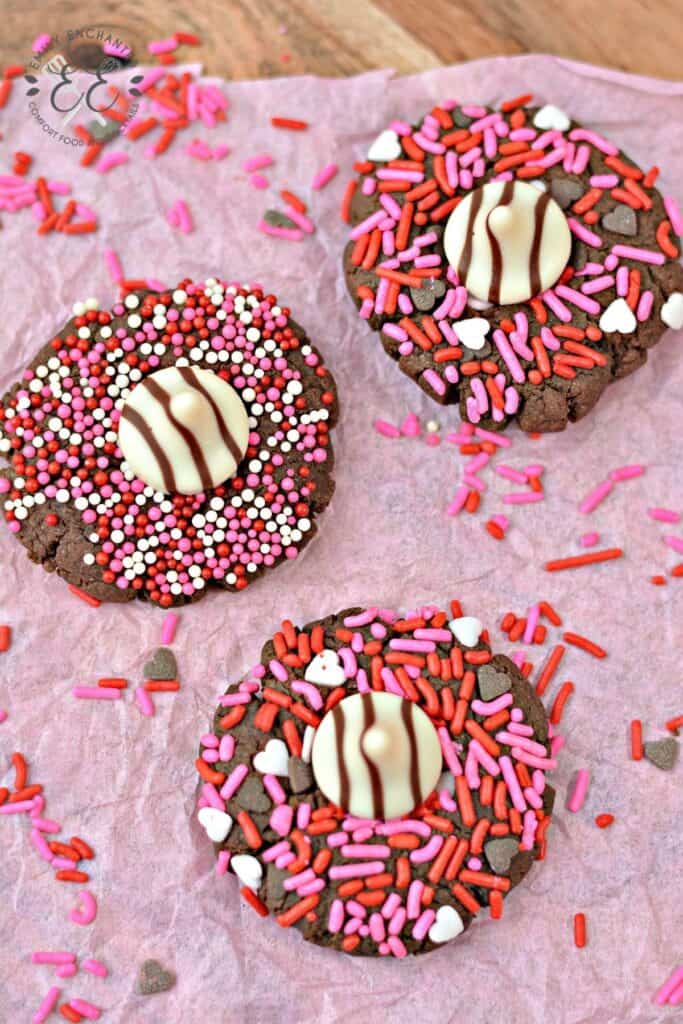 This post contains affiliate links.
Valentine's Day Cookies Ingredients
To make this Valentine's Day cookie recipe, you will need the following ingredients (see the recipe card below for exact amounts):
flour
sugar
unsalted butter
vanilla extract
egg yolk
salt
Cocoa powder
Milk
Hershey Hugs: A Hershey Hug is just a swirled Hershey Kiss.
How to Make Chocolate Valentine's Day Cookies
It is really easy to make delicious Valentine's Day Cookies. Just follow these steps. Scroll down to print the recipe.
Preheat your oven to 350 degrees.
Cream together the butter and sugar until smooth. Add the egg yolk, milk and vanilla extract to the butter and sugar mixture, and beat to combine.
In a separate mixing bowl, combine the flour, cocoa powder and salt, mix to combine, and add it slowly to the wet ingredients. Beat on high until a thick dough is formed. The dough will be very thick.
Take a tablespoon of dough and make it into a ball. Flatten the ball of dough, and press one side down into Valentine sprinkles of your choosing. Place it sprinkle side up on a greased or lined baking sheet. [Parchment paper comes in very handy for baking cookies.] Repeat with the rest of the dough.
Bake the cookies for 10 minutes. Remove them from the oven, take them off of the hot baking sheet, and rest for a few minutes.
Press an unwrapped Hershey Hugs candy into the center of each cookie.
Place the cookies into the fridge for a few minutes to keep the Hershey Hug from melting on the cookie.
Serve immediately or store in an airtight container.
More Valentine's Day Cookie Recipes