This creamy Lemon Cream Cheese Danish is so sweet and delicious. You will not be able to stop eating this breakfast pastry!
I love having pastries for breakfast, and this Lemon Cream Cheese Danish is no exception. It's only second to my Blueberry Coffee Cake with Cinnamon Oat Streusel. It's easy to make and everyone in your family will love it!
The tart lemon flavor is very enjoyable. Sprinkle with powdered sugar and now you're a pastry chef!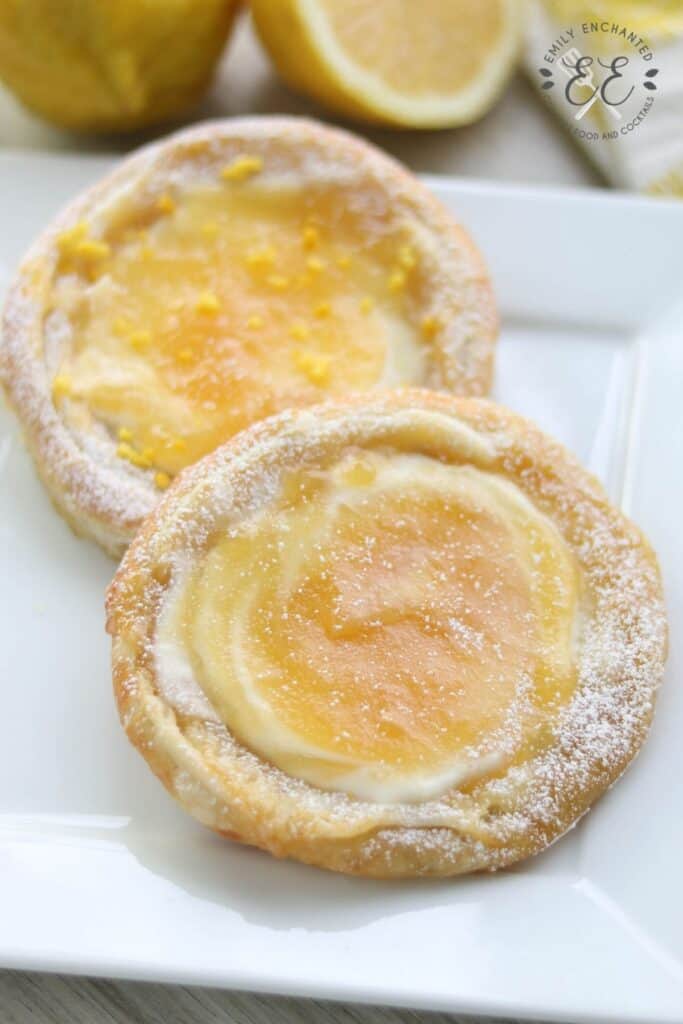 This post contains affiliate links.
Lemon Cream Cheese Danish Ingredients
To make this lemon danish recipe, you will need the following ingredients (see the recipe below for detailed amounts and instructions):
cream cheese
lemon
vanilla extract
granulated sugar
puff pastry
flour
lemon curd
egg
water
powdered sugar
How to Make Lemon Cream Cheese Danish
Making lemon cream cheese danish can seem tricky at first but it is really easy. Just read through the instructions before you start. Let me know if you have any questions!
Prepare a baking sheet with parchment paper. Preheat oven to 375 degrees.
In a mixing bowl, beat the cream cheese, vanilla, sugar and lemon juice.
Gently flour a clean work surface and unfold the puff pastry. Using your fingertips, gently press the creased areas flat. Use a rolling pin if necessary.
Use a 4 inch cookie cutter (like this one) or glass to cut out 4 circles. Repeat with the remaining sheet of puff pastry.
Place circles onto the baking sheet. Gently score the border about half an inch inside each puff pastry circle with a butter knife. Using a fork, poke several times inside each of the inner circles.
Spread cream cheese mixture into each circle, keeping inside the border.
In a small bowl, mix together egg and water until frothy. Brush the border of each with egg mixture.
Bake for 18-21 minutes or until golden brown. Allow to cool for 10 minutes on baking sheet.
Heat lemon curd in the microwave for 25 seconds, then spoon on top of each danish. Sprinkle a pinch of lemon zest and dust with powdered sugar prior to serving.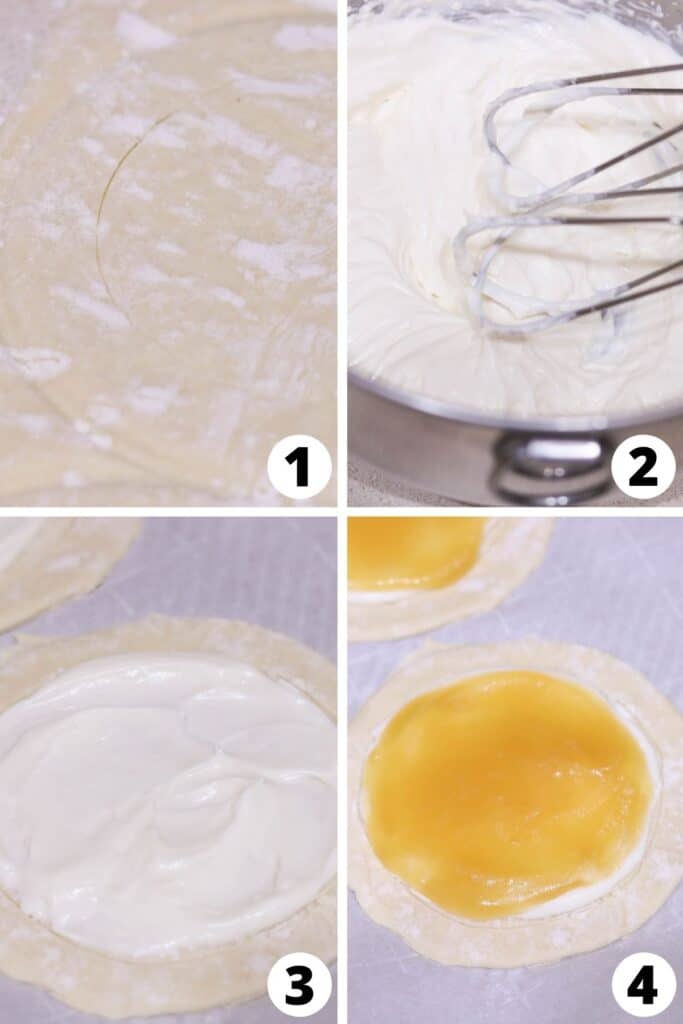 FAQs
What is a Danish?
A Danish pastry is a puff pastry with a layered texture. Danishes are frequently made with curds, jams, nuts, and chocolate.
What is Lemon Curd?
The word "curd" isn't very appealing, is it? Fortunately, lemon curd is delicious! It is just lemon preserved that have added butter and eggs and sugar. Fruit curds are usually associated with dessert recipes and contain citrus fruits.
Where Can I Find Prepared Lemon Curd?
If you have never baked with lemon curd before, you might be asking yourself "What aisle is lemon curd in?" Lemon curd is sold in jars and can be found either by the jams and jellies or in the baking aisle. Lemon curd can be found in most grocery stores. If you can't find it, you can make your own.
Serving Suggestions
Danishes can be eaten by themselves and go great with a cup of coffee in the morning. If they don't fill you up, here are some ideas for what you can serve with danishes:
Fruit Salad
Eggs and bacon