This Sugar Cookie Peppermint Bark Recipe puts a spin on the traditional chocolate bark recipe and adds a delicious cookie base.
This peppermint bark recipe uses a cookie dough mix for convenience. Of course you can make the sugar cookie dough from scratch, but the pre-packaged sugar cookie mix is pretty good too. You can find it in the baking aisle of your grocery store by the cakes mixes.
Peppermint Bark is one of my favorite Christmas desserts. My all-time favorite Christmas flavor is peppermint.
Sugar Cookie Peppermint Bark Ingredients
To make this Christmas dessert recipe, you will need the following ingredients (go to the recipe below for exact quantities and instructions):
sugar cookie mix
unsalted butter
egg
chocolate almond bark
white almond bark
peppermint candy canes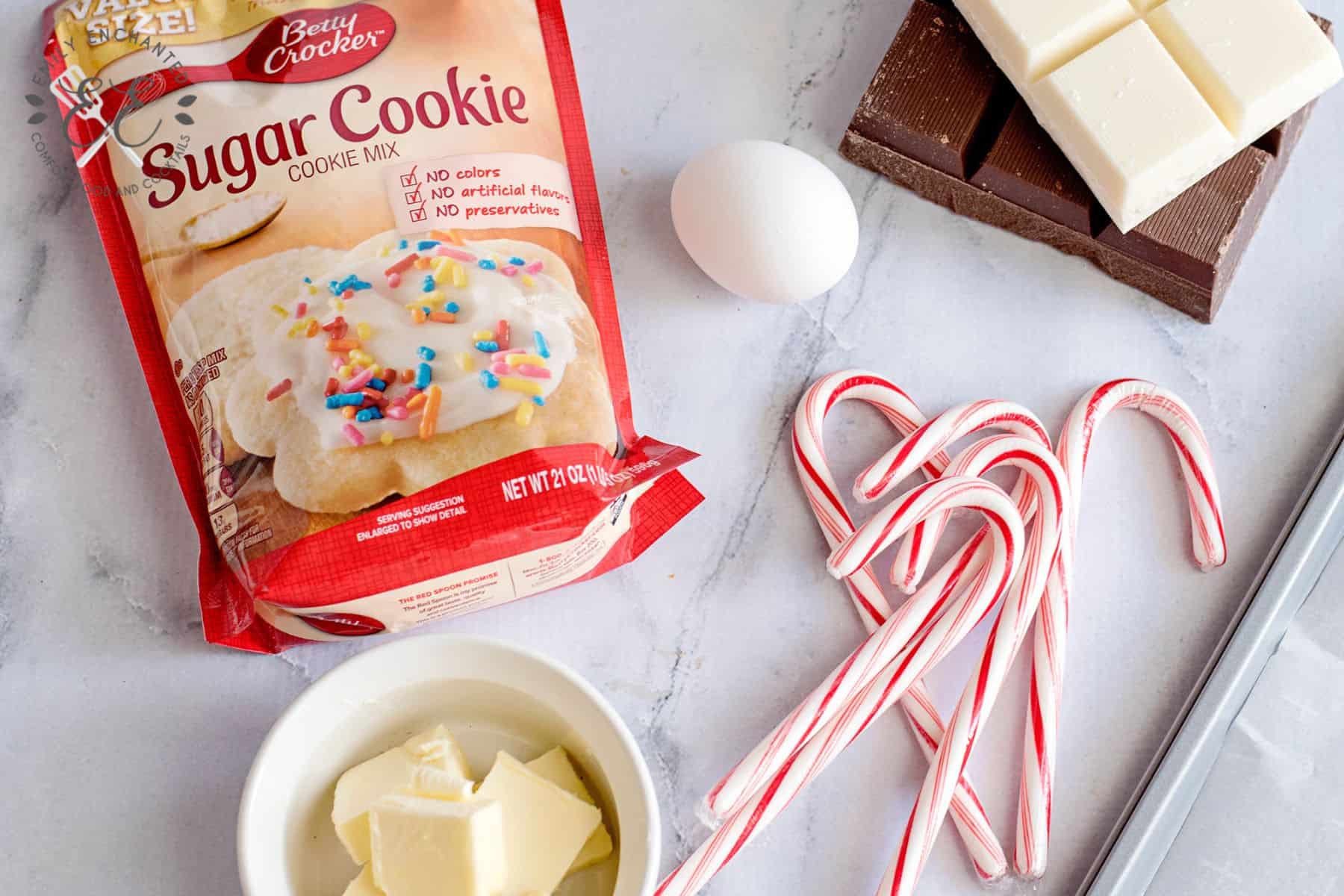 How to Make Peppermint Bark
Preheat oven to 375 degrees. Cut a piece of parchment paper to 12 x 12 size and place on a cookie sheet.
Crush the peppermint candy canes in a plastic bag and set aside. I use a metal ladle or a rolling pin.
Using a mixer, mix together the cookie mix, egg and butter until a soft dough forms. Press the cookie dough onto the parchment paper and roll out until it fills the edges of your 12 x 12 sheet. Rolling a plastic cup works great, as it won't stick.
Bake the cookie dough for 10 minutes, or until a light golden brown color. Cool completely. (It is very important that you allow the dough to cool completely!!)
Melt the chocolate almond bark using a double broiler method. Spread the melted chocolate all over the cooled cookie crust.
Sprinkle the crushed candy canes all over the top of the chocolate.
Melt the white chocolate and decorate the top by drizzling all over.
Place into the fridge for a couple of hours until the chocolate has completely set.
Break apart and enjoy! If you prefer cleaner slices, use a pizza cutter.
More Peppermint Christmas Recipes
Traditional Peppermint Bark
White Chocolate Peppermint Fudge
Chewy Chocolate Peppermint Cookies