Red Velvet Bundt Cake with Cream Cheese Filling is so decadent and sweet. Red velvet cake is filled with cream cheese and baked in a bundt pan to make a beautiful dessert. It is then frosted with cream cheese frosting. This recipe is easy to make and anyone can do it!
This is a cake recipe that even a novice can follow! This is not a cake recipe from scratch. This post will show you who to take your average cake mix and turn it into something gourmet! Yes, you can will learn how to cook a cake in a bundt pan and fill it with goodness.
Cream cheese makes everything better, including red velvet cake. It is so sweet and creamy. Mmmm. Cream cheese filling in a cake is the greatest idea anyone ever had. If you love red velvet but don't love cream cheese, try these White Chocolate Chip Red Velvet Cookies instead.
Red Velvet Bundt Cake Ingredients
The ingredients you need for bundt cake can be found in the baking aisle and dairy aisle, or in your pantry and fridge already. To make this red velvet cake, you will need the following ingredients (see the recipe card below for exact amounts):
Betty Crocker Super Moist Delights Red Velvet Cake Mix
sour cream
vegetable oil
eggs
cream cheese
sugar
flour
cream cheese frosting
How to Make Red Velvet Cake with Cream Cheese Filling
I meant it when I said that this Red Velvet Cake recipe was easy! Read the instructions once over, then print it below, and then execute! 🙂
Preheat oven to 325 degrees and prepare a bundt pan with non-stick spray. I like to use Baker's Joy Non-Stick Baking Spray.
In a large bowl, combine the cake mix, sour cream, oil and eggs and mix until well combined. Set aside. It should be red now!
In a medium bowl, using either a stand or hand mixer, combine the cream cheese, sugar and flour and mix until creamy. Set aside. This is your filling.
Pour half of the red velvet cake batter into the bottom of your pan. Then, either spoon the cream cheese filling around the center or you can use a piping bag to squeeze it more precisely into the center.
Be sure to leave a border on the outside and inside edges of your cake. Pour the remaining batter over the top and spread around evenly.
Bake for 50-55 minutes or until a toothpick comes out clean. Cool for 20 minutes, before removing from the pan. Turn the pan over and cool the cake on a cooling rack until completely cooled. The cake should come out of the pan cleanly
To frost the cake, simply remove the lid and foil from the frosting container, and microwave it for 10 seconds. Take it out and stir. Continue cooking for 5 seconds at a time, until desired consistency has been reached.
Spoon the frosting over the top of your cake. Cut and enjoy!
FAQs
Is it easy to make a cake in a bundt pan?
Thank to bundt pans, making a visually appealing cake has never been easier. Fluted bundt pans come in many different patterns. Pick one that you love. All you have to do is pour the batter in and the pan does all the work.
Can I freeze this cake?
Yes, you can freeze red velvet cake.
More Easy Bundt Cake Recipes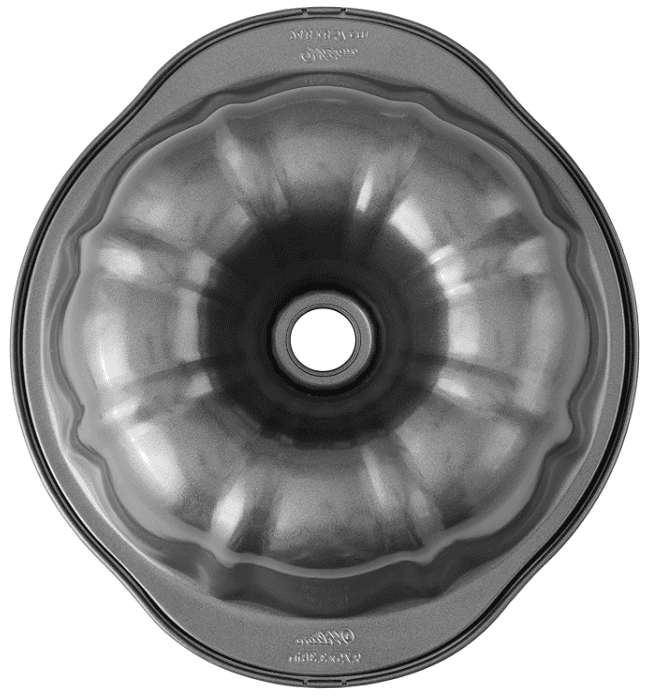 This Wilton Bundt Pan is affordable and has handles for easy use.