These Pumpkin Truffles are absolutely bursting with pumpkin spice flavor! Coat them in white or dark chocolate for the ultimate treat.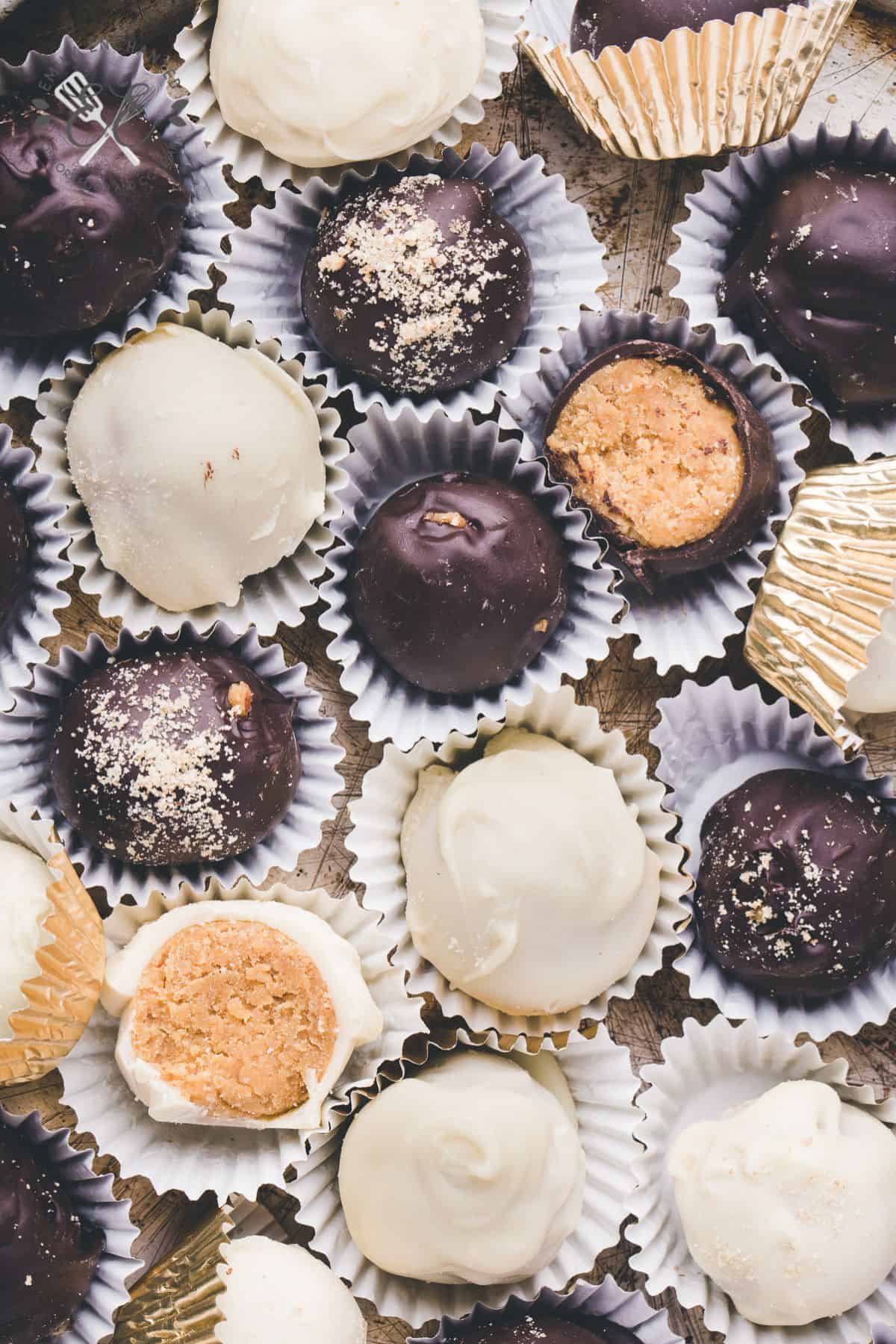 Pumpkin Truffle Ingredients
To make pumpkin spice truffles, you will need the following ingredients (see the recipe card below for exact amounts):
white chocolate: You can use all white or all semi-sweet chocolate to coat the truffles but stick with white chocolate in the truffle filling.
pumpkin puree: Be sure to use pumpkin puree and not pumpkin pie filling.
graham crackers
cream cheese
powdered sugar
pumpkin spice: Pumpkin spice has a very strong flavor. We recommend not using any more than 1/2 teaspoon as the taste can become overwhelming.
semi-sweet chocolate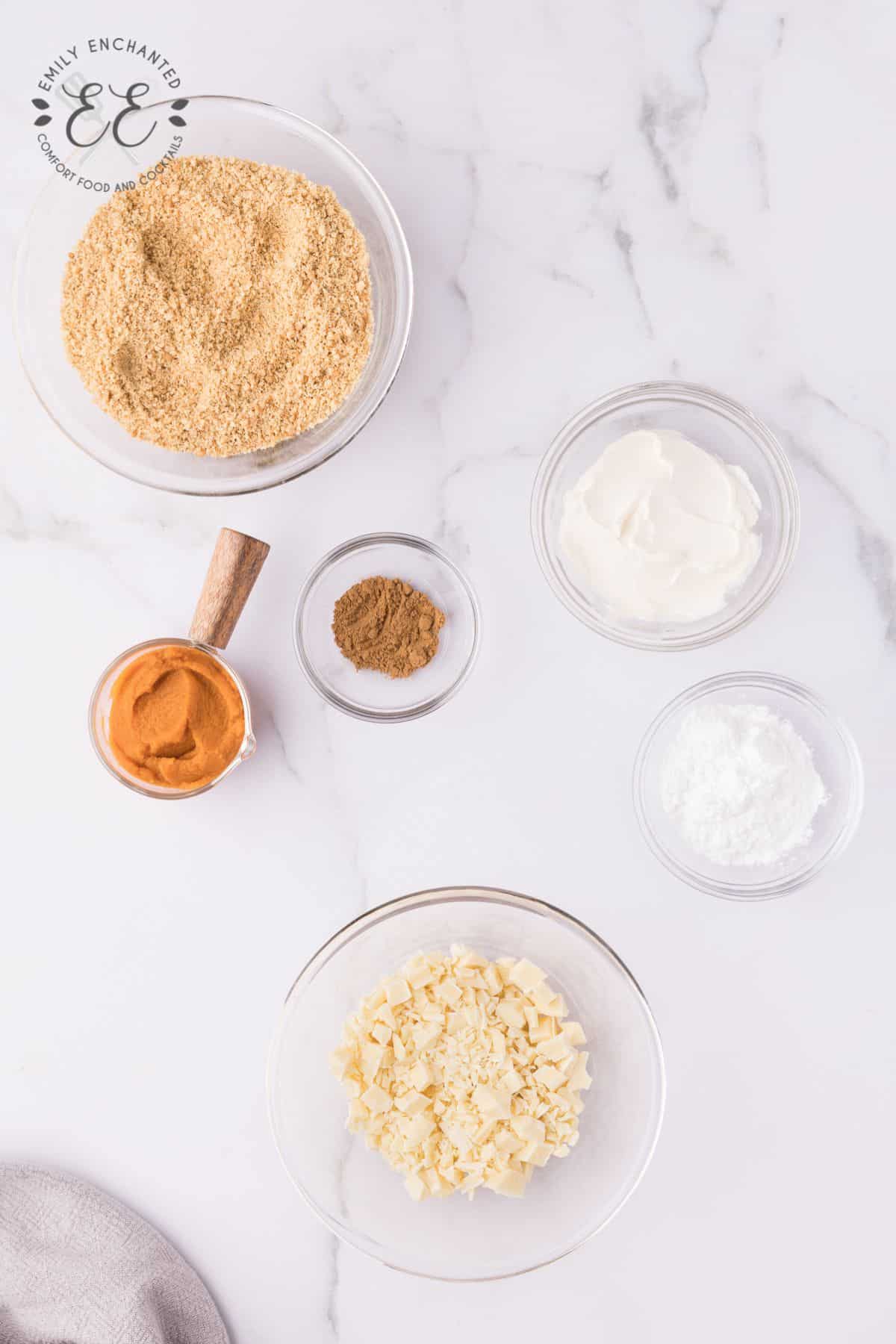 How to Make Pumpkin Truffles
Add 3/4 cup white chocolate into a microwaveable bowl and heat it in the microwave in 15 second intervals, stirring each time. Once melted, set aside to cool.
Add the pumpkin puree and cream cheese into a mixing bowl and beat until smooth.
Blitz the Graham Crackers to crumbs using a food processor or put them in to a ziplock bag and crush them with a rolling pin. Add them to the mixing bowl along with the powdered sugar and pumpkin spice. Mix together well.
Pour in the melted white chocolate and mix until fully combined.
Cover the bowl with cling wrap and put it into the fridge for at least 30 minutes.
Prepare a baking sheet with parchment paper.
When you're ready to roll the truffles, cover your hands with powdered sugar then scrape out a heaped teaspoon of mixture from the bowl. Roll the mixture into a ball using your hands and set aside on the baking sheet. Repeat until all the mixture is used up. Put the rolled balls back into the fridge while you melt the chocolate.
Add 4 ounces white chocolate and 4 ounces semi-sweet chocolate to separate microwaveable bowls.
Melt the chocolate by heating in the microwave in 15 second intervals, stirring each time.
Dip the truffles one at a time into the melted chocolate. You can sprinkle them with a few Graham Cracker crumbs if you like. Put the chocolate covered balls back on to a lined baking sheet to set either at room temperature or in the fridge.
Storage Instructions
Store in a covered container in the fridge for up to 2 weeks.
Recipe Tips
It's important to chill the truffle mixture for at least 30 minutes otherwise you won't be able to roll them into neat balls because they'll be too sticky. You can leave the mixture in the fridge for longer (overnight) if needed.
We used a combination of semi-sweet and white chocolate to coat the pumpkin truffles. We recommend buying the most expensive chocolate you can afford to make this recipe. A high-quality chocolate really does make all the difference.
Covering your hands with powdered sugar before rolling is a must and stops the pumpkin mixture from sticking. It will help you to get perfectly shaped round balls.
To scrape out the mixture we actually used a melon baller! This is equivalent to a heaped teaspoon (which works just as well!).
Once the truffles have been coated with chocolate they will set pretty quickly. You can put them into the fridge to speed the process up even more.
More Pumpkin Desserts