Pumpkin Cream Cheese Bread is a delicious pumpkin loaf recipe from scratch with a cream cheese filling. This flavorful dessert is perfect for fall!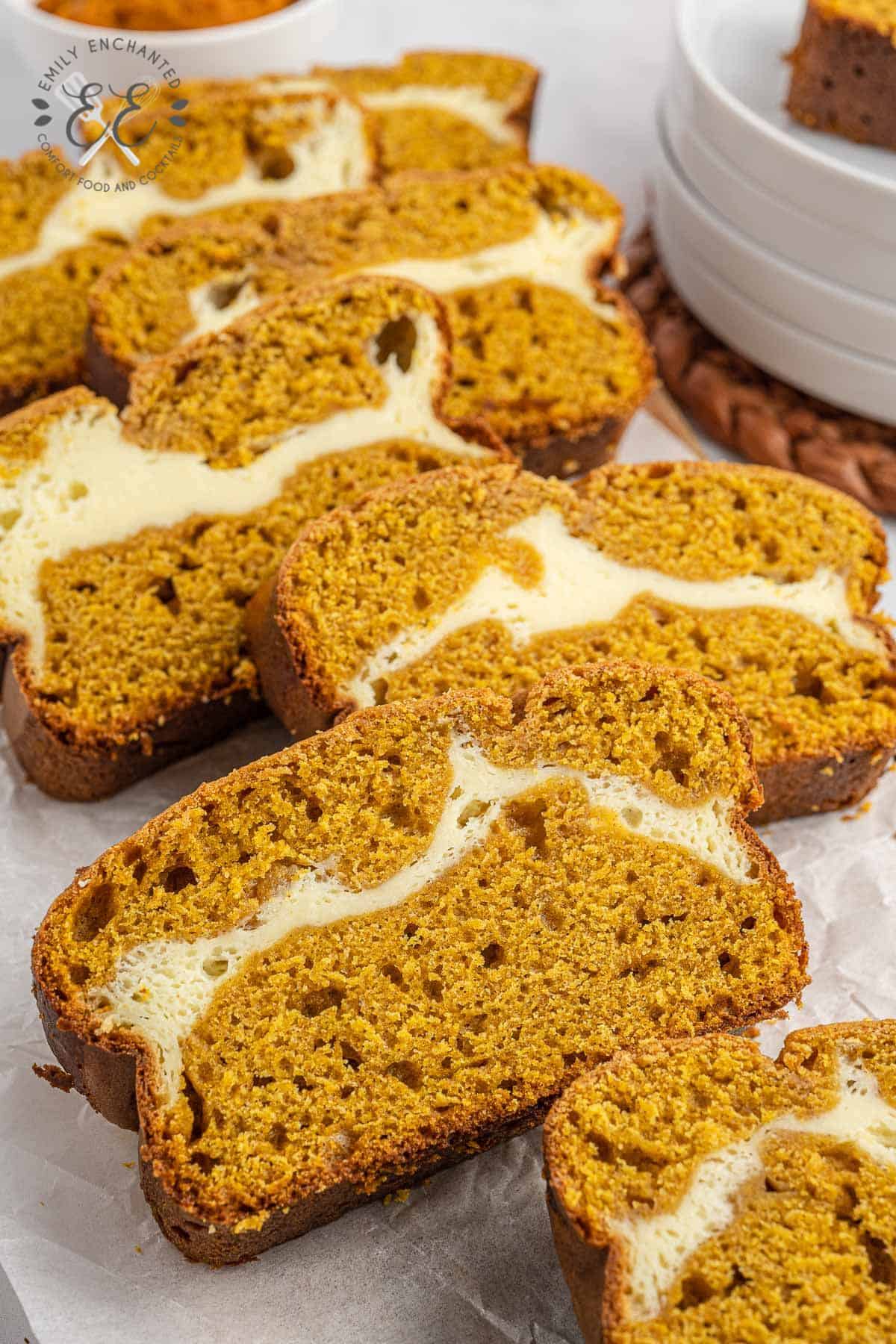 Pumpkin Cream Cheese Bread Ingredients
To make this pumpkin bread from scratch, you will need the following ingredients (see the recipe card below for exact amounts):
cream cheese: Softened cream cheese is easier to beat to a smooth consistency.
sugar
all-purpose flour
eggs
baking powder
salt
pumpkin pie spice: You can also make your own: 1/2 teaspoon cinnamon, 1/4 teaspoon nutmeg, 1/4 teaspoon ginger, and 1/4 teaspoon cloves. You can adjust the spice measurements to taste.
cinnamon: You can omit. There is cinnamon in the pumpkin pie spice, but I like to add a little extra for more spiciness.
light brown sugar: I do not recommend using dark brown sugar because it can change the results of the bake due to the increase in molasses.
granulated sugar
canola or vegetable oil
vanilla extract
canned pumpkin puree: I used Libby's Pure Pumpkin Puree. You can also use fresh pumpkin puree.
plain yogurt: You can also use Greek yogurt or sour cream.
How to Make Pumpkin Bread with Cream Cheese Filling
Preheat the oven to 350°. Grease the bottom and sides of a 9×5 loaf pan with butter or vegetable shortening. Line width-wise with a small piece of parchment paper (not required but it will make it easier to take the bread out of the pan). Set aside.
First, make the cream cheese filling. In a large or medium bowl, add the cream cheese, sugar, flour, and egg.
Beat together using an electric hand mixer at medium speed until the cream cheese is smooth, about 5 minutes. Make sure there are no lumps. Set the cream cheese mixture aside.
Now, make the pumpkin bread. In a small bowl, whisk together the flour, baking powder, salt, pumpkin spice, and cinnamon.
In a separate large bowl, add the light brown sugar, sugar, and oil, and whisk until fluffy.
Add the egg, and whisk until combined. Add the egg yolk and vanilla extract, and continue whisking until just combined.
Pour the pumpkin puree and yogurt, and whisk until smooth.
Add the dry ingredients, and fold everything together with a wooden spoon or spatula until just combined. Some small lumps in the batter are okay.
Pour about half of the pumpkin bread batter into the parchment-lined loaf pan.
Spoon the cream cheese mixture over the batter, and spread evenly.
Pour the remaining half of the pumpkin bread batter, and spread it carefully over the cream cheese. It's okay if the cream cheese mixes with the top layer of batter or shows through slightly. It will still bake nicely.
Bake for 1 hour, or until a knife inserted into the middle comes out clean.
Rest for about 30 minutes before serving. Serve at room temperature or warm.
Recipe Tips
Lower the oven rack to the lowest or second-lowest position to keep the top of the bread from getting too dark while baking.
I use yogurt instead of milk or buttermilk to avoid adding too much extra moisture to the bread. The extra moisture will cause a longer baking time, or the bread will not bake completely in the middle.
I use 1 egg and 1 egg yolk to make the pumpkin bread denser and have a tighter texture in the middle.
Storage Instructions
Store covered at room temperature for up to 3 days or covered in the refrigerator for up to 6 days.
Wrap in plastic wrap and foil, and store in the freezer for up to 3 months. Thaw before serving.
More Amazing Pumpkin Recipes