These peanut butter Reese's Pieces cookies might remind you of the old-fashioned peanut butter cookies your grandma used to bake you when you were a kid, but with a fun twist of adding in peanut butter candies! Enjoy with a tall glass of milk and share with friends and family!
My favorite thing about this recipe is how they crumble and taste almost like an old-fashioned peanut butter cookie, but with Reese's pieces giving it a bit more crunch and textural difference!
Reese's Pieces Cookies Ingredients
To make Reese's Cookies, you will need the following ingredients (see the recipe card below for exact amounts):
Unsalted Butter
Peanut Butter
Light Brown Sugar
Flour
Cornstarch
Baking Powder
Baking Soda
Salt
Reese's Pieces: You can make these cookies more chocolatey by replacing ¼ to ½ of the Reese's Pieces with chocolate chips.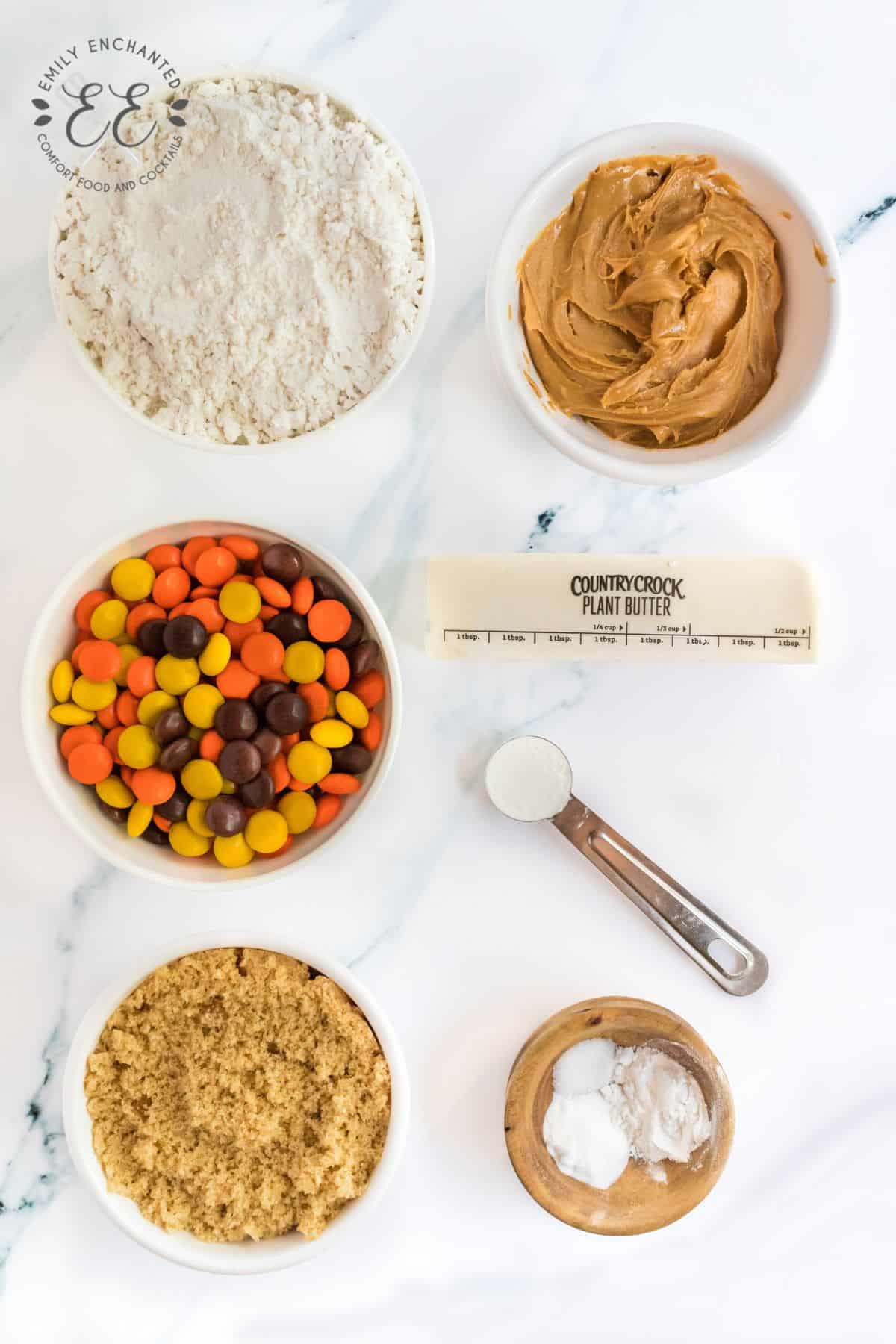 How to Make Peanut Butter Cookies with Reese's Pieces
Preheat the oven to 350℉.
Cream the butter, peanut butter, and sugar with a handheld or stand mixer (or soften the butter enough to cream everything together with just a spoon)
Add all dry ingredients except Reese Pieces, and stir well until it forms a dough.
Fold in the Reese Pieces.
Use a cookie scoop to scoop the dough onto a cookie sheet and then press each cookie down with a fork, as you would with any peanut butter cookie.
Bake for 8-10 minutes and allow to cool for at least 5 minutes on the cookie sheet before enjoying.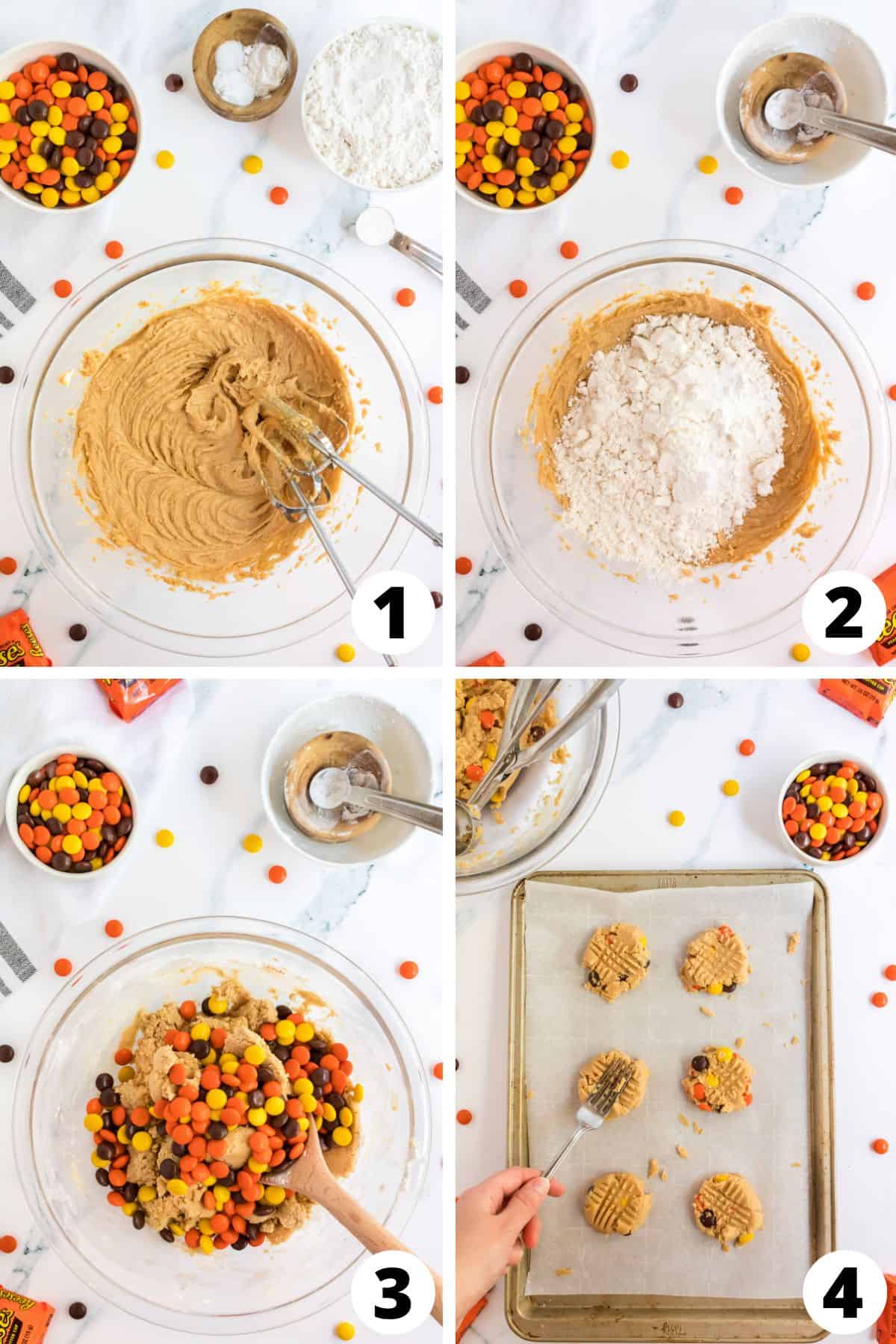 Recipe Tips
Wet the fork before pressing it into the cookies for best results.
Be sure to actually flatten the cookies with the fork, these will not flatten in the oven while baking, they do however rise.
To make perfectly round cookies, take a large glass upside down and make a circular motion with the cookie inside the cup to round out the edges.
FAQs
Will these cookies spread out?
No. You need to flatten them before putting them in the oven, like peanut butter cookies, you can flatten them with a fork in a criss-cross pattern. Wet the fork before doing so for best results, and then add a few more Reese's Pieces!
I didn't flatten out the cookies before baking, can I flatten them with a fork after baking them?
You can, but they will be much more likely to break apart when pressing the fork into them. It would be best to eat them as is, they will taste the same, they just might not be as pretty.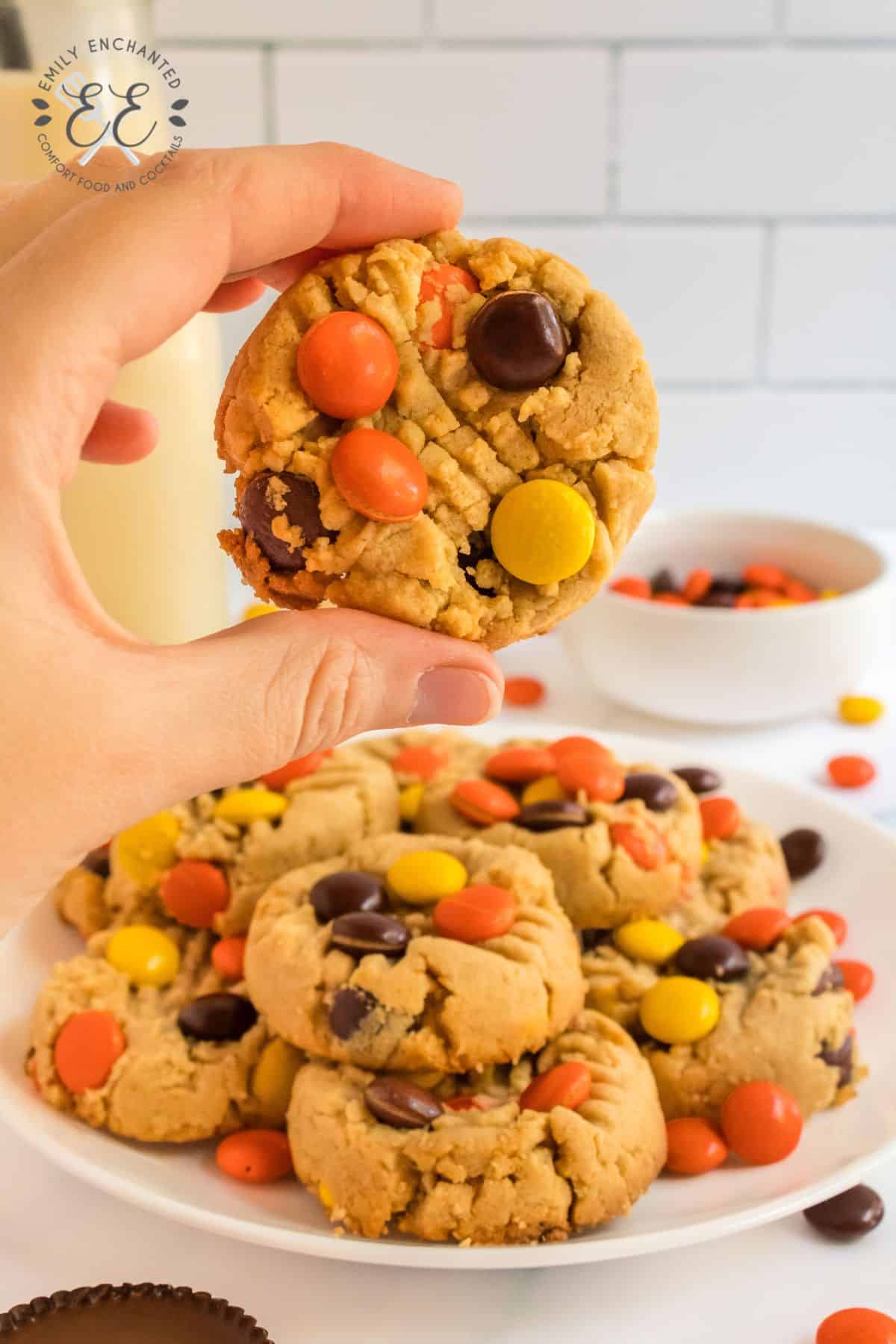 More Reese's Recipes