This Lavender and Lemon Lime Cocktail is so refreshing and perfect for summer and warmer weather. And it looks pretty, too!
Measure, mix, pour. Even those who struggle in the kitchen can make a great cocktail! So simple, yet so satisfying. You know a drink is going to be delicious when it's purple.
The first time I ever had lavender in a drink was in a lemonade in Nashville. I've been putting lavender in drinks ever since. It tastes like how a spa smells. It instantly relaxes me. The alcohol might help too. 😉
This is a vodka cocktail, but I can see replacing the vodka with gin if you are not keen on vodka. You can also try a potato vodka instead of the traditional wheat vodka. I find potato vodka is a bit sweeter and goes down more easily.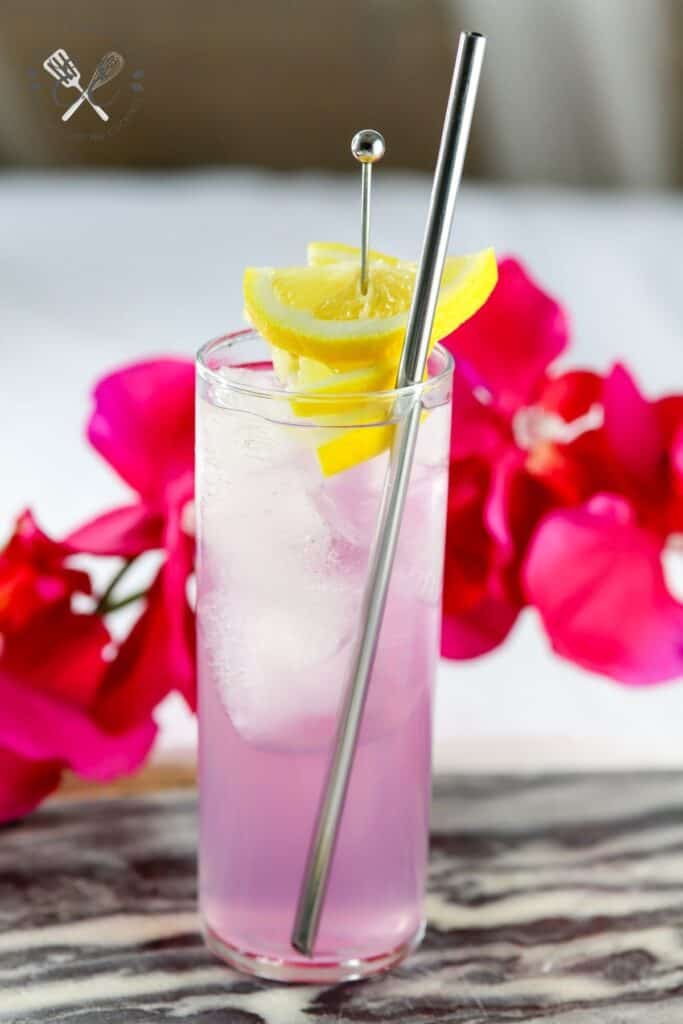 This post contains affiliate links.
Lavender Cocktail Ingredients
To make this sweet cocktail drink, you will need the following ingredients (scroll down to the recipe below for precise amounts):
vodka
lemon-lime soda (such as Sprite or 7-Up)
Lemon wedges for garnish
Ice
How to Make a Lavender Cocktail
Add 3/4 cup ice, lavender syrup, vodka, lavender lemonade mix, and lemon-lime soda into a large glass. [Note: For the lavender lemonade, do not make the lemonade according to the package. You are using straight powder.]
Stir the mixture vigorously for 35-40 seconds with a swizzle stick.
Strain into a mojito style glass filled with ice with a cocktail strainer.
Garnish with lemon wedges on a cocktail stick.
For extra pizzazz, you could line the rim of the glass with sugar.
More Amazing Refreshing Cocktails