What's better than a cookie? A giant cookie of course! This Giant Snickerdoodle Skillet Cookie is so sweet and yummy. It is topped with a powdered sugar icing and cinnamon.
I always thought it was cinnamon that gives Snickerdoodles that distinct flavor, but it's actually cream of tartar. Without that, it would basically be a sugar cookie. If you can get through this recipe without sneaking some of the cookie dough, I'd be impressed. It is very tempting.
I love making cookies in a skillet because the skillet allows the cookie to be evenly cooked. And for some reason I always imagine I'm on a frontier cooking in my cast iron stove with my cast iron skillet. LOL! Skillets are a great tool to have in your kitchen and they will last forever if you take care of them properly. You can make desserts, dinner and breakfast in a skillet. They are so versatile.
This post contains affiliate links.
Snickerdoodle Skillet Cookie Ingredients
You will need a large cast-iron skillet for this recipe. I like the Lodge brand. Here is similar one. Most of the ingredients for this skillet cookie recipe may already be in your pantry.
butter
sugar
brown sugar
eggs
cream of tartar
cinnamon
vanilla extract
baking soda
flour
milk
powdered sugar
How to Make Snickerdoodle Skillet Cookie
To make a Snickerdoodle Skillet Cookie, first you will make the cookie dough and bake it. While the cookie is baking, you will make the icing.
Preheat oven to 350 degrees. Grease the skillet.
In a large bowl, combine all the ingredients except the flour. Mix with an electric mixer. Slowly add in the flour, continuing to mix on low speed.
Add the dough to the skillet and press down so it's evenly spread out. Place skillet in oven and check the cookie every 10 minutes or so. You want it to be not quite done when you pull it out, because it will continue baking in the skillet a little bit while it sits. It takes me about 18-20 minutes. Everyone's oven is different. Just check by inserting a toothpick.
Allow to cool slightly before drizzling with icing.
Mix powdered sugar and milk until you get the consistency you like. Start with ½ cup powdered sugar and a few tablespoons of milk. Add more sugar and little milk until the icing is the thickness you want.
Drizzle icing on top of the cookie. Sprinkle more cinnamon on top.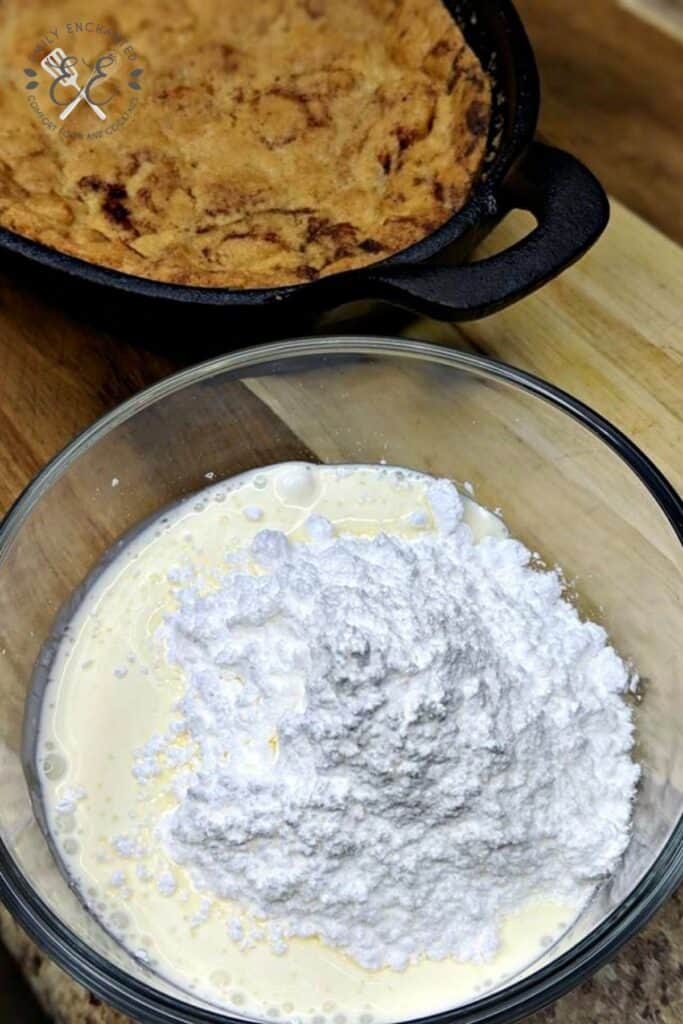 FAQs
Can I Use Premade Cookie Dough?
You can use pre-made sugar cookie dough, just add cinnamon.
Can I Make Smaller Skillet Cookies?
If you want to make smaller skillet cookies, use 4 of these mini skillets.
Serving Suggestions
Serve it warm and topped with ice cream. You can cut pieces and serve, or eat it right out of the skillet. Either way, this Snickerdoodle Skillet Cookie will be a hit with the whole family!
More Amazing Skillet Cookie Recipes