This S'mores Skillet Cookie is a scrumptious, textured, organized mess of a cookie. Delicious down to the cast iron it was baked in!
This cookie is filled with all kinds of goodies – chocolate chips, graham crackers, mini marshmallows, and chocolate bars. YUM!
Serve warm with vanilla ice cream for a mouthwatering dessert.
S'mores Skillet Cookie Ingredients
To make this skillet cookie recipe, you will need the following ingredients (see the recipe card below for exact amounts):
Salted butter: Feel free to use unsalted butter, though I always like a little extra salt in my dessert recipes.
Light brown sugar: If you don't have either brown sugar or white sugar, you can use one or the other exclusively.
Granulated white sugar
All-purpose flour
Baking powder
Salt
Baking soda
Eggs
Vanilla extract
Semi-sweet chocolate chips: If you really like milk chocolate, you can use those instead. I personally find them too sweet for this recipe.
Dark chocolate chips: If you aren't fond of dark chocolate, you can use additional semi-sweet or milk chocolate chips.
Graham crackers
Mini marshmallows
Chocolate bar: I used a standard 1.5 ounce Hershey's milk chocolate bar. You can use your favorite type of chocolate bar.
How to Make a Smores Cookie in a Skillet
This recipe has a few extra steps to ensure that the marshmallows do not burn.
Step 1. Prepare the oven and skillet
Preheat the oven to 350 degrees Fahrenheit and prepare an 8 inch cast iron skillet by spraying it with cooking spray.
Take the salted butter, light brown sugar and granulated white sugar, and beat them together in a bowl until fully combined and light and fluffy, about 1-2 minutes. Whisk in the eggs, and vanilla extract. Stir until fully combined.
In a separate bowl, whisk together the all-purpose flour, baking powder, salt, and baking soda.
Pour the bowl of dry ingredients into the wet ingredients bowl and mix until just combined. Fold in the semi-sweet chocolate chips, dark chocolate chips, and half of the graham crackers.
Take half the cookie batter and press it into the bottom of the cast iron skillet. Be sure to cover the entire bottom of the skillet. Spread ½ cup of the divided mini marshmallows over the cookie dough. Place remaining cookie dough batter atop the marshmallows. Cookie dough will spread, so it is okay if it doesn't cover everything completely; just try to spread it out evenly.
Top the cookie dough with the chocolate bar squares and the remaining graham crackers. Bake in the oven for 15 minutes.
Take out and top the cookie dough with the remaining ½ cup mini marshmallows. Put back in the oven. Bake for an additional 10-15 minutes or until the cookie is golden brown with a little jiggle.
Let sit for 15-20 minutes before plating and serving. The cookie will continue cooking once it's out of the oven, so it's important to wait and let it continue cooking once it's out of the oven or you will have raw cookie dough in the center.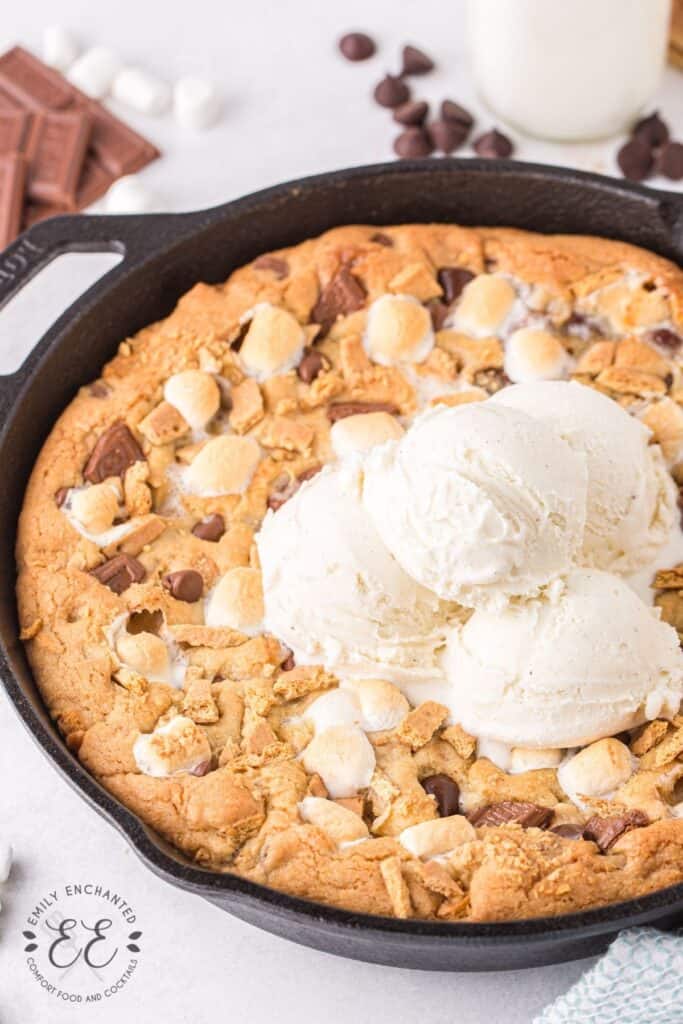 What if I Don't Have a Skillet?
If you do not have a skillet, use a 9 inch round pan (or 9×9 inch square pan) instead. You will need to cook it until no longer has any jiggle because it doesn't retain as much heat as a cast iron skillet will.
Storage Instructions
If in an airtight container, you can store this cookie at room temperature for 1-2 weeks. You can also freeze them for up to 6 months.
Tips for Making S'mores Skillet Cookies
Including marshmallows in a cookie recipe can be problematic. A lot of times, the marshmallow will overcook and get really sticky and dark. To fix this, this recipe includes the marshmallows on the inside of the cookie, as well as waiting until the cookie is half done before adding the marshmallows.
This cookie bakes in a cast iron skillet, which means that the bottoms and sides will brown and cook a lot faster than the top. In addition, the cookie will continue baking after getting out of the oven because of the heat of the cast iron. Be aware that this is normal. Part of the appeal of this cookie will be the different textures you can get with this heating method.
This is a soft cookie dough so it may be a little sticky. If you're having trouble pressing the cookie dough in to the pan and over the marshmallows, lay a sheet of parchment paper over the cookie while you press to keep it from sticking to your hands.
Be careful while using your cast iron skillet. It will still retain a lot of heat even when it's out of the oven.