This pizookie takes everything you love from traditional cookies and makes it huge! This cookie is as big as a pizza and bakes in a cast iron skillet in your oven. Add ice cream for a delicious chocolate chip skillet cookie.
The name 'pizookie' comes from a combination of pizza and cookie! It also goes by the name of chocolate chip skillet cookie. You may have had it at BJ's Restaurant. They have chains all over the country. Now you can make it at home!
This is an easy, fun recipe for BJ's Restaurant cookie recipes that tastes incredible when it's warm out of the oven and topped with vanilla ice cream. If you love this recipe, try my giant snickerdoodle cookie.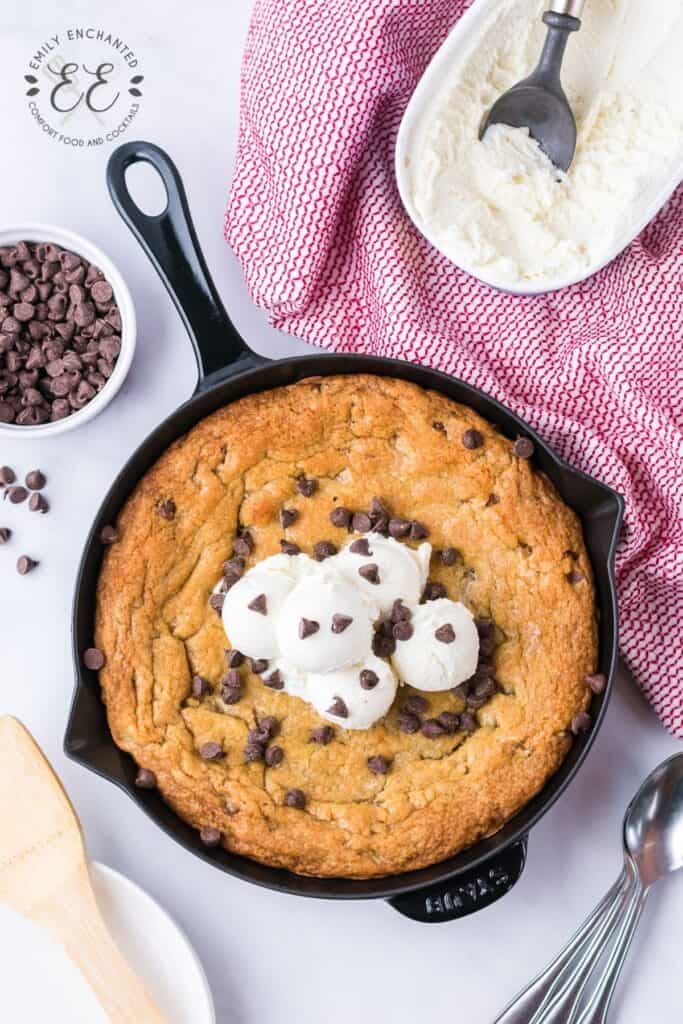 This post contains affiliate links.
Pizookie Ingredients
For huge cookie recipes, you will need a cast iron skillet. I use a 12.5 inch cast iron pan.
To make this homemade pizookie, you will need the following ingredients (scroll down to the recipe below for exact measurements):
unsalted butter
light brown sugar
eggs
vanilla extract
baking soda
baking powder
salt
all purpose flour
chocolate chips
How to Make a Chocolate Chip Pizookie in a Skillet
Make this amazing BJ's Restaurant pizookie dessert right at home. Just follow these easy steps to make this homemade pizookie.
Preheat the oven to 325 degrees. Place a cast iron skillet in the oven so that it heats up as the oven does.
Make the cookie dough. In a large bowl, mix together the butter and brown sugar. Stir in the eggs and vanilla. Stir in the baking soda, baking powder and salt. Add the flour and mix until no longer lumpy. Stir in the chocolate chips.
Add the cookie dough to the skillet. Spray your skillet with nonstick cooking spray. Spread the cookie dough into your skillet.
Bake in the oven. Bake for 30 – 35 minutes, or until a toothpick inserted about 1" from the edge of the pan comes out clean. The edges should be set and golden brown.
Tips to Follow When You Make a Pizookie
Cool before eating: when your chocolate chip skillet cookie first comes out of the oven it will be very hot! Handle the skillet gently and let it cool for several minutes before eating, if you want to eat it while still warm. If you want it completely cooled, let it sit for 20-30 minutes to bring it to room temperature. Let it cool for less time if you still want the center of the cookie to be ooey gooey.
How to know when it's done: you'll know your pizookie is done when a toothpick inserted 1" from the edge comes out clean. The edges of the pizookie should be set and the whole cookie will turn light brown.
What to Serve with a Pizookie
There are so many fun toppings you can serve with your Pizookie. Serve it topped with ice cream and more chocolate chips, white chocolate or butterscotch chips, hot fudge, chocolate syrup or sprinkles.
For extra fun, you can divide this large chocolate chip cookie into individual skillets and serve in the skillets. This cookie is amazing however you serve it!
Can I Make this Recipe Without a Skillet?
Yes, this recipe is easy to make in a round cake pan or in a pie pan as well!