Fruit S'mores are a flavorful and colorful twist on the classic campfire dessert. Who doesn't like chocolate and berries or banana?
You never knew it, but you need berries and bananas in your S'mores. These fresh Berry S'mores will make your S'more journey complete.
I love trying different S'mores variations. What's great about smores is they are totally customizable. This is a great idea for a Smores Bar. Make your smore one flavor, or add a few different berries for a burst of berry flavor.
Fruit S'mores Ingredients
To make this easy and creative S'mores recipe, you will need the following ingredients (see the recipe card below for exact amounts):
Graham crackers
Large marshmallows: Don't use the jumbo or giant marshmallows. This s'more already has a lot going on with the extra fruit, so adding extra marshmallow makes it very difficult to layer.
Blueberries: You can use sliced blackberries as well.
Strawberries: All of the fruits are optional. Feel free to mix and match or replace with your favorite fruits. If you would like a more tropical s'more, think about adding on sliced mango or kiwi. The sky's the limit with these!
Raspberries
Bananas
Chocolate bar: Choose your favorite type of chocolate bar. I used normal Hershey's milk chocolate, but you can also use other brands. Try dark chocolate, caramel chocolate, or any other type of chocolate bar.
Powdered sugar
Chocolate syrup: Replace this with caramel syrup or peanut butter syrup.
How to Make S'mores with Fresh Berries
I love making s'mores in the oven because it is so easy. Of course, you can still roast the marshmallows over a fire.
Step 1. Prepare the ingredients
Slice the strawberries and banana. Break each graham cracker sleeve in half and assemble and place four of the eight halves on a sheet pan lined with parchment paper. Set the other halves of graham cracker squares aside for now.
Step 2. Roast the marshmallows in the oven
Place one large marshmallow on each square and broil in the oven until the marshmallow starts to turn golden brown. This takes about 1-2 minutes, but keep an eye on it as it is extremely easy to burn things on the broil setting.
Step 3. Assemble the S'mores
Once out of the oven, immediately place a chocolate bar on the marshmallow, followed by a layer of your choice of blueberries, strawberries, raspberries, or banana.
Sprinkle some powdered sugar on top and add an extra drizzle of chocolate syrup, optional.
Top with extra graham cracker square and gently press the s'more down. Repeat with all squares, creating your favorite combination of fruits.
Can I Store S'mores?
S'mores aren't really a "storable" food. I recommend putting any extra fruit you might have in the refrigerator in an airtight container, and making sure you put any extra graham crackers and marshmallows back in their sealed bags until the next time you make s'mores.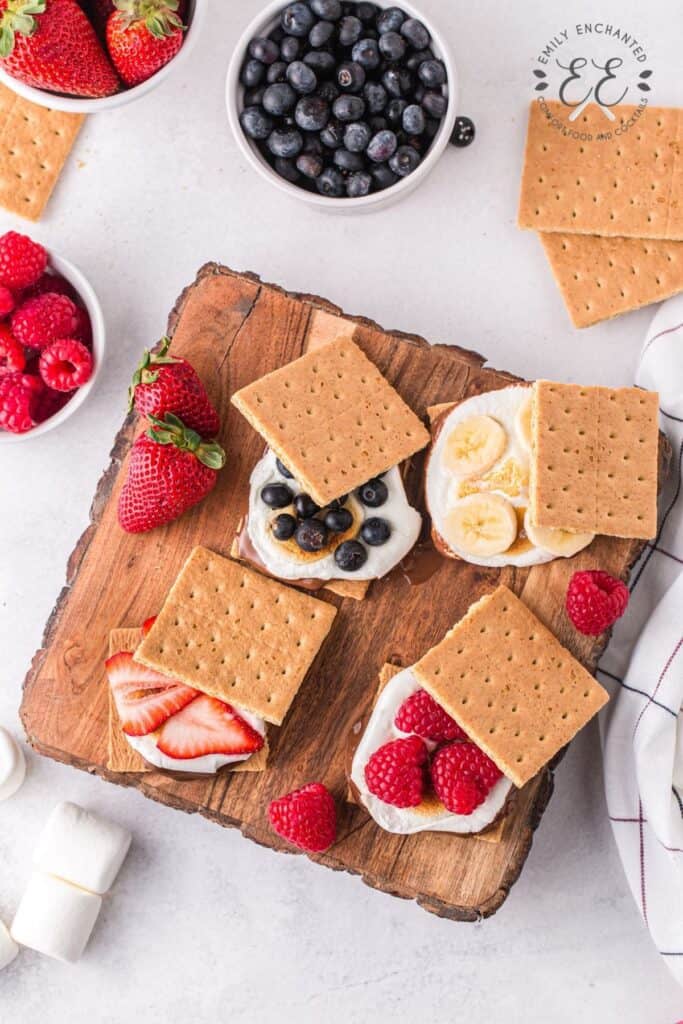 What are Good Combinations of Fruit to Use?
I personally love a s'more that just uses bananas–plus, it's easier to eat. I'm also a big fan of the tartness of the raspberry with the sweetness of the chocolate. You can also just pile on every type of fruit you can find, just be ready for the sweet mess and gooey-ness that is a s'more when you bite into it.
Other S'mores Recipes
I would be lying if I said I loved marshmallows. I don't. I think they are so weird. S'mores are the exception. Which is why I have an assortment of delicious recipes on my site dedicated to that chocolate marshmallow combination.
S'mores Dip – This skillet dip is made in the oven and great for dipping crackers and fruit.
S'mores Martini – Now you can drink your favorite flavor combination out of glass with a graham cracker rim.
S'mores Brownies – Chocolate and marshmallows top a fudgy brownie.
S'mores Popcorn Balls – Fun way to eat popcorn and great for movie night.