This easy Chocolate Dipped Christmas Shortbread Cookies recipe takes the traditional cookie to another level by dipping them in white chocolate and adding cute holly candies.
I couldn't get enough of these holly candies after I posted this Christmas Holly Marshmallows recipe.
As soon as Thanksgiving is over, I am in the Christmas mood. I put up my tree and decorations, sing along to Christmas music, and start the long process of gathering and sorting my Christmas cookie recipes and making a shopping list. These Chocolate Dipped Christmas Shortbread Cookies are always on the top. Who doesn't love that buttery shortbread?!
This post contains affiliate links.
Shortbread Cookies Ingredients
Chocolate Dipped Christmas Shortbread Cookies don't require a lot of ingredients. Many of these items are probably already in your pantry.
unsalted butter
salt
white sugar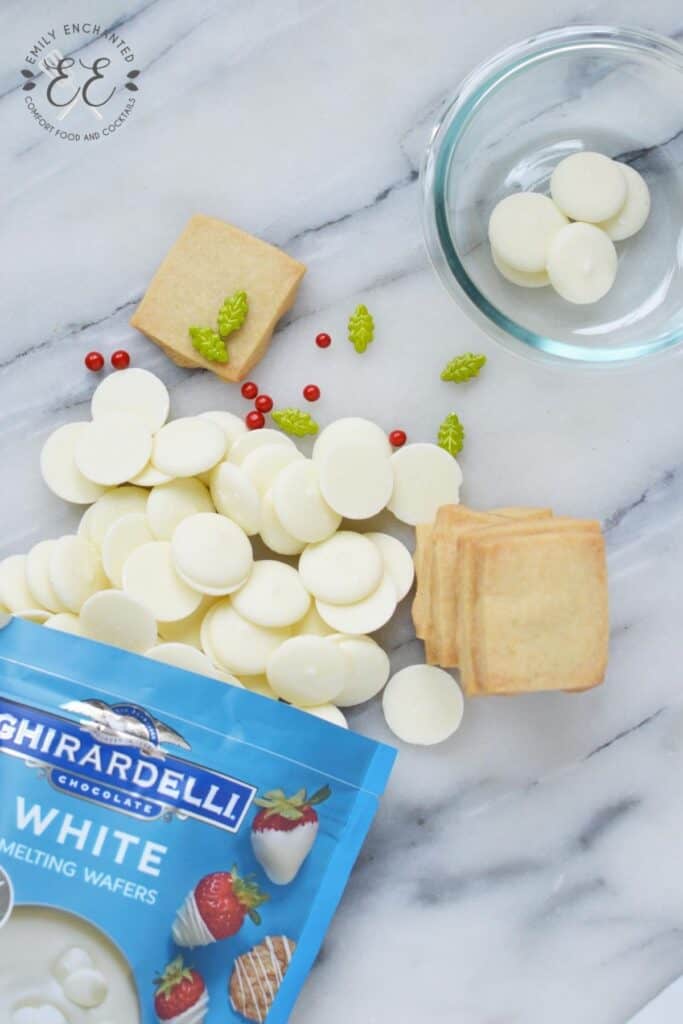 How to Make Shortbread Cookies
Christmas Shortbread Cookies don't require a lot of steps but do require some patience as they have two chilling steps. Waiting is the worst part!
In a stand mixer or with a hand mixer and a large mixing bowl, cream the butter, sugar and maple syrup together until smooth.
Slowly mix in the flour, sifted if you prefer, and salt until just well incorporated.
Cover and chill for about 10 minutes in the fridge.
Roll out the dough on parchment paper so it is just about ¼ inch thick. Place the tray in the freezer for 10 minutes.
Preheat your oven to 350 degrees.
Use a sharp knife to cut the dough or a favorite cookie cutter. The chilled dough should cut cleanly, offering up really tidy edges.
Bake for 10 to 12 minutes, depending on the size and thickness of the cookies. Keep an eye on them and remove them from the oven before they start to brown.
Place them on a cooling rack while you melt the white chocolate to package instructions.
Dip one half of each cookie into the melted white chocolate and set on a tray. Finish with the sprinkles.
Let the chocolate set or you can speed up the process by placing the tray in the fridge for a few minutes.
Tips for Christmas Maple Shortbread Cookies
If your dough is soft and sticky, let it chill for a few more minutes. If it is still too soft to roll out, place parchment paper on top of the dough and press out with your hands.