This post contains affiliate links. As an Amazon Associate I earn from qualifying purchases. View our Privacy Policy.
There's nothing more exciting than finding yourself on a baking spree because your biggest fans are in love with your mouth-watering Mint Chocolate Crinkle Cookies. Next thing you know, your kitchen pantry and grocery shelves are out of all-purpose flour.
You ask yourself, "what is the best all-purpose flour substitute?"
INTRODUCTION
In case you didn't know, many foods can be grounded as a flour alternative for baking. From coconut, rice, chickpea, to quinoa – your options for the best all-purpose flour alternatives are easily within reach. What's even better is most all-purpose flour alternatives are healthier than the traditional go-to essential.
All-purpose flour comes with the convenience of serving many uses. Making it the bread and butter for the common baker. But with high demand and popularity, comes with low supply. Leaving all-purpose flour one of the most used kitchen staples to fly off the shelves.
The benefit of substituting all-purpose flour is that each alternative serves a specific purpose due to its unique properties. In the end, your baked goods are made with higher quality and a unique baking experience. For example, if you want to cook a savory pizza with homemade crust, you may want to use bread flour with high gluten content. Allergic to gluten? Go with a gluten-free flour such as rice flour combined with starch! The options are endless with alternatives that all-purpose flour can't provide.
Let's learn about different kinds of all-purpose flour substitutes. You may just discover a new favorite baking ingredient!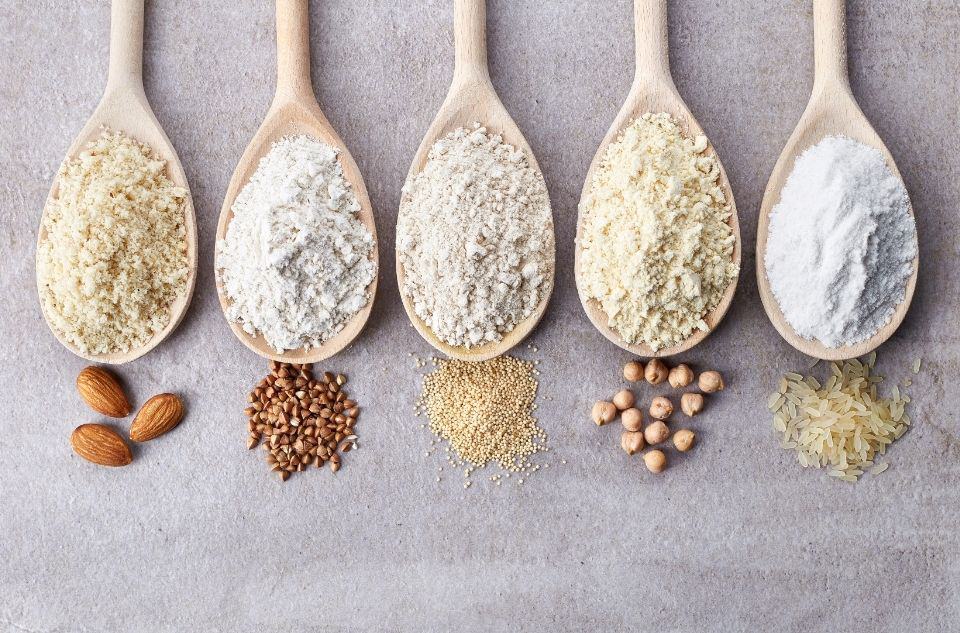 COCONUT FLOUR: The Low-Carb Alternative
How to substitute coconut flour for all-purpose flour
Coconut flour is perfect for keto fans, paleo dieters, and gluten-free foodies. This all-purpose flour substitute is technically not "flour," as it contains zero grains. Nonetheless, bakers love to use coconut flour for its taste, health benefits, and high moisture baking properties.
Being a plant-based superfood, coconut flour is also high in fiber. It is not on the list of top allergen foods, therefore it is considered a safe food for those with tree nut allergies.
Coconut flour bakes differently from most flours. You'll achieve a dense and heavier texture due to the absorption of moisture. Because the end product is generally drier, you may have to add more liquid or fat depending on the consistency you are going for.
Best ways how to use coconut flour in baking and cooking
For gluten-free recipes to achieve a dry and dense consistency

To sweeten and add a twist of coconut flavor
Coconut flour nutrition facts
1/2-cup (64-grams) of coconut flour serving contains
Calories: 256

Protein: 13 grams

Fat: 8.5 grams

Carbs: 38 grams

Fiber: 21 grams

Iron: 21% of the Daily Value (DV)

Potassium: 17% of the DV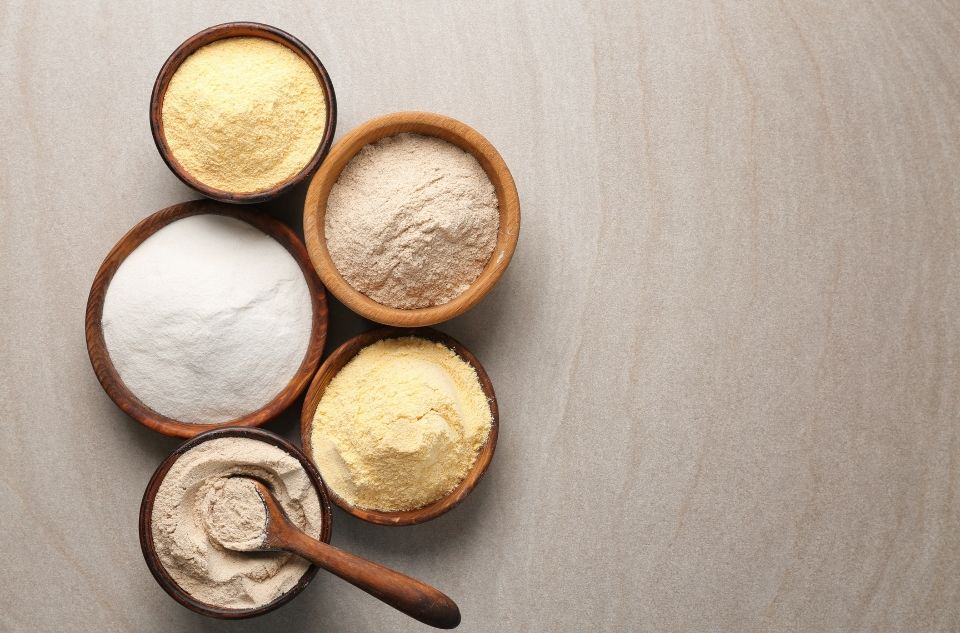 QUINOA FLOUR: The Versatile Flour
How to substitute quinoa flour for all-purpose flour
Quinoa flour is truly a versatile flour due to its well-rounded nutritional content. From a well-balanced source of proteins, fibers, vitamins, minerals, to amino acids. What's unique about quinoa is it is one of the few plant superfoods to have all nine essential amino acids.
Its taste is nothing strong, but mild with subtle nuttiness. As another gluten-free flour alternative, you can mix quinoa flour with sorghum, potato starch or tapioca to achieve the consistency of gluten flours yet still be gluten-free.
And making quinoa flour is easy! All you have to do is bring your quinoa to a gentle toast in your oven. Then blend in your food processor to a fine flour-like consistency. Finally, sift and allow to cool.
Best ways how to use quinoa flour in baking and cooking
To increase your fiber and protein intake

To add a flavorful tang in recipes for

muffins

or scones

If you find the taste too bitter, toasting the fine grind removes the aftertaste
Quinoa flour nutrition facts
1/2-cup (56-grams) of quinoa flour serving contains
Calories: 220

Protein: 8 grams

Fat: 4 grams

Carbs: 32 grams

Fiber: 4 grams

Iron: 14% of the Daily Value (DV)
WHOLE WHEAT FLOUR: The Wholemeal Flour
How to substitute whole wheat flour for all-purpose flour
What is the difference between whole wheat flour and all-purpose flour? During processing, all-purpose flour's wheat kernel is stripped of its bran (exterior shell) and its germ (inner seed). Whereas wheat flour processing retains its entire kernel. The bran and germ from the kernel are what make whole wheat flour darker in color, stronger flavor, and have a shorter shelf life. As a result, whole wheat flour's protein, fiber, and nutrient content are greater than all-purpose flour.
Whole wheat flour and all-purpose flour are byproducts of the same source. This makes both flours behave similarly in the oven when compared to other flours.
Does whole wheat flour contain gluten? Yes! Just like it's all-purpose flour counterpart, whole wheat flour is still derived from a wheat kernel. This makes whole wheat flour not the friendliest when it comes to gluten intolerance or celiacs.
When baking with whole-wheat flour, you'll achieve a dense baking result. This is due to the high protein content within the substitute. To achieve a firmer texture, you can mix in another flour or add more water.
When storing whole wheat flour, keep in mind shelf life is short. Thus needs to be stored in an airtight container or freezer to avoid rancidity due to oxidation and exposure to moisture.
Best ways how to use whole wheat flour in baking and cooking
To achieve a healthier and nutrient-dense food intake

Because whole wheat flour is dense, you can use a little and add more liquid

To add a richer flavor and aroma to your baked goods by giving a wheatier taste
Whole wheat flour nutrition facts
1/2-cup (60-grams) of whole wheat flour serving contains
Calories: 200

Protein: 6 grams

Fat: 2 grams

Carbs: 44 grams

Fiber: 6 grams

Iron: 12% of the Daily Value (DV)

Potassium: 0% of the DV
RICE FLOUR: The Gluten-Free Option
How to substitute rice flour for all-purpose flour
If you're looking for gluten-free baking options, rice flour is a great place to start. What's nice about rice flour is it comes in a few forms: white, brown, or sweet rice. Some benefits to use rice flour for baking are affordability, neutral taste if using white rice flour, and long shelf-life.
How to make rice flour is easy. Simply choose any rice of your choice. Add to a blender until you achieve a fine grind.
What's different about rice flour is its ability to not absorb liquid and fats, unlike wheat flour. Because rice flour is gluten-free, your end results are different compared to other gluten flours. You'll find your end product in cookies to be more evenly spread, and cakes to be soft and greasy. To achieve your desired consistency, it is best to mix rice flour with other flours that contain gluten.
Best ways how to use rice flour in baking and cooking
Fried foods for a light, crispy, and tender edge like

Fried Donut Holes

Asian inspired recipes for noodles, rice paper, dumplings, or tempura to go with the

Yum Yum Sauce Recipe

Gluten-free meals and desserts
Rice flour nutrition facts
1/2-cup (56-grams) of rice flour serving contains
Calories: 220

Protein: 4 grams

Fat: 0 grams

Carbs: 48 grams

Fiber: 0 grams

Iron: 0% of the Daily Value (DV)

Potassium: 0% of the DV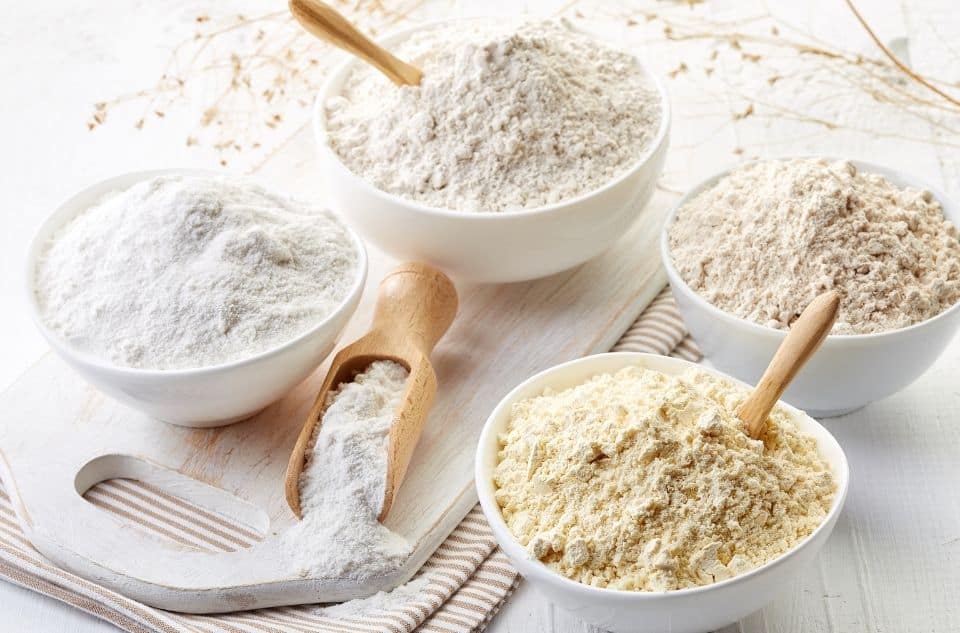 CHICKPEA FLOUR: The Plant-Based Favorite
How to substitute chickpea flour for all-purpose flour
Who said going plant-based was hard? Vegans love this prime baking ingredient, as chickpea flour makes it easy turning any dish cruelty-free. Made from ground chickpeas this all-purpose flour alternative is jam-packed with fiber, iron, and protein.
This flour works well as a strong binding agent to absorb moisture to thicken consistency in recipes for creamy pasta sauces, fritters, or soups. Allergic to or against eating eggs? Chickpea flour is a primary egg replacement ingredient.
How to use chickpea flour as an egg replacer: 1 egg = ¼ cup chickpea flour + ¼ cup water
If you have a lot of chickpeas in bulk, you can make chickpea flour by scratch without having to go to the store. Throw them in your sharpest food processor and blend into a fine grind.
To make a vegan alfredo, mix chickpea flour with a blend of cashews to make vegan cheese. Most can't tell the difference in the taste of your typical alfredo sauce.
It's no wonder vegans love this flour!
Best ways how to use chickpea flour in baking and cooking
As a plant-based vegan ingredient or an egg replacer

Gluten-free baking

For sweet and savory baked treats like

bread

, sweet desserts, or crusts

To add an earthy, smooth, or nutty flavor to your baking
Chickpea flour nutrition facts
1/2-cup (60-grams) of chickpea flour serving contains
Calories: 240

Protein: 10 grams

Fat: 3 grams

Carbs: 42 grams

Fiber: 10 grams

Iron: 20% of the Daily Value (DV)

Potassium: 16% of the DV
CONCLUSION
If you want to spare yourself a chunk of change, DIY flours bring a new definition of convenience and accessibility to baking in the kitchen. What's best about these all-purpose flour alternatives is they are easy to make with a blender since they contain only one ingredient.
Baking aisles only containing white flours are a thing of the past. When it comes to more than the traditional all-purpose flour, there are an array of alternative flours that are growing in popularity on grocery shelves and kitchen pantries. The advantage of choosing the best all-purpose flour alternative is suited directly to your recipe's purpose. This will provide the high-quality taste that makes your friends and family come back begging you for more savory eats!