Buffalo Chicken Stuffed Bread is a cheesy chicken dip in a bread bowl. This recipe can be a dip or a meal – it's up to you!
Shredded chicken is mixed with a creamy buffalo sauce and baked in stuffed French bread.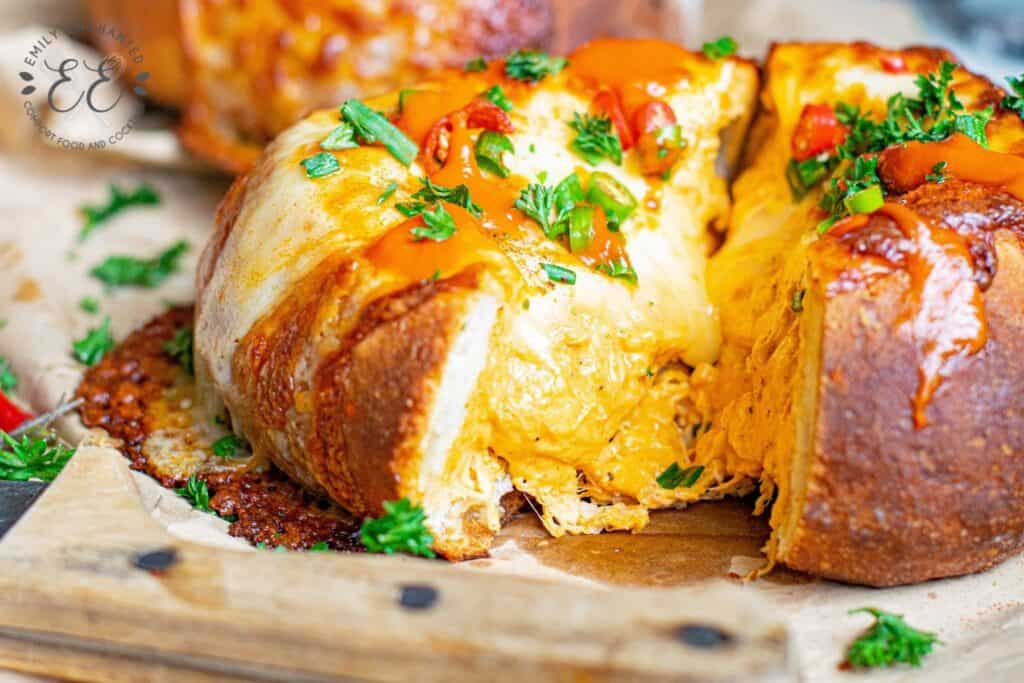 Buffalo Chicken Stuffed Bread Ingredients
To make this buffalo chicken bread bowl, you will need the following ingredients (see the recipe card below for exact amounts):
Artisan French bread
Shredded chicken
Cream cheese
Parmesan cheese
Ranch dressing
Buffalo sauce
Smoked paprika
Sea salt and black pepper
Mozzarella: I used block, but you can use shredded
Garnishes: fresh cilantro, jalapenos, green onions
How to Make Buffalo Chicken Stuffed Bread
Preheat oven to 375 F.
Prepare the bread bowls. Prepare a baking tray with parchment paper. Place your bread loaves on it. Remove the top of the bread, about ⅓ and pull out some of the inside to create space for the chicken fillings. Don't remove all the bread, leave a thick layer.
Make chicken filling. In a medium bowl, mix shredded chicken, cream cheese, Parmesan cheese , ranch dressing, buffalo sauce, smoked paprika, salt, and pepper together.
Bake the stuffed bread. Divide the filling in 2 and gently spread in the loaves. Top with mozzarella by pressing them lightly in the filling. Place the baking tray in the middle of the oven and bake for 10 – 15 minutes until mozzarella melts, nicely browned and the fillings are warmed throughout.
Add garnishes and serve. Remove and top with chopped fresh cilantro, jalapenos and green onions. Serve immediately.
Substitutions
Mozzarella cheese can also be replaced with cheddar cheese.
Other breads you can use: baguette sandwich, french baguette, ciabatta, sourdough.
If you don't like spicy food, I suggest skipping the smoked paprika.
Serving Suggestions
You can serve this recipe as a dip and serve it with chips, crackers, bread, or veggies like celery and carrots.
You can also serve this recipe as an appetizer by itself. Just cut up the bread bowl and serve the buffalo chicken stuffing with the bread.
More Buffalo Chicken Recipes